24

Mar

10 Products & Tips For An Environmentally-Friendly Haircare Routine
Given that our haircare routines are usually a daily occurrence it is an important area to address if you are looking to create a more environmentally-friendly and zero waste hair routine. With the majority of haircare products in the market being made from unnatural ingredients and packaged in plastic packaging, the impact this has had on our planet has already started to take its toll. With this in mind, in this blog we wanted to highlight the some of the best eco-friendly and plastic-free products available including zero waste shampoo, biodegradable hairbrushes, reusable glass haircare bottles as well as other tips and tricks which can help you create a more natural and eco hair routine. As with all our blogs and products on Wearth, all the hair products featured here are vegan and cruelty-free.
Sustainable Haircare Products
Eco-Friendly Shampoo - Refillable
The first product we wanted to highlight is one of our most popular environmentally-friendly shampoo by the innovative beauty brand Kind Beeuty. Hand blended with natural and gentle ingredients, there are two packaging choices for this eco shampoo. The first is the aluminium bottle with BPA-free dispenser pump and the second is the zero waste refill option where you receive just the aluminium bottle with metal screw lid. There are a range of shampoos to choose from all of which made with sulfate free and vegan-friendly ingredients.
The best bit - Once you have finished with your bottles, you can return them to Kind Beeuty who will sterilise and reuse the bottles, creating a truly zero waste shampoo.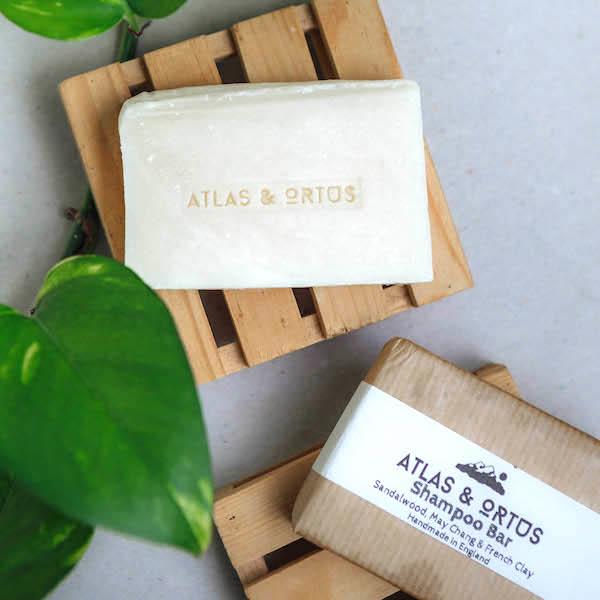 Another go to option in our haircare range are reusable shampoo bars by Atlas & Ortus as they offer a low waste and affordable natural shampoo option which makes it easy to ditch the disposable plastic shampoo bottles. The shampoo bars featured here are handmade with cruelty-free and SLS-free ingredients with added castor oil which helps improve the lather and therefore the quality of the rinsing.
The best bit – Despite compact size this shampoo bar will last a long time and as it is liquid-free it is great for travelling
Biodegradable Bamboo Hair Brush (Oval)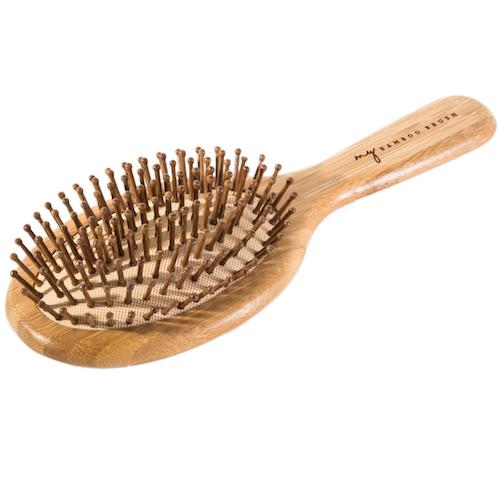 The staple haircare accessory has had a green revamp with this bamboo hair brush made from sustainably sourced bamboo and natural rubber. It is completely plastic-free with even the pins made from 100% bamboo. There are not only the environmental benefits of having bamboo hair pins, the pins also help to not damage hair and the cushioned bristles help to massage the scalp and stimulate hair follicles to improve overall hair health.
The best bit – Bamboo is a wonderfully planet-friendly alternative, it grows around 24-48 inches per day, enabling fast and frequent harvesting without damaging the forest ecosystem.
Reusable Shampoo & Conditioner Bottles
These amber glass bottles for shampoo and conditioner are great if you are buying your shampoo in bulk or creating your own DIY hair products (see below for inspiration). These reusable glass haircare bottles are 500ml and come with a lockable BPA-free pump dispenser and they're contemporary design make them look gorgeous in any bathroom.
The best bit – Each bottle comes with a splash proof embossed label making it easy to know which product is which.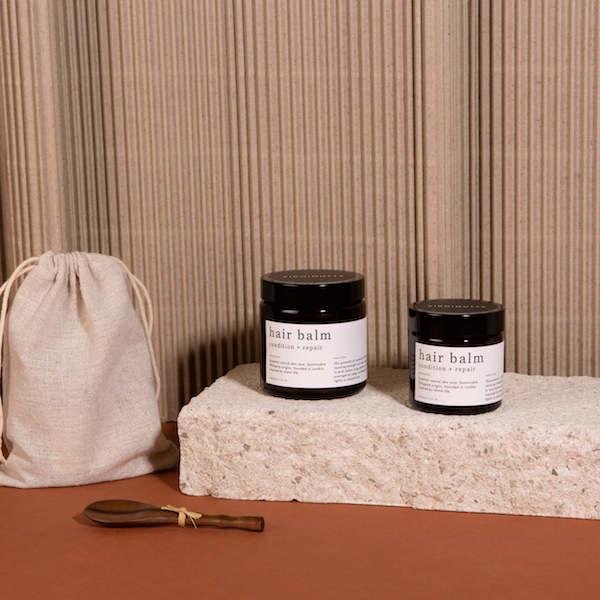 If you have dry or damaged hair, Virginutty's hair balm made from organic cold pressed coconut oil can help to restore tensile strength and the overall health of your hair. It is hand bottled in London and packaged in a reusable glass jar
The best bit – Virginutty looked all over the Philippines' islands to find the best organically farmed coconut oil for their products.
Top Zero Waste & DIY Haircare Tips
DIY Vinegar Conditioner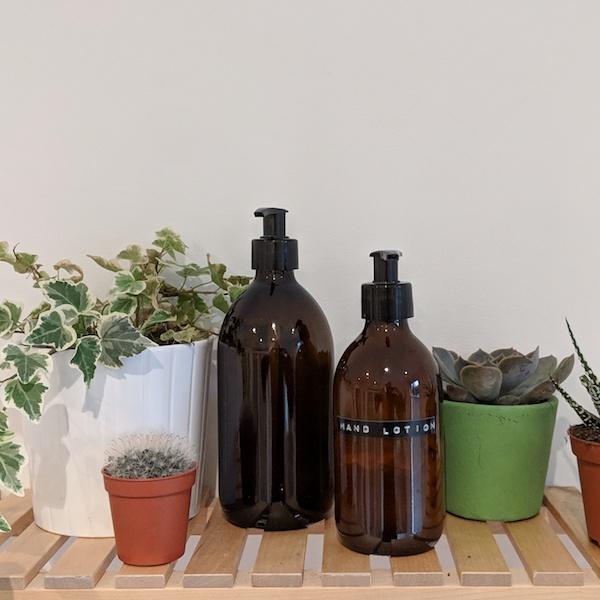 An acidic rinse helps to balance your hand and protect your hair, this DIY recipe is great if you are looking to make your own eco-friendly and plastic-free conditioner.
Step 1 - Blend 1 part apple cider vinegar with 3 parts water, here you can use the amber glass bottles featured above.

Step 2 - If you would like to add a scent to the conditioner you can add an essential oil of your choice, certain essentials can also help improve the look and health of your hair. This includes lavender oil, peppermint oil, rosemary oil and cedarwood essential oil, you can find out more on this blog post by Healthline.

Step 3 - Once ready simply pour the solution onto hair and allow to sit for two to three minutes then rinse thoroughly.

Saving Your Shampoo Bar Ends
If you use a shampoo bar save all the soap ends and then grind them up with a grater when you have a few left, if you then spray the mix with a natural cooking spray and put into some type of mould. Then leave to dry and then you'll have a new reusable shampoo bar good as new!
Zero Waste Dry Shampoo Recipe
Whilst not being a daily essential, sometimes the convenience and portability of dry shampoo makes it a no brainer, however conventional dry shampoo is usually packaged in plastic. Fortunately there is a very simple eco-friendly alternative, cornstarch!
Step 1 - Add organic cornstarch with a few drops of your favourite essential oil and mix with a spoon in a jar container.
Step 2 – Get a brush or comb and add the powder to your roots and hair.
Keeping Hydrated
Ok this may not seem like an obvious environmentally-friendly haircare tip, however one of the major causes of hair feeling dry or damaged is lack of hydration. By drinking enough water every day you can reduce the need to use haircare products.
Avocados!
A natural DIY haircare product which is a little known secret is the avocado hair rub/balm. Simply mash a ripe avocado and apply to your hair for at least 20 minutes. Avocados have lots of benefits for your hair due to its combination of rich minerals, vitamins and fatty acids.
We hope that you enjoyed reading this blog post on environmentally-friendly products and top tips for a more plastic-free haircare routine. If you are looking for more eco-friendly haircare products, all of which are vegan and cruelty-free, check out out our haircare department here.
---