07

Oct

A Landmark Bill Protecting Garment Workers Passes In California
After many years of fighting for justice, on the 27th of September 2021, governor Gavin Newsom of California signed into effect Senate Bill 62. More commonly known as the Garment Worker Protection Act, this new legislation in California will finally introduce an hourly minimum wage and protect garment workers from wage theft. After a turbulent few years with the pandemic exacerbating extreme working conditions, this historical landmark vote has never been more important.
Los Angeles in California is considered the hub of garment manufacturing in the US. Employing over 45,000 people, the Californian garment workers are operating in conditions rife with violations of minimum wage and overtime laws and health and safety standards. Stuck in a loop of a piece pay rate system, that means workers only get paid for every garment made. This policy means that many workers earn less than $3 an hour, well below minimum wage in America.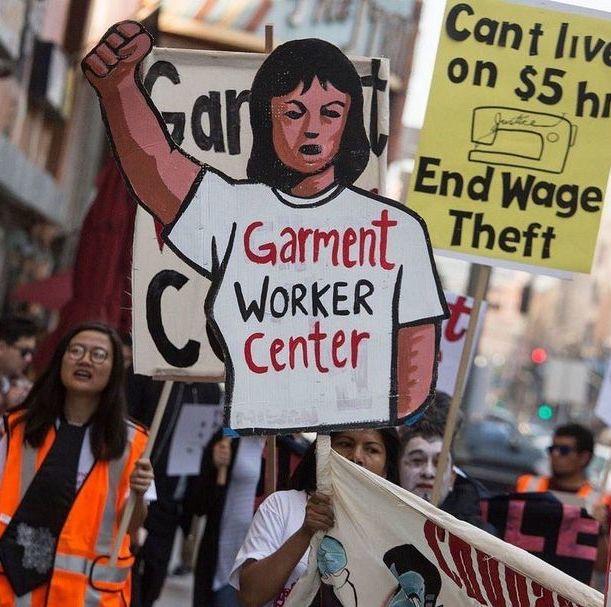 Credit - @garmentworkercenter
This system of piecework was designed to push the rapid production of fast fashion, resulting in the exploitation of workers. Alongside the global pandemic, it has worsened many problems the garment workers face, including economic and health issues. Due to the lack of appropriate measures during the pandemic, Covid-19 outbreaks spread through many of the LA factories. Not only did Covid-19 leave people unable to work, but fashion brands also cancelled contracts with these factories, with many denying pay. This left garment workers even more vulnerable and unprotected, a theme we have also seen with garment workers in Asia.
By outsourcing to factories, brands have been able to ignore many of the human rights issues that face garment workers. This new legislation is a game-changer for the fashion industry as fashion brands can finally be held accountable for these illegal pay practices.
Supported by Garment Worker Centre director Marissa Nuncio alongside workers rights organisations, labour activists and surprisingly hundreds of fashion brands, this new legislation hopes to be the blueprint for the rest of the global industry. For the first time, there is transparency in fashion.
This new law would protect garment workers from wage theft and will introduce a minimum wage of $14 an hour. The bill also expands responsibility for stolen wages, meaning brands would be held liable for paying out wage theft claims filed by garment workers. Normally, workers could only claim against factories, which would often last many years and leave unresolved.
This landmark bill hopes to create a positive and lasting impact on the American fashion industry and provide an outline for the rest of the globe to follow suit. Although, we may have a long way to go, with the renewal of the Bangladesh Accord last month, a legally binding agreement that protects the health and safety of garment workers in Bangladesh, that came about after the Rana Plaza collapse in 2013. There is hope that the fashion industry is turning a corner and becoming a safer and fairer industry for all. Let's continue this progress and ensure all garment workers across the globe have the same protection that Senate Bill 62 offers.
By Esme Bourne
Writers Bio - Esme Bourne is the Editorial Assistant at Wearth London, specialising in sustainable fashion and beauty.
---