03

Mar

Best indoor plant pots and hangers for your houseplants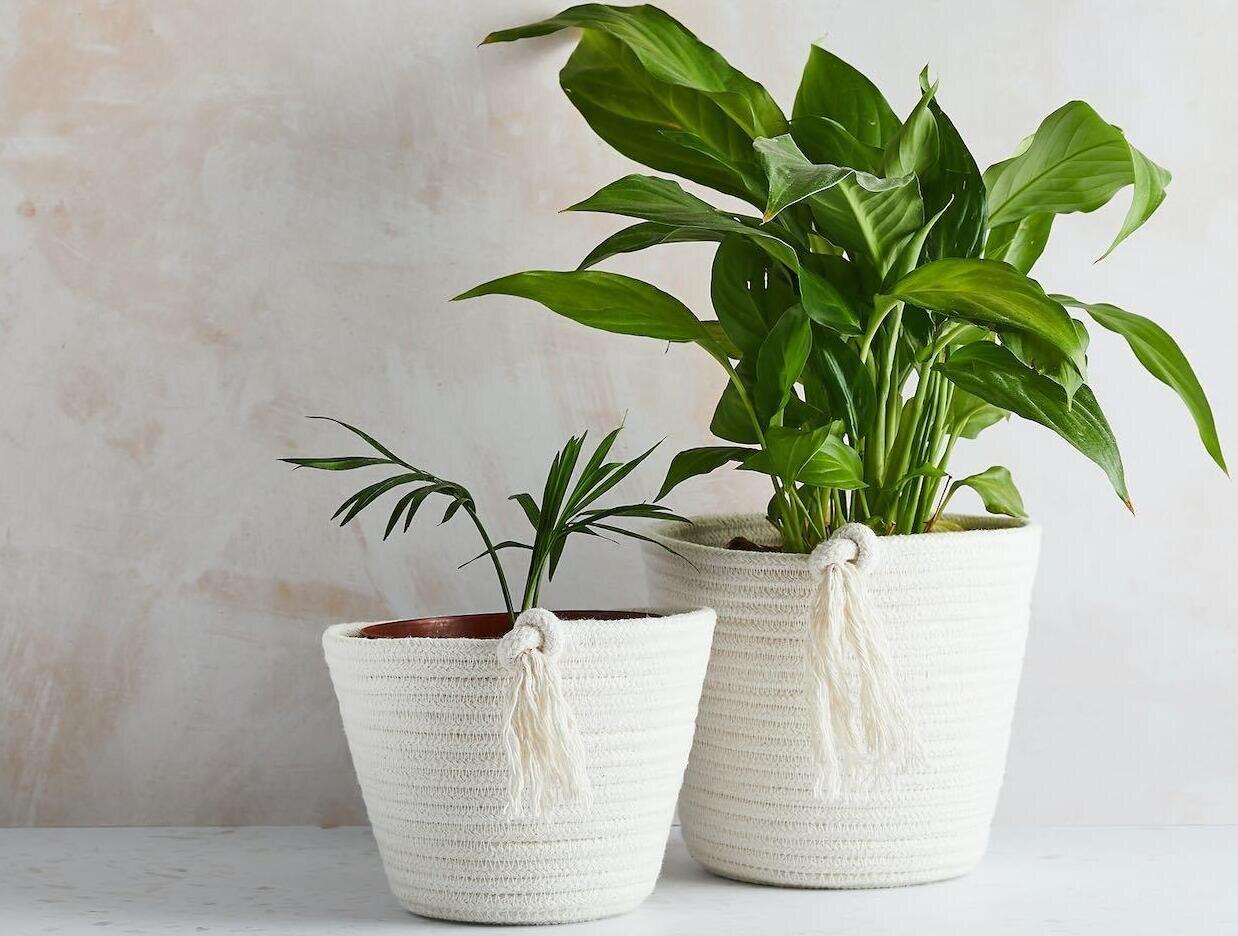 Those in the UK who are often confined to the indoors because of the weather, may be surprised to learn that you can get many benefits from indoor plants. Smattering your living space with indoor plant pots bursting with lush greens is a way to bring the outdoors in. Now that many of us are working from home and spending even more hours in our living space, it's really wonderful to have the vibrant colours and variety of houseplants.
So, move over rainy days in the UK, and choose some indoor plant pots and hangers, to bring you the following benefits:
Soothe the stress: indoor gardening has been shown to result in a

reduced stress response

. Gardening is quite a meditative practice and its calming effects don't have to just be enjoyed outdoors.

Razor-sharp focus: working with real live plants around you enables you to

concentrate better

than the plastic fake ones. Increasing your productivity and focus, simply by having a house plant on your desk!

Banish the blues: Some medical clinics in the UK will even

'prescribe' potted plant

s because they've been shown to decrease symptoms of depression and anxiety. We also think it's about the greenery, and caring for another living thing. Watching something thrive and grow is good for the soul.

Boost recovery: It's fascinating, but

multiple studies

show that people recovering in hospital have a speedier recovery requiring less pain medication, simply by being surrounded by plants. Perhaps there's some science behind why we gift plants and flowers to people when they are poorly!

Cleaner air: The research is a bit mixed, but many believe that having lots of indoor plants can improve the air quality in the indoor space. Spider plants, rubber trees and bamboo palms have been found to be particularly effective. If you're stuck inside, plants definitely make you feel the air is fresher, if nothing else.
If you want all of these wonderful benefits then it's time to indulge in a spot of indoor horticulture. As well as the health benefits, you can enjoy a home that looks and feels inviting and energised. The first step in your horticultural journey is to choose some indoor ceramic plant pots, as well as indoor hanging plant pots.
Our favourite indoor plant pots
At Wearth, we have some wonderful choices when it comes to eco-friendly home accessories and indoor plant pots. We only stock ethical and eco-friendly options, so you can be sure that your choice makes you feel good. Some of our favourites are:
1. Small Ceramic Planter by Habulous
These small indoor plant pots are made in the UK out of stoneware clay by hand. Wheel-thrown, you can be sure that you'll get a truly individual piece that will really show off your tiny plants, especially succulents.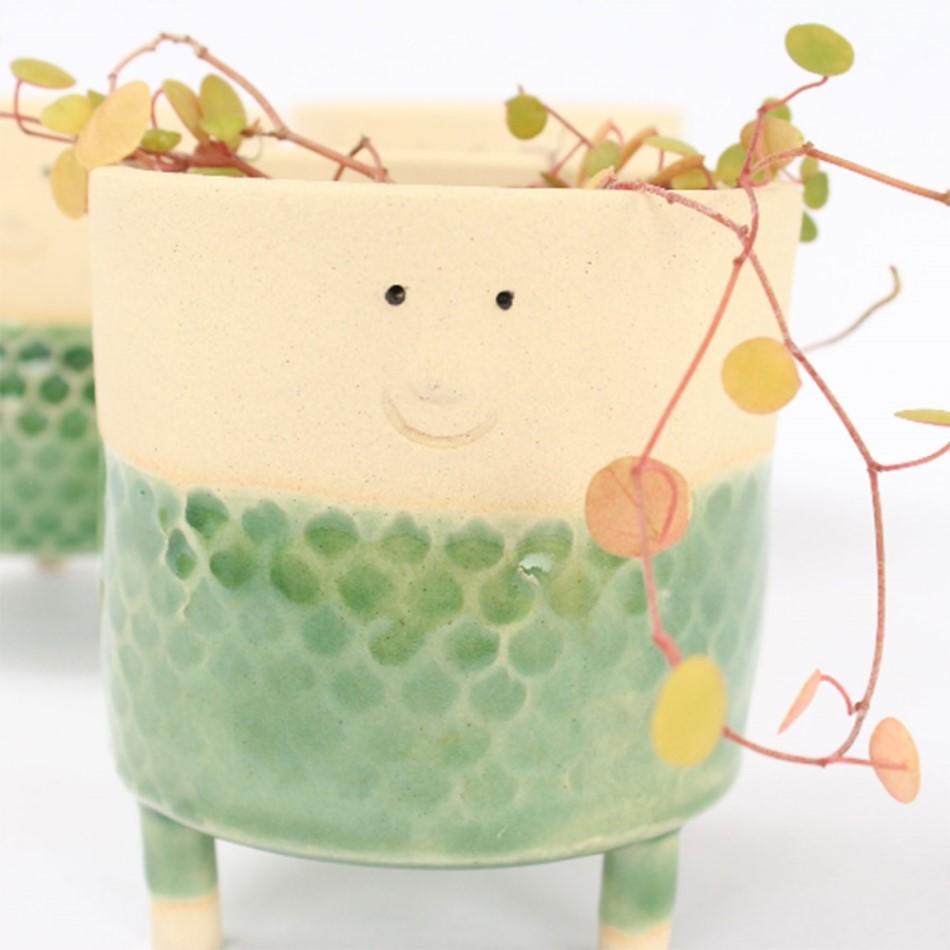 We adore the fact that you can choose between a rich green or a delicate lilac colour, and the individual smiley faces definitely make us smile too! These small indoor plant pots are remarkably easy to clean, and you're even able to pop them in the dishwasher! The Habulous brand focuses on sustainability.
2. Cotton ECO-TWIST Plant Pot by Tabitha Eve
For a minimalist and cosy home style, choose these gorgeous 100% cotton plant pots from UK-brand Tabitha Eve. Using eco-friendly cotton, these sturdy pots, or bowls, can be used for plants or for any of your other bits and pieces. They come in two different sizes and look great having several together.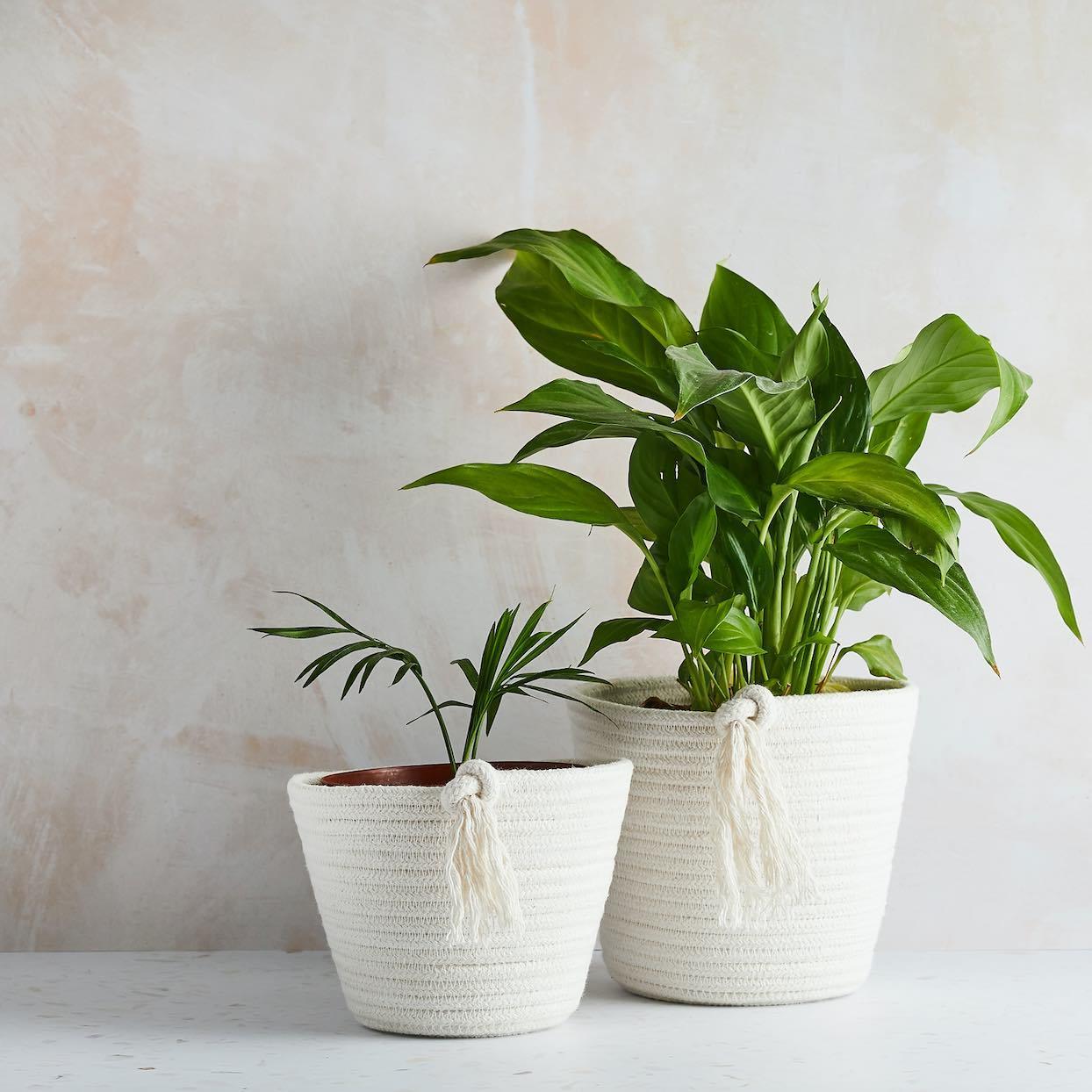 3. Crochet Plant Hanger by Pixie's Magic Hook
Oh, we absolutely love these indoor hanging plant pots which are made by hand by Pixie's Magic Hook. Made using recycled cotton, they don't just look good, but they are kind to the environment too.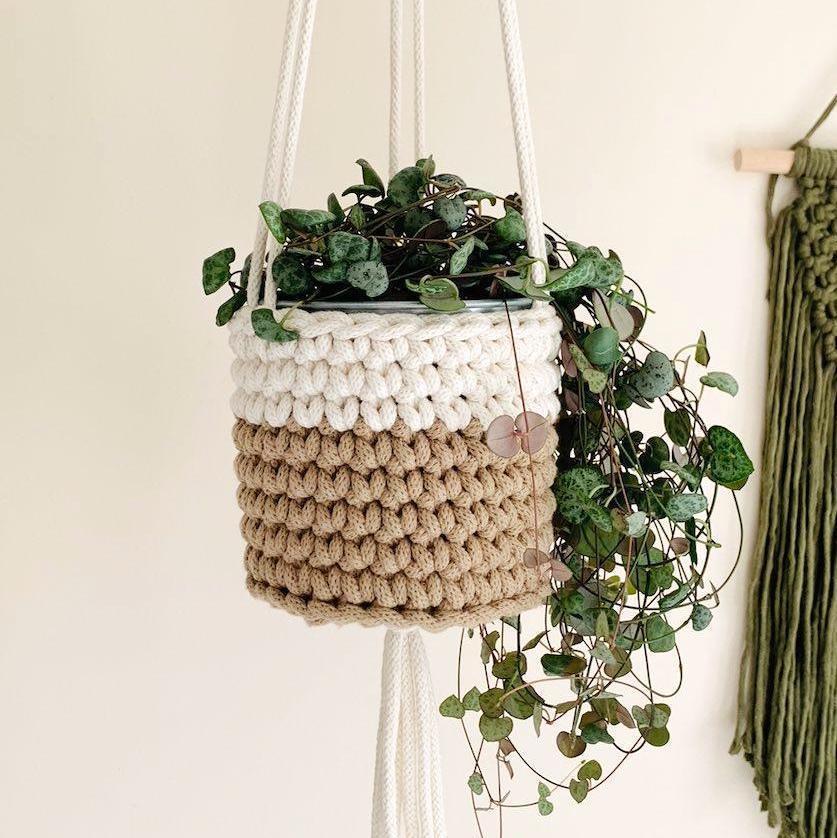 Crocheted hangers like these are brilliant for trailers, as well as other plants, and really maximise the space in your home. Your hanger will be made to order and is available in a wide range of colour choices.
4. DIY Macrame Plant Hanger Kit by Pixie's Magic Hook
We know how much you love the personal touches, especially when it comes to your home style, and it doesn't get more personal than making your own hanger for a plant pot!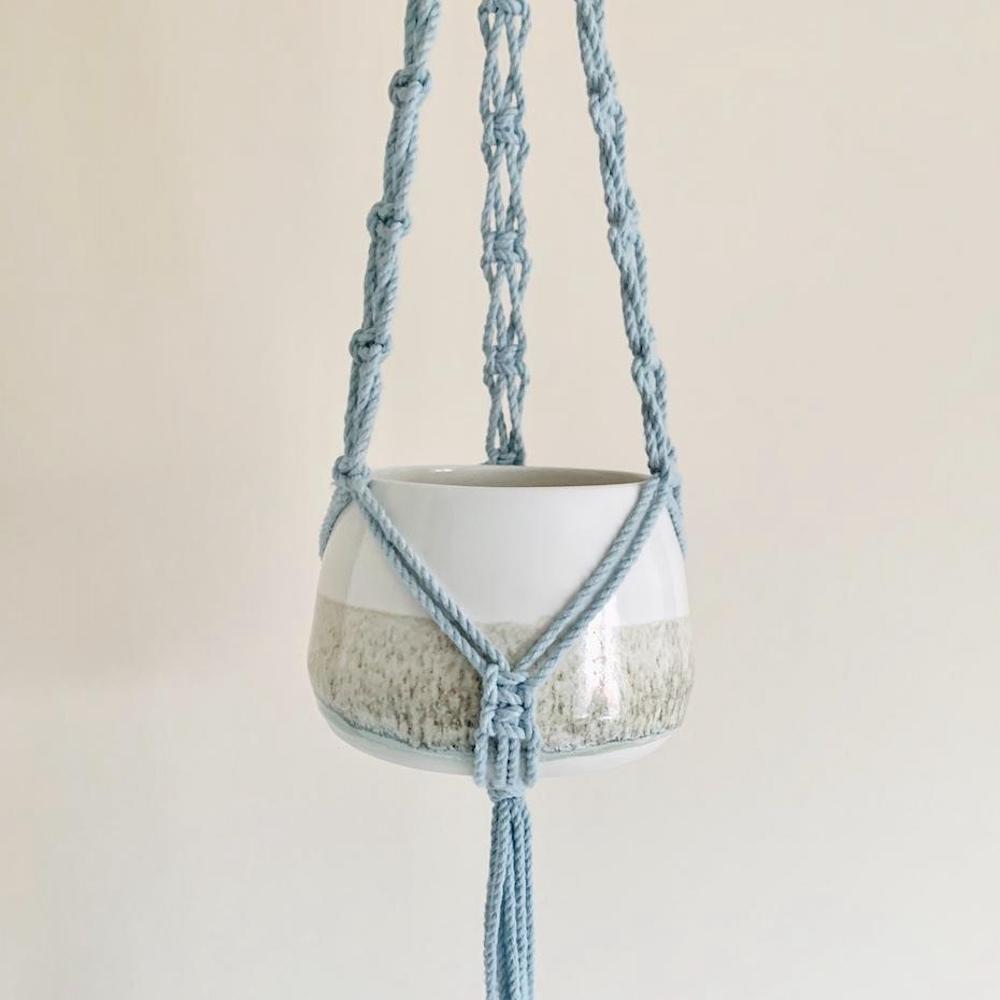 This kit from Pixie's Magic Hook is suitable for absolute beginners, and comes in cream, misty, mustard, sage, kiwi, terracotta and steel. It uses 100% recycled cotton rope. These are great to give as a gift too.
5. Two Tone Hanging Planter by Habulous
A striking and stylish addition to your home is the Two Tone Hanging Planter by Habulous. Again, this indoor plant pot is hand-thrown in Dartmoor by Nicky Edmunds. Super strong, this is a great hanger for small indoor trailing plants.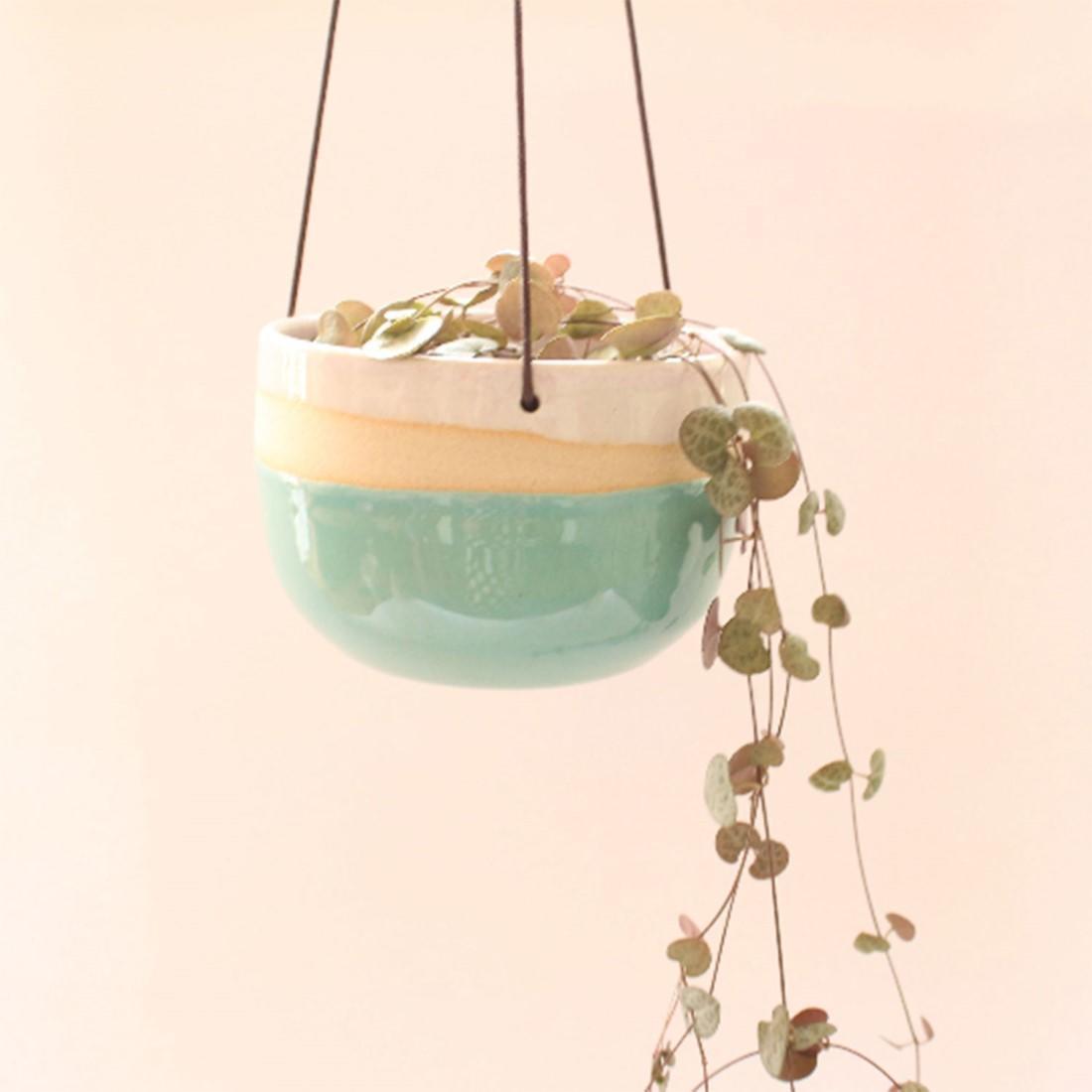 6. Set of 2 Ceramic Planters by Habulous
Again, making our list of favourites is Nicky Edmunds' hand-thrown set of two ceramic planters. Nicky follows her ethical principles as she makes these pots, which are two different sizes and look fabulous together. There aren't any drainage holes, so you can be sure your carpets are safe!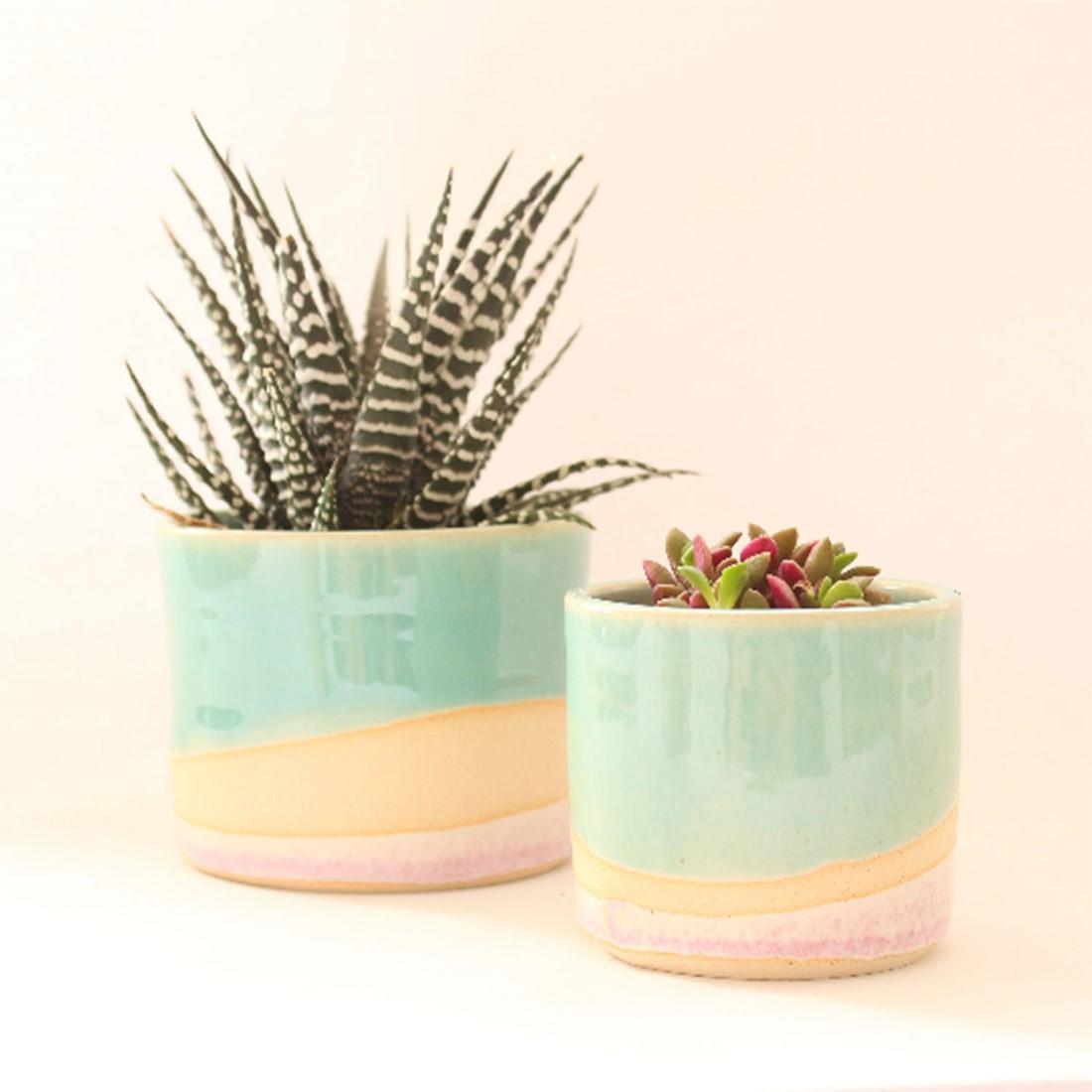 When choosing indoor ceramic plant pots, look for ones which are glazed on the outside, for easy cleaning. Avoid ones with drainage holes as these are only really suitable for outdoors. Choose ones which match your décor. Indoor hanging plant pots are great for maximising the space in your home and adding plants at various heights. When choosing these, ensure the ropes are sturdy and robust.
We love having greenery in our home and it really helps us feel at one with nature. But we want to have indoor plants without compromising our values. That's why at Wearth we only stock ethically produced items.
---