21

Mar

Best Natural & Vegan Skincare Products For Sensitive Skin
What Is Sensitive Skin?
Before exploring the best UK natural & vegan skincare products for sensitive skin which we have researched in-depth for our natural beauty department, it is worth exploring exactly what is sensitive skin. Sensitive skin is a broad term representing a wide range of problems with the skin. There are many visible signs of sensitive skin, these include redness, swelling or dryness which normally occur on the face, lips, body and hands. Although sensitive skin can often be caused by hormonal imbalances, for instance those going through puberty, one of the key causes of sensitive skin is the reaction to common skincare products including itching or stinging. This is often as a result of the harshness of a lot of skincare products on the market which often contains fragrance, dyes, parabens & sulphates. As a result, you maybe experiencing sensitive skin not because of hormonal or environmental factors but because of the products you are applying to your skin.
If you have experienced areas of dryness, blemishes, slight red patches on your skin or other forms of skin irritation, you will know how frustrating having sensitive skin can be. To help you tackle this we have put together a list of our best natural and organic skincare products (including face oils, moisturisers and exfoliators), which are free of any nasty chemicals and contain active natural ingredients that are known to help soothe and rejuvenate sensitive skin. All of these products are vegan and cruelty-free, and are handmade in small batches by independent UK and Irish beauty brands.
Organic Face Cleanser – Reunion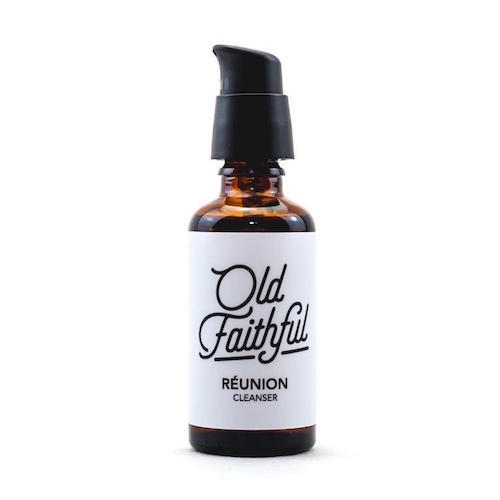 The brand behind this face cleanser were fed up over how a lot of mainstream skincare products strip the oil from our skin, resulting in our skin having to over-compensate for lack of moisture by creating more oil. They believe that the best way to take care of our skin is to work with our skin not fight it and so they created this organic face cleanser which has natural unrefined oils which work in harmony with your skin. One of the main ingredients is Geranium Bourbon essential oil. Geranium oil in aromatherapy is known as 'The Balancer', this is because it reduces inflammation and improves blood circulation, helping to sooth and regenerate very sensitive skin.
Gentle Exfoliating Cleanser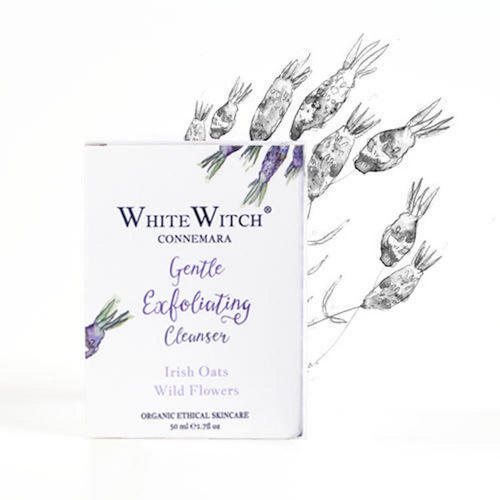 Exfoliation is an important part of a healthy skincare routine and if you have sensitive skin it can be difficult as many products can be too harsh, leading to potential irritation. This Irish made natural exfoliating cleanser is very gentle with only 5 organic ingredients used to make it. The cleanser has been carefully formulated to cleanse the skin's surface without removing the natural oils which help to keep your skin's natural PH balance. One of the main ingredients for this exfoliator is oatmeal, a natural skincare remedy which dates back to 2000 bc. Oatmeal is very gentle meaning even the most sensitive skin can use it without a reaction and it helps to naturally create a protective barrier for your skin.
Sensitive Skin Set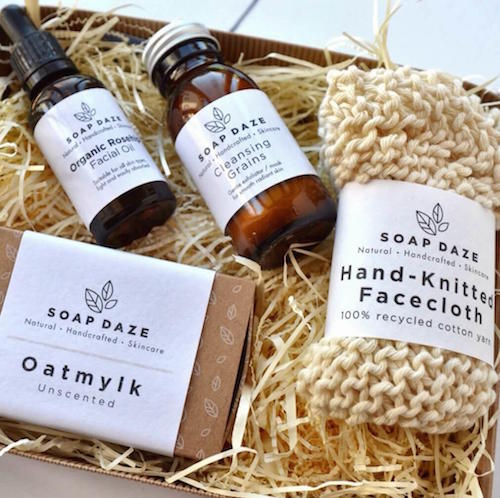 This set is great if you are looking to overhaul your product range with natural products made with sensitive skin in mind. The set includes an organic rosehip facial oil which is full of vitamins, antioxidants and essential fatty acids that are known to hydrate dry and itchy skin, while reducing and correct dark spots and blemishes. The second product included is a bottle of cleansing grains made from natural active ingredients including clays, grains and botanicals, this can be used either as an exfoliator or face mask. The set also includes an oatmylk unscented soap which is very gentle on skin and a hand-knitted face cloth.
Pink Grapefruit & Rosemary Body Butter - £13.90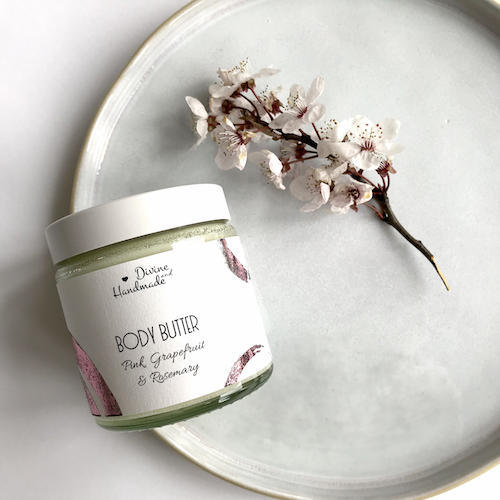 Bodycare products are also very important as sensitive skin doesn't always just affect the face. This vegan body butter is made with all natural ingredients. The essential oils found in pink grapefruit and rosemary mean this butter has natural anti-bacterial properties. It also contains Safflower oil which helps to increase skin elasticity as well as sesame oil is high in anti-oxidants and zinc. All in all, the natural active ingredients in this butter make it very suitable for those suffering with acne.
If you are looking for any other types of natural skincare or bodycare products, check out natural beauty department here.
Although of these products use gentle natural ingredients, it is always advisable to spot test before using in full to ensure your skin is happy with the new product.
---