30

Mar

Cauliflower 'Pizza' with BBQ Tempeh
High in protein and low in carbohydrates, these plant-based cauliflower 'pizzas' come together with only 6 simple ingredients. Ready in 30 minutes they make a great dinner when paired with a few other side dishes, or handy to have as a quick mid-week snack.
Prep Time: 5 minutes.
Cooking Time: 25 minutes.
Equipment: Oven, chopping board, knife, baking tray, bowl, frying pan, wooden spoon, grater.
INGREDIENTS – SERVES 2
1 Medium head of cauliflower
200g Tempeh
4 tbsp BBQ sauce
4 tbsp Tomato puree
Small handful of fresh basil
Small handful of vegan 'cheese', grated.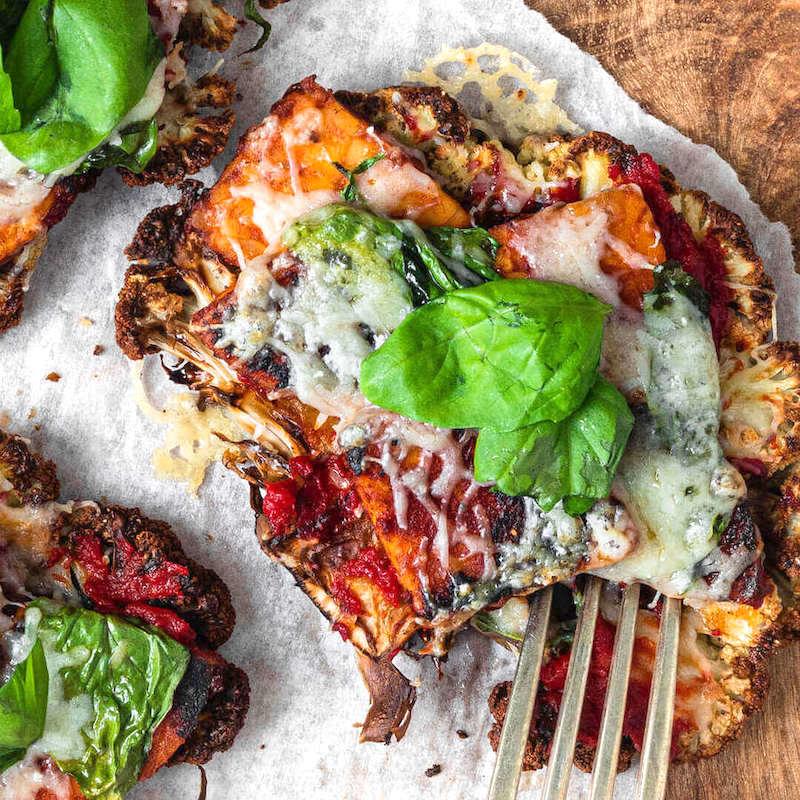 METHOD
Preheat an oven to 200oc.
Remove the leaves from the cauliflower and set them aside (see note below on how to use them).
With the base of the cauliflower on the chopping board, cut the cauliflower into 2cm thick slices.
Place the cauliflower slices onto a baking tray lined with parchment paper. Brush each side with olive oil, salt and pepper. Bake in the oven for 20 minutes, turning halfway until golden.
Whilst the cauliflower is cooking, cut your tempeh into chunks about 1cm thick. Place them in a small bowl and mix with the BBQ sauce.
Heat a frying pan with a little olive oil and pan fry the BBQ tempeh chunks until starting to caramelise (about 5 minutes). Remove from the pan and set aside.
Remove from the cauliflower from the oven once cooked, spread a little tomato puree over the cauliflower slice, top with the BBQ tempeh, a few fresh basil leaves and a large pinch of grated cheese.
Pop back in the oven for 5 minutes until the 'cheese' is melted and is golden brown.
How to Use Cauliflower Leaves
Roast them in the oven at 180oc for 20 minutes with a little olive oil, salt and pepper and they make a lovely side dish.
Chop them up and add them to smoothies.
Freeze them along with other vegetable scraps to eventually make a homemade vegetable stock.
---