24

Feb

50 eco-friendly products for a green lifestyle in 2020
The importance of eco-friendly products couldn't now be greater. With programmes like David Attenborough's Blue Planet demonstrating the impact of plastic waste on our planet alongside the continuing depletion of our resources through unsustainable manufacturing demonstrates the clear importance of environmentally friendly products. One of the positives to take from the last year or two is the growing consumer demand for green products. We created Wearth with the aim of making it easier to find natural and earth-friendly products made by UK brands under one roof online and in this blog we highlight some of our best eco products for the home and living which not only have great green credentials, but are also stylish and fit for 2020.
Categories:
1. Eco-Friendly Household Products.
2. Eco-Friendly Beauty.
3. Zero Waste Lifestyle.
4. Sustainable Fashion.
1. Eco-Friendly Household Products
The top green products for a more minimal and zero waste home.
1.1. Green Cleaning Products
Organic Cleaning None Sponge (Set of 2)
The None Sponges are zero waste alternatives to disposable dish sponges, handmade in the UK from just cotton & bamboo. The cotton layers for this zero waste washing up sponge sandwich are naturally antibacterial and the bamboo core is highly absorbent.
No Tox Life Dish Washing Block
This No Tox Life dish washing block is a cleaning powerhouse with a rich, sudsy lather. A vegan-friendly and natural washing up liquid bar it cuts stubborn grime and grease, without drying out your hands. You can even use this zero waste dish bar for cleaning-duty all over your home. Take stains out of laundry, take labels off of jars, spot clean your carpet, use it to wipe down counters... it's a truly multipurpose product.
1.2. Eco Kitchenware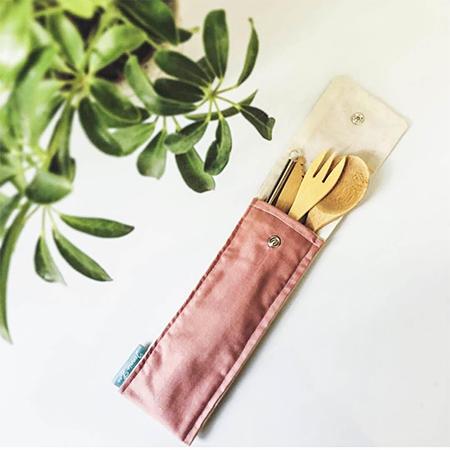 This planet-friendly cutlery set is handmade in the UK and includes a sustainable bamboo cutlery set. Perfect for either avoiding single use plastic when eating out or at the office or equally for use at home, the set is versatile as well as compact making it portable. There's a range of modern designs to choose from including the white hearts design featured above.
Silicone Stretch Lids - Set of 6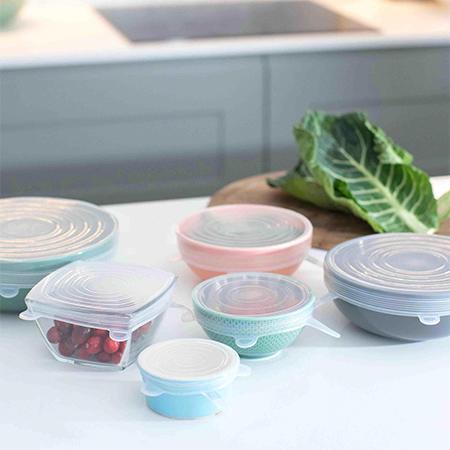 The ideal reusable alternative to cling film. These super silicone stretch lids will keep your food fresher for longer with their airtight seal. Great for covering bowls, cans, jars and half cut fruit like melon or even your half cut onion. No mess, no waste.
100% natural breakfast bowls made by hand from organic coconuts. They are reusable and their lightweight size and durability mean that they are also great for travelling alongside sprucing up your morning smoothie bowl!
Chef's Edition Kitchen Pegboard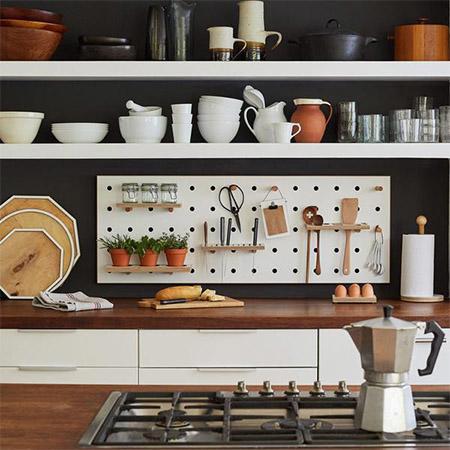 This pegboard designed and made in London using FSC accredited wood is the ultimate kitchen accessory for culinary wizards. It comes with a range of kitchen accessories including a knife rack, utensil rack, condiments tray and pegs to provide a complete kitchen store and display unit.
1.3. Natural Home Fragrance
Soy Scented Candle (Rose Gold)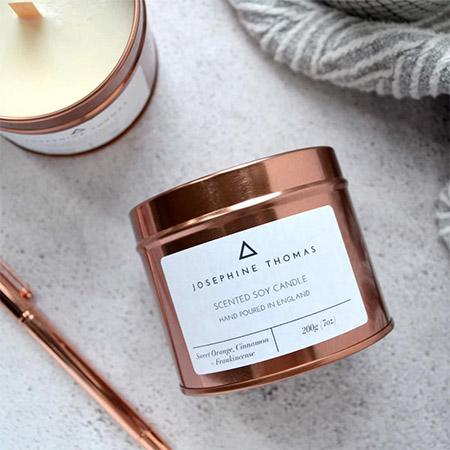 Beautifully designed eco-friendly soy candle with all natural and non-toxic ingredients. Each candle is individually hand poured in the UK with a range of scents to choose from and packaged in a plastic-free metal tin.
Uplifting earth-friendly reed diffuser made in Shrewsbury, England with fragrances including Rosewood & Moss, Cassis & Wild Fig and Pine. It is packaged in a glass bottle and comes with natural rattan reeds which disperse the scent evenly.
Made with pure essential oils this organic room spray is perfect for those wanting to quickly fragrance their home with a natural and non-harmful product. Each room fragrance spray is hand blended in London and there are a range of unique and wonderful scents to choose from, all of which harness the therapeutic benefits of essential oils.
1.4. Plastic-Free Toiletries
Made in Bristol, UK this zero waste deodorant contains high quality all natural ingredients which work throughout the day to keep you smelling fresh no matter what life throws at you. Each deodorant is packaged in a cardboard kraft tube making this deodorant a great eco bathroom product alternative to plastic deodorants.
Natural Mineral-Rich Toothpaste (English Peppermint)
This eco-friendly toothpaste is made by Georganics, an oral care company which specialises in making natural dental products which are effective in improving oral health. One of their most popular is the English peppermint toothpaste with peppermint essential oil which effective at killing bacteria which can cause gum disease. The toothpastes are stored in glass jar with metal lid and wooden application spoon, making this a great plastic-free alternative.
You can say goodbye to plastic wrapped with these large eco soaps which are handmade in Devon. Each soap comes with a cotton rope which is useful for hanging up in the shower and you can choose to get the soap package free without the paper packaging and save £1.
Reusable safety razors are a green alternative to disposable plastic razors and this kit by Naked Necessities is a great starter set. It includes a plastic-free razor, essential oils shaving soap a 5 pack of replacement blades.
Charcoal Infused Bamboo Dental Floss
These eco dental floss picks are made with bamboo and corn starch making them biodegradable! The bamboo fibre of the floss is also infused with activated charcoal which helps to enhance blood circulation and improve oral health. They are then packaged in a compostable zip storage bag.
This innovative shampoo is packaged in an aluminium bottle and you can get refill option which does not include the pump for completely plastic-free shampooing. The shampoo is made with gentle and nourishing natural ingredients and once you have finished with the bottles you can return them to be sterilised and re-used.
2. Eco-friendly Beauty
Natural beauty products made in small batches in the UK and Ireland with environmentally-friendly and zero waste packaging.
2.1. Green Skincare
Organic Anti-Ageing Moisturiser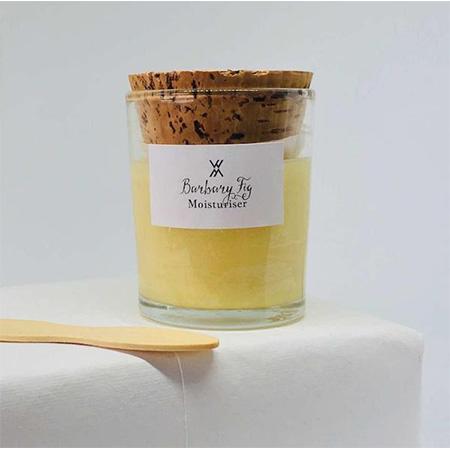 Suitable for all skin types, this anti-ageing moisturiser is made with nutrient rich barbary fig seed oil and coconut oil which work hard to prevent cell degeneration and delay the signs of ageing. It is packaged in a glass jar with cork lid and wooden spoon making this a lovely plastic-free moisturiser choice.
All natural face mask handmade in Scotland, it comes as a powder packaged in a zero waste metal tin, to use simply add water. This eco skincare product is available in a range of masks formulated for different skin types including the calming and purifying mask featured here which is suitable for normal to oily, mature and combination skins with active ingredients including seaweed, green tea and peppermint.
This green beauty kit features a range of cruelty-free skincare products handmade in Devon using high quality and pure ingredients. The gift set by Soap Daze includes a large oatmylk soap, organic rosehip facial oil, cleansing grains and a facecloth hand knitted using recycled cotton yarn.
Eco-conscious skincare set made in Devon with vegan and skin-friendly ingredients suitable for all skin types. The kit of miniatures include a lavender and chamomile cleansing oil, wild rose toning mist, wild rose facial elixir and an organic face cleansing cloth.
This organic moisturiser is formulated with male skin in mind with organic essential oils which help to nourish and moisturise skin. This includes Sandalwood & Cedarwood which conditions skin and Neroli & Bergamot which improves complexion. Ideal for applying after shaving, it has a woody and fresh scent.
2.2. Eco-friendly Cosmetics Accessories
11-piece premium makeup brush set made with eco-conscious bamboo which makes the brushes long lasting. This bamboo brush set features a range of professionally designed to achieve incredible makeup results every time.
Crocheted by hand in the UK, these eco-friendly cleansing pads are the perfect zero waste alternative to disposable makeup wipes, wet wipes and cotton pads. They are made from premium cotton and the rolled edge design is great for extra exfoliation and there are two colours, ivory or black (exclusive colour to Wearth).
Made from organic and ethically-sourced coconut oil, this pure coconut oil balm is an effective and natural makeup remover. It is packaged in a reusable glass jar and to use simple massage over makeup and wipe clean with face cloth.
2.3. Natural Bodycare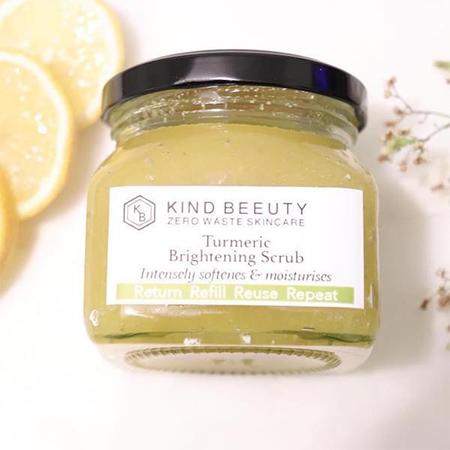 Like with the zero waste shampoo, this environmentally-friendly body scrub can be returned for the packaging to be cleaned and reused. It is packed full of natural ingredients including the anti-oxidant turmeric and energising lemon and orange essential oils.
Indulge in some self care and turn your bath into a spa with these eco bath salts. Blended by hand in England with mineral rich Himalayan pink salts, Epson salts and Vitamin E rich Avocado Oil. Suitable for all types of skin including sensitive skin and packaged in plastic-free glass jar and metal lid.
This earth-friendly body scrub product is made with fair trade coffee and nourishing organic cold-press coconut oil. The purpose of the coffee is to help stimulate blood flow which in turn gets your body to naturally target troubled skin as well as cellulite and stretch marks.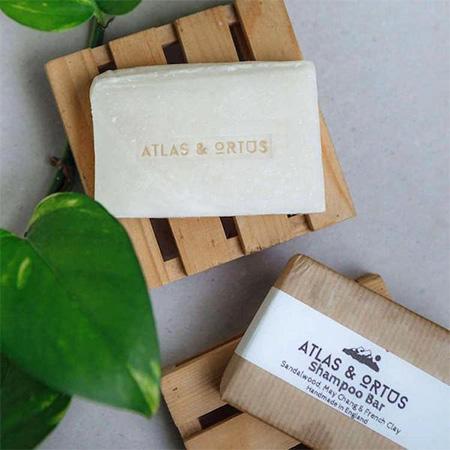 An easy green haircare swap is a zero waste shampoo bar with conventional plastic shampoo bottles being a major contributor to plastic pollution in the UK and around the world. The shampoo bars featured here have all natural and soothing ingredients in two scents, Eucalyptus, Mint & Lemon as well as Sandalwood, May Change and French Clay.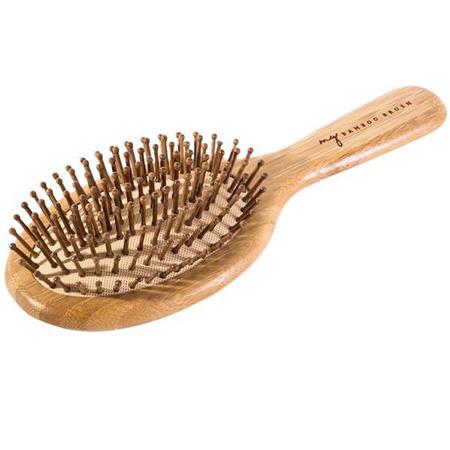 This sustainable bamboo hair brush is made with natural rubber and eco-conscious bamboo. It is biodegradable and plastic-free with pins made from bamboo! The round ends of the bristles are designed to stimulate and massage the scalp which helps to improve health of hair.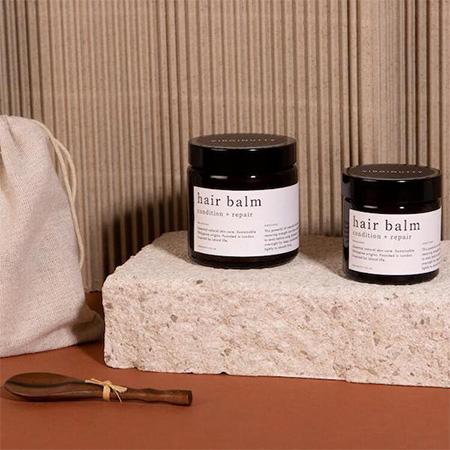 Formulated for dry and damaged hair, this vegan-friendly hair balm is made with deeply moisturising organic coconut oil sourced responsibly from the Philippines and bottled by hand in London.
3. Zero Waste Lifestyle
These environmentally-friendly products are designed to help you reduce the amount of single use plastic you use in your day to day life.
3.1. Eco-Friendly Water Bottles
Stainless Steel Water Bottle (500ml)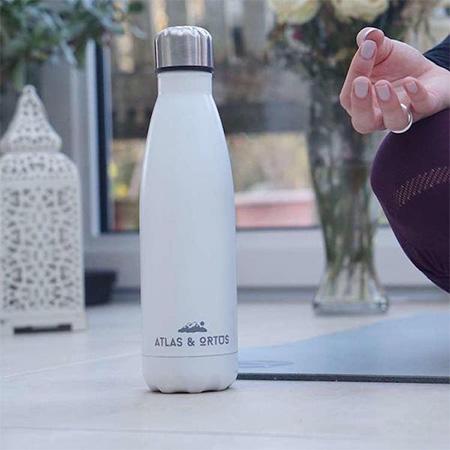 Stylish 500ml isothermal water bottle with rubber matte paint finish for extra grip and scratch resistant finish. The bottle is vacuum insulated maintaining hot and cold temperatures for up to 12 hours. Available in four finishes, white, black, grey and navy.
Unique eco water bottle made with bamboo and stainless steel and is suitable for both hot and cold drinks. It is compact and lightweight making it great zero waste companion.
350ml Thermal Water Bottle (Life Collection)
Contemporary new design thermal water bottles with an innovative isothermal construction which keeps drinks cold for 24 hours and hot for 12 hours. The colour featured here is the Copper Cobra which has this unique coppery gold textured finish which really stands out.
1200ml Tough Canteen Water Bottle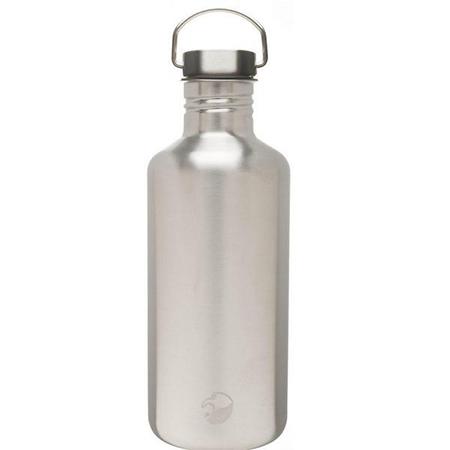 Extra-large stainless-steel water bottle made with tough 304 grade steel. This 1200ml bottle comes with a choice of either a sports cap or all steel cap.
3.2. Reusable Food & Drinks Products
Made with tough 304 stainless steel, this eco-friendly lunch box is large enough for sandwiches and a snack. With takeaway food packaging being a large contributor to single use plastic waste, lunch boxes offer an easy way to help protect our planet and oceans.
Shlurple Collapsible Drinking Straw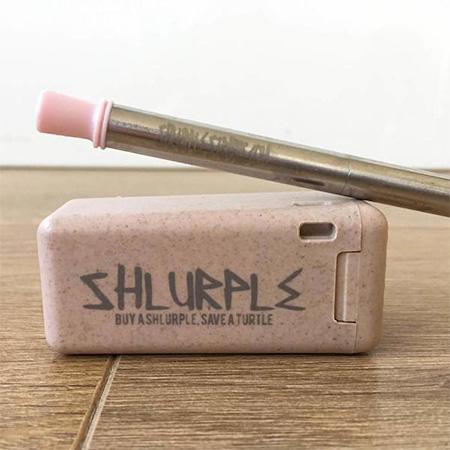 Buy a shlurple, save a turtle, this Innovative eco-friendly collapsible straw which is very compact and portable and can even fit in your pocket. This reusable straw is made from stainless steel whilst the box is made from biodegradable wheat composite.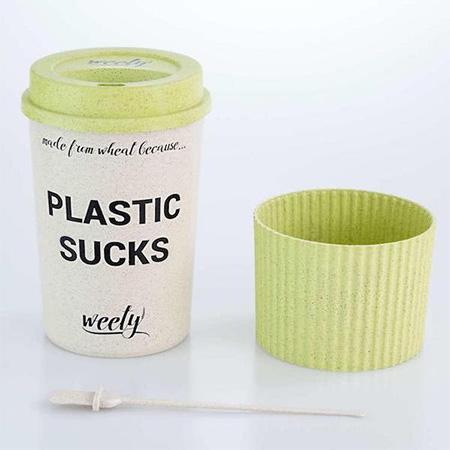 This eco coffee cup (350ml) is made from wheat fibre, making it biodegradable and compostable after use. Suitable for both hot and cold drinks, it is also machine and dishwasher proof and comes with 100% organic cotton storage bag and a reusable splash stick.
These zero waste food wraps are handmade in Scotland and unlike beeswax food wraps are made with rice bran wax making them vegan-friendly. Pine resin is added to the wraps to help them cling and coconut oil makes them soft. Food wraps can be used as a planet-friendly alternative to cling film and aluminium foil.
Biodegradable Lunch Box for Kids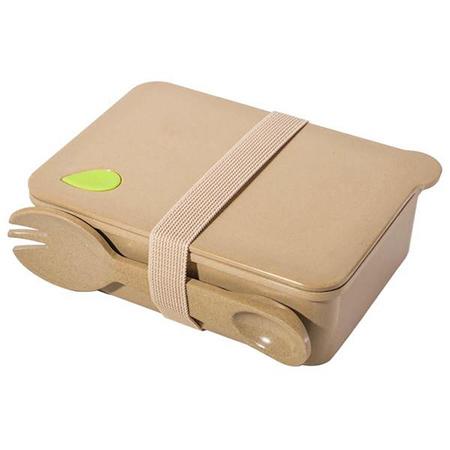 Made from organic rice husk, this plastic-free lunchbox includes a spork, box strap and removable divider. It lasts for years and once discarded into landfill or compost heap it will biodegrade within 180 days.
3.3. Plastic-Free Lifestyle Kits
The complete zero waste starter package for anyone who wants to reduce their use of single use plastic with contemporary eco-friendly products. The kit includes a paper bag backpack, bamboo water bottle, bamboo coffee cup and bamboo drinking straw.
Selection of green products for reducing plastic waste including 500ml insulated water bottle, organic cotton everyday bag and a reusable glass coffee cup. There are a range of colours to choose from and the bags are made by Freeset Global, a Fair-Trade certified organisation which empowers women impacted by India's sex trade.
New zero waste kit focused on food and drink with Weety reusable cup, cutlery set, stainless steel bottle, stainless steel straw set and a mesh woven net tote bag available in different colours.
4. Sustainable Fashion
Contemporary eco-friendly fashion accessories which don't cost the earth.
4.1. Eco-friendly Jewellery
Minimal moon necklace handcrafted in the UK using recycled eco silver. It is finished with a high shine on the smooth half and a satin finish on the textured half to create an edgy contrast. Recycled silver is an environmentally-friendly jewellery alternative as silver mining can have a significant negative impact on the environment as well as indigenous local communities.
Handmade in London with gold plate and recycled silver, this star ring makes for a beautiful addition to any ethical jewellery collection. The back of ring is open making the size adjustable to fit on finger.
Unique whale necklace with the whale tail charm cast in recycled silver and attached to an 18inch sterling silver chain. This ocean inspired piece of sustainable jewellery also gives back with 10% of each sale going to the Marine Conservation Society.
Pair of two contemporary bar stud earrings, each individually made by hand in West Sussex UK with sustainable silver. The lengths of the earrings are 11m and 5mm.
Classic ethical silver cuff bangle made by hand in South of England from 4mm recycled sterling silver. It is designed for everyday wear and fits most sizes.
Forged by hand in the North East of England, this unisex necklace has a choice of one or four rings made from recycled silver. Each ring represents the four principle moon phases and polished to a high lustre, allowing the texture to catch the light.
4.2. Ethical Bags
Stylish sustainably-sourced and vegan backpack and is made by spinning poly paper fibres together to bond them and create this leather like finish. Inside the bags there are two sections, a laptop pouch with Velcro tab and a 'secret' pocket to keep valuables hidden and safe.
Organic Cotton Weekend/Gym Bag
Certified organic and Fairtrade weekend bag made by social enterprise Freeset. It is a good size for weekend trips or going to gym and is available in navy, grey and black.
Each bag for change is made with a purpose, to help create a more sustainable society. Made responsibly in Portugal with water-based print, there are two colours, white and navy and £2 of each sale goes to environmental education projects on themes such as waste, recycling, composting and energy.
Looking for more eco-friendly products? On Wearth we have a range of departments which make finding UK environmentally-friendly and ethical brands easier. One of our main goals, alongside supporting independent green
---