15

Jul

How to self-care the sustainable way
Self-care is all about the things we do to take care of ourselves – physically and mentally. It's really important, especially in busy and stressful times. However, some usual self-care practices can leave us feeling a sense of guilt, for example as we reach for the plastic bottle of bubble bath. So, how can you practice sustainable self-care, and what are the best sustainable self-care products out there?
Here we reveal some of our favourite sustainable self-care practices.


1. Snooze your way to wellbeing
Getting good quality restorative sleep is vital to our wellbeing. The Mental Health Foundation shares advice on how to get a good night's sleep. They talk about keeping a good routine, avoiding tech at bedtime, and getting the light and temperature right.
Getting the right sleep habits in place is a vital cornerstone of your self-care. With a gorgeously soft eye mask and a calming lavender herbal sachet to place under your pillow, the La Aquarelle Sleep Set is perfect for sending you off to the land of Nod. Handmade, using natural plant dyes and organic materials, it's one of our favourite sustainable self-care products.


2. Indulgent moments
Sometimes it's not enough to weave self-care habits into our day, but instead we need a real one-on-one with ourselves in a dedicated pamper session. Taking time out from our busy lives to indulge and preen our bodies is an excellent strategy for wellbeing.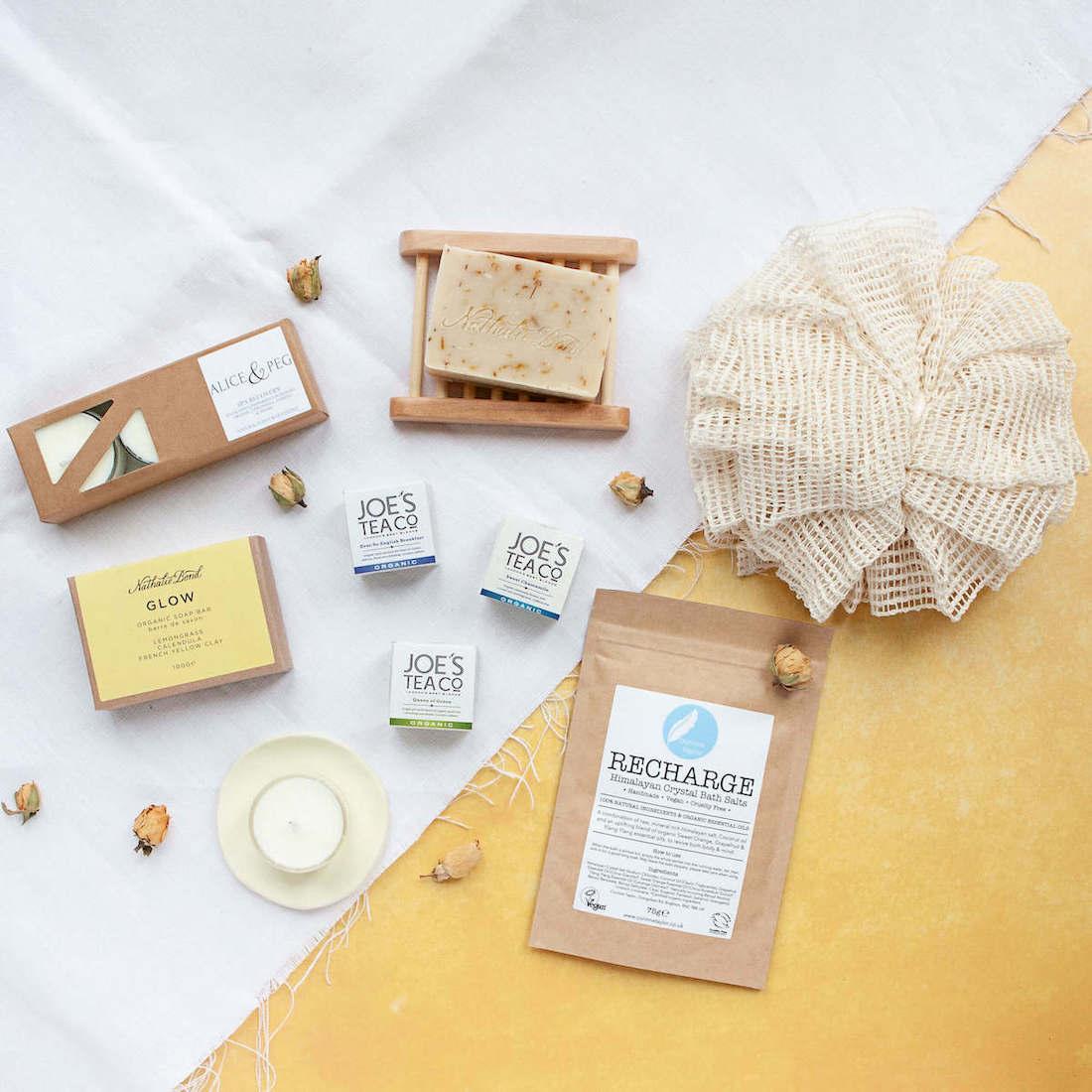 The Alice & Peg Moments of Mine Gift Box contains everything you need to do just that. Inside you'll find lots of wonderful eco-friendly goodies, like Recharge Himalayan Bath Salts, a natural shower puff and a set of recycled glass tea lights, designed to give you that spa day feel at home.
The Moksa Mama 'Me Time' Self Care Kit is particularly good for pregnant ladies. It's packed full of natural and ethical self-care wonders like Lavender and Mandarin Calming Mist and Bump Balm, perfect for looking after yourself during pregnancy.


3. Grab a cuppa
It's all too easy to grab your hot drink and mindlessly drink it as you return to your desk or get on with tasks. Instead, slow down and take the time to actually enjoy a warming drink. It can be incredibly therapeutic and give your mind and body the time and space it needs to get going again.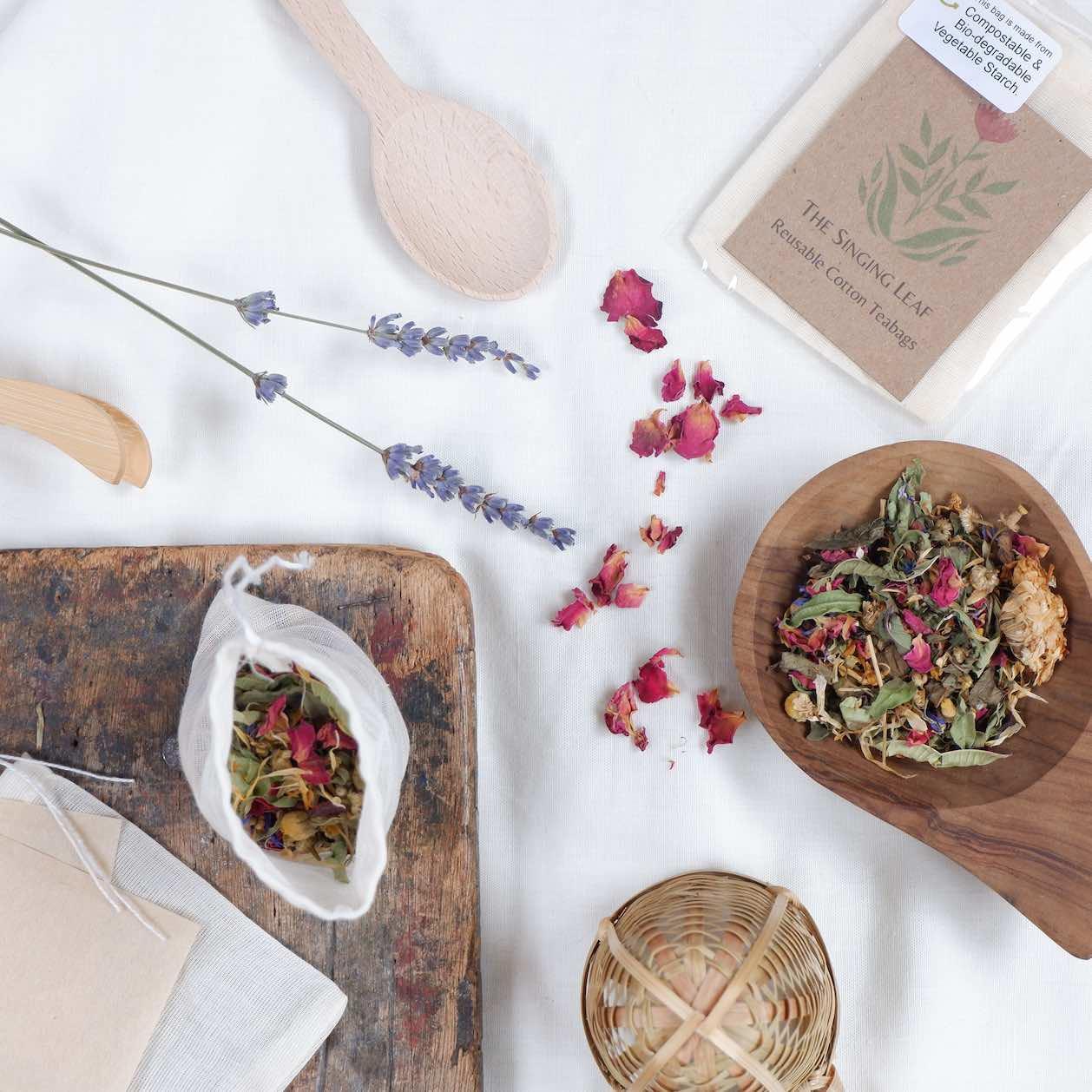 Enjoying a hot drink is also a perfect way to create a dedicated self-care ritual. With The Singing Leaf Organic Loose Leaf Tea Gift Set you can choose your own organic loose leaf tea infusions, but also get a bamboo weaved basket tea infuser, tea tongs and spoon as well as two reusable unbleached cotton tea bags. It is zero waste, sustainable, and a blissful opportunity to relax and unwind.


4. Exercise your way to balance
Exercise brings with it many benefits, making it a self-care wellbeing wonder. The trick to making exercise part of your self-care routine is to choose what you enjoy. An excellent exercise option, especially if self-care is your main focus, is yoga.
Yoga has an incredible range of benefits and can be practiced whether you're young or old, fit or unfit. You also don't need much to get started, except for making yourself a comfortable spot on the floor. The Cork Yogis Cork Yoga Mat (Classic) is all you need. You can also use it for Pilates, or home workouts. What's more, each purchase helps to support women who have survived human trafficking.


5. Slip into a warming bath
When the day is done and you want to shrug off the stresses and strains, you can't beat slipping into a wonderfully warm bath. Turn down the lights, light up a divinely scented Bramble and Blossom candle, and pop some Himalayan & Dead Sea Bath Salts in the water.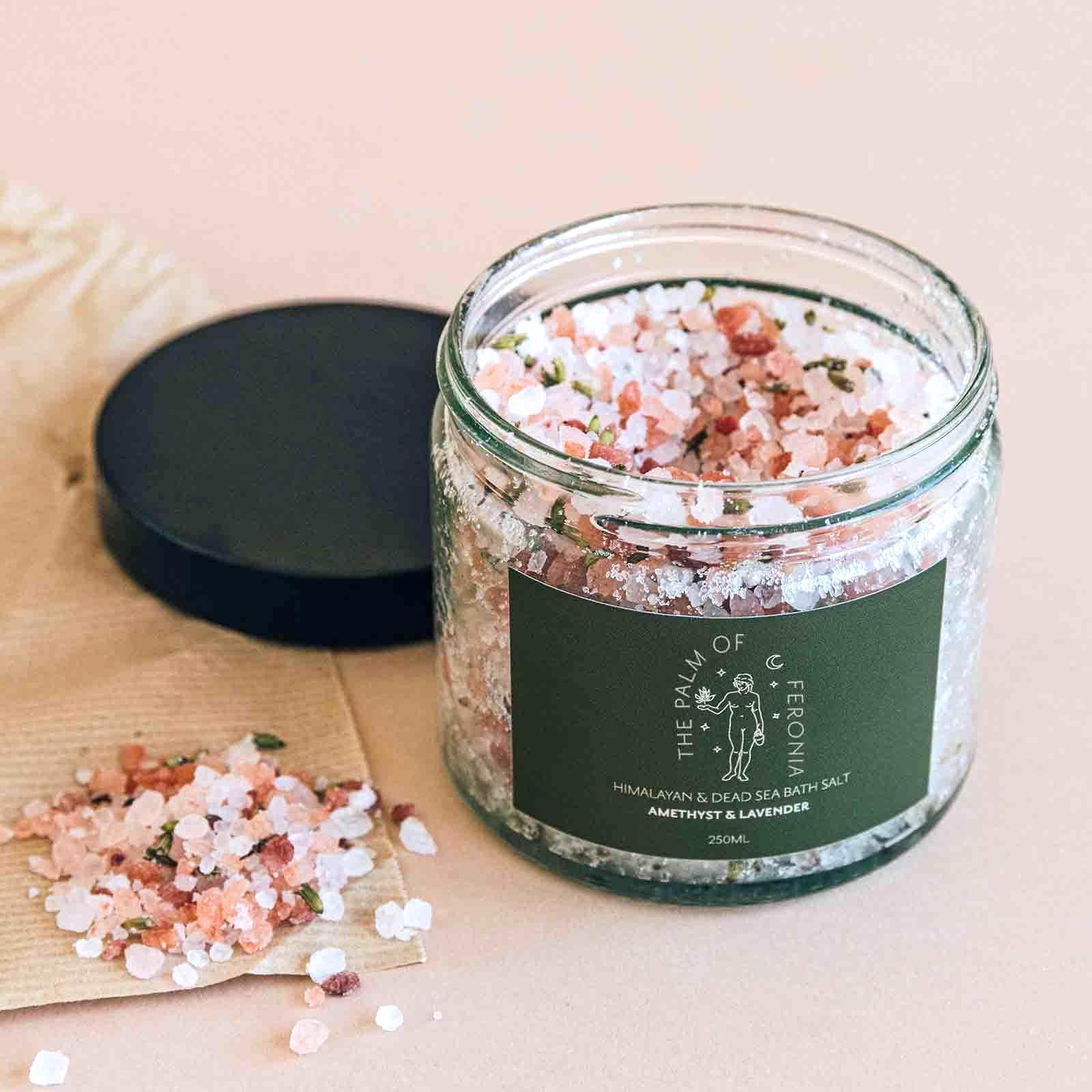 The calming and soothing salts are paired with lavender, juniper berry and petitgrain essential oils.


6. Mindfully take care of your mind
Mindfulness meditation is incredibly simple to master. It brings a whole host of benefits from increased focus to reduced stress and better physical health. Your self-care practice should aim to include the deep relaxation and rejuvenation that mindfulness can bring.
If you'd like to spur yourself on to regular meditative practice, then invest in the Agnes LDN Meditation Cushion.
We find it easier to focus our minds on meditation with the gentle aromas from a reed diffuser. We particularly love the Sweet Naroli + Basil scent with the Handmade Candle Co's Oil Reed Diffuser.


7. Retail therapy – the wholesome way
For some, an energised session of retail therapy can be the self-care boost they are looking for. However, as a conscious consumer this can raise all sorts of ethical conundrums. Stick to a trusted sustainable and ethical retailer and you can enjoy some retail therapy guilt free.
Whether it's sustainable fashion or homewares that float your relaxation boat, we've got you covered at Wearth.


8. Taking care of the little things to take care of you
We often forget that powerful self-care exists in all of the smaller things we do every day. Choosing to use your inner voice to speak to yourself kindly and with encouragement is immensely powerful, for example. Equally important is eating well and staying hydrated, as well as choosing the right supplements for you, such as Kiki Health's Organic Shiitake Extract Mushroom Vegicaps or Body Biotics.


9. Write and be grateful
Journaling is another powerful self-care ritual. Whether you simply like to pour out your heart or keep a daily recount on blank pages, or prefer something more guided, journaling can help you to organise thoughts and regain calm. Incorporating gratitude practice into your journaling can also help you to feel optimistic and positive, even in the bleakest of times.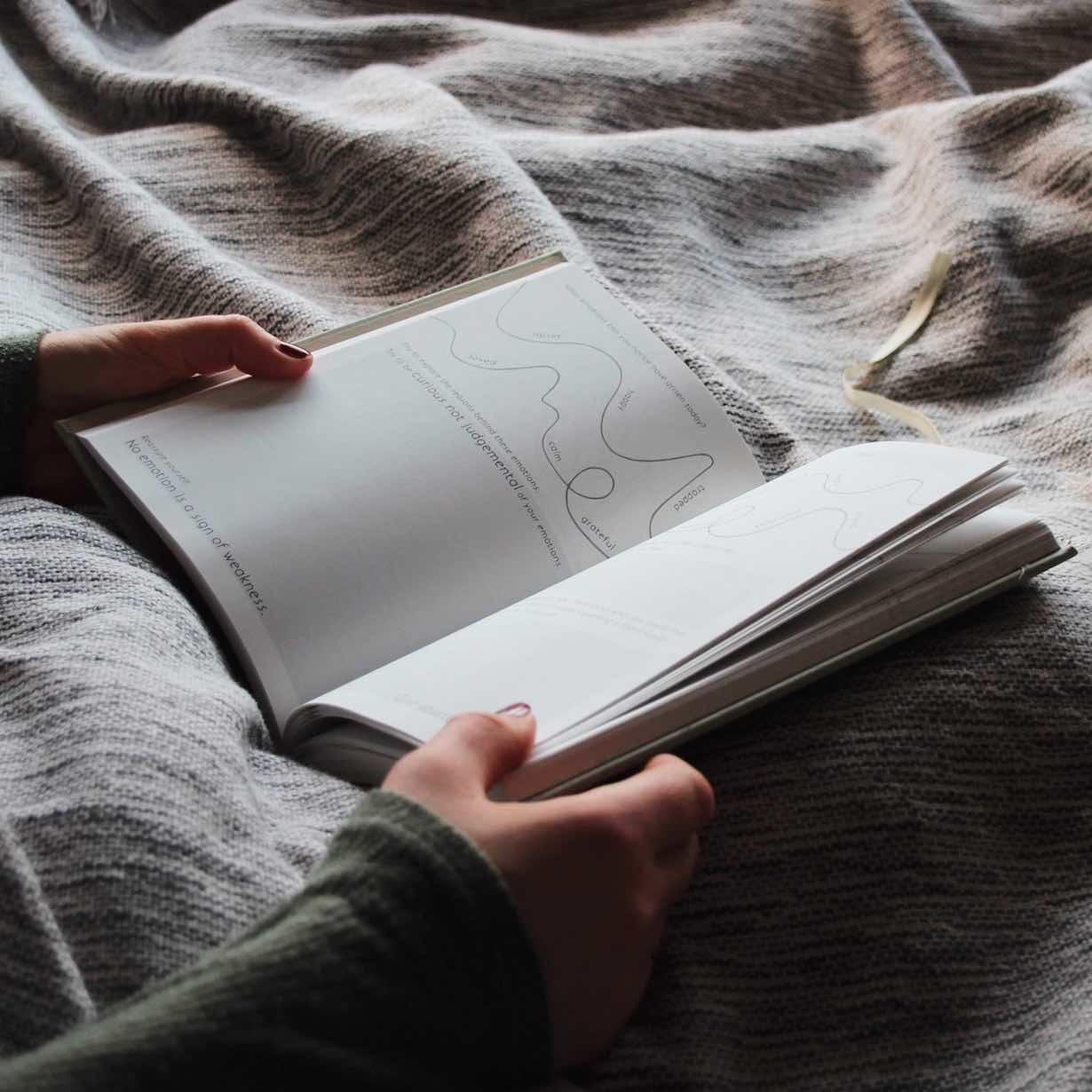 The Give Yourself Kindness Journal is absolutely ideal for those who want to use journaling as a self-care tool, especially if you're new to journaling as it contains useful prompts. If you prefer a free-writing style then the FA VO Recycled Notebooks are as beautiful with their ethics as they are to write in.


10. Self-care beauty
Focusing on the wellness of your skin and hair can also be part of your self-care. Choose vegan and sustainable skincare and haircare, or try a sustainable beauty box, and you can feel good about your choices.
Sustainable self-care products help you to care for yourself and the world around you. By giving out, you look after yourself. So pick your favourite self-care ideas and reap the benefits – sustainably.
---