16

Aug

My Sustainability Journey At Festivals
The festival season is well and truly underway and with it comes new opportunities to make sustainable choices while seeing your favourite artists. It also brings with it a lot of single-use products that are beyond your control, such as lateral flow tests, single-use cups and food containers, wrist bands and other products marketed for camping due to their disposable nature. But before you let those prospects get you down here are some tips and tricks to be more sustainable while attending festivals.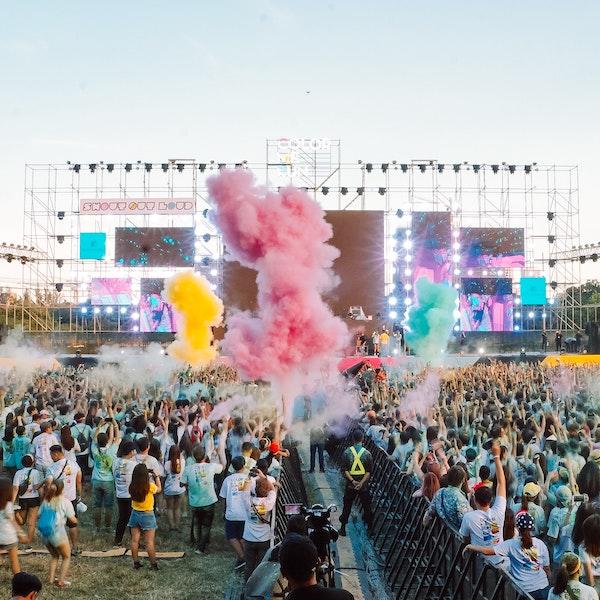 Credit - Unsplash.com
Like with so many other things the responsibility for being sustainable at a festival should begin with the company. Festivals such as Latitude and Shambala have made a name for themselves over the years for their sustainable practices. In 2019 The Association of Independent Festivals (AIF) and Live Nation Entertainment pledged to ban single-use plastics from their festivals by 2021. This was reflected at Wilderness Festival which occurred earlier this month and is run by the Festival Republic, a subsidiary of Live Nation Entertainment. They provided compostable cutlery and take away boxes at every food vendor's stall. There was marked divided recycling, composting and general waste bins and festival-goers were encouraged to re-fill water bottles at taps clearly marked around the festival site. They even had a separate stall, encouraging people to collect cups, cans, and bottles that they saw discarded around the festival. Each item was worth 10p when handed in and items could be donated in exchange for money in multiples of fifty. It's measures like these that set the standard for sustainability and set the tone for consumers to follow. Each of us can vote with our money and through our choices to encourage sustainable practices in all aspects of our lives and festivals are no exception. So, without further ado, here are my five tips for being sustainable at festivals.
Sometimes the second most sustainable option is the best
I would love to begin my first Wearth article by telling you a story about how I fixed up an old, battered tent, patched its holes, and transported it to a festival. I could tell you about how I bid on second-hand tents on eBay rather than buying new ones. Yet, the truth remains that I did all these things and still ended up having to buy a brand-new tent at the eleventh hour because my old tent was too broken beyond repair and the eBay tents shot up too high in price. Sometimes, the ultimate sustainable goal is beyond our reach but that doesn't stop us from making better choices up to that point.
For me, the obstacles of repairing my old tent and transporting it to the festival were insurmountable and a new tent was necessary. As a consolation prize for my tent purchasing failures, I made sure that I also purchased additional materials to make my new tent last longer. Patching and waterproofing kits are a great option to extend the life of older tents and an additional groundsheet to encourage drainage during those ever-risky festival floods made sure that I could take on the elements and keep this tent going for years to come. A Greener Festival's 'Love Your Tent' campaign estimated that one in six people leave their tent behind. Taking care of your kit and clearing away your belongings, you are not only limiting waste that the specialist teams have to remove, but you are also limiting the amount of overall waste generated. A Greener Festival estimates the average amount of waste generated by camping festival goers per day as 1.92kg.
Some waste, like in our day to day lives, is unavoidable but often if the ultimate sustainable swaps are barred to us either by finances or logistics, the second most sustainable option is still better than nothing.
Rather annoyingly for me, my period started while I was at the festival and much like my tent debacle, the second most sustainable option was the most suitable one for me while camping. I'm all about a zero-waste period routine when I'm at home but while camping the ability to use more sustainable but disposable options suited me best. Alternatives like &Sisters Organic Cotton Liners and Luxstore's Organic Night Pads are a great alternative when braving the great outdoors.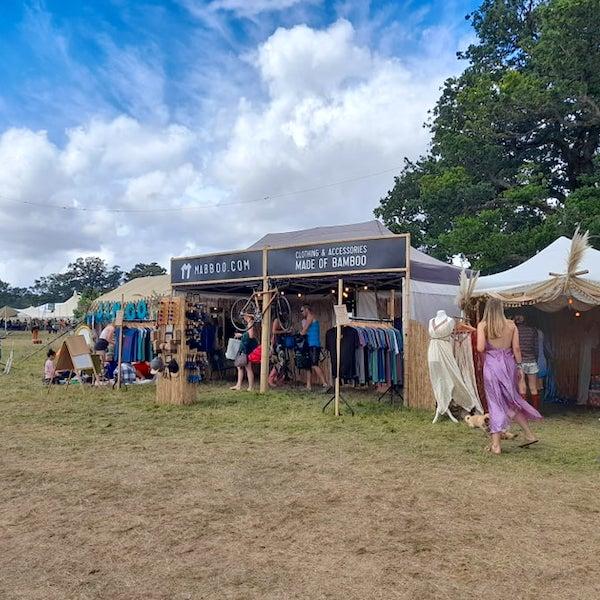 Credit - Emma Ferguson


Use Public Transport
This suggestion comes with a warning. If you are anything like me and have no sense of direction, then pre-planning is important. Public transport is the best option followed by ridesharing to limit your CO2 emissions while travelling. The more people who can share one form of transport, rather than occupying individual cars, the better it is for the environment.
Transport provided by the festival is a great option. Festival Republic look out for you and the planet by providing a coach service in partnership with Big Green Coach who sponsor 5 square feet of Amazon Rain Forest for every coach traveller. By booking a coach, it removes all the tricky parts of planning your journey and you can sit back and relax while travelling more sustainably. I will be following my advice on this one from now on, as I travelled by bus, train and on foot and got hopelessly lost in the process.
Use Reusables, Refillables and Sustainable Swaps
We're all aware of the impact single-use plastic has on the environment. Across the UK, around 7.7 billion single-use water bottles are bought each year. Bringing a refillable bottle and availing yourself of the free water taps provided at festivals allows you to take this relatively easy step to reduce your plastic purchasing. This simple eco swap is also easier on your bank balance in the long run.
Another old faithful sustainable swap is the bamboo toothbrush. I brought my Georganics Bamboo Toothbrush which has a compostable handle and is part of a 'Zero to Landfill Scheme' where you can freely post 10 heads back to the company and they will recycle them.
With the pandemic still influencing our lives, it's important to carry hand sanitiser, especially in such a packed space. I chose to save up the little bottles of hand sanitiser I had accumulated over the past year and re-fill them to cut down on my plastic waste. At Wearth we have bulk re-fill options like Miniml's Hand Sanitizer Gel in 5L and 20L refill sizes.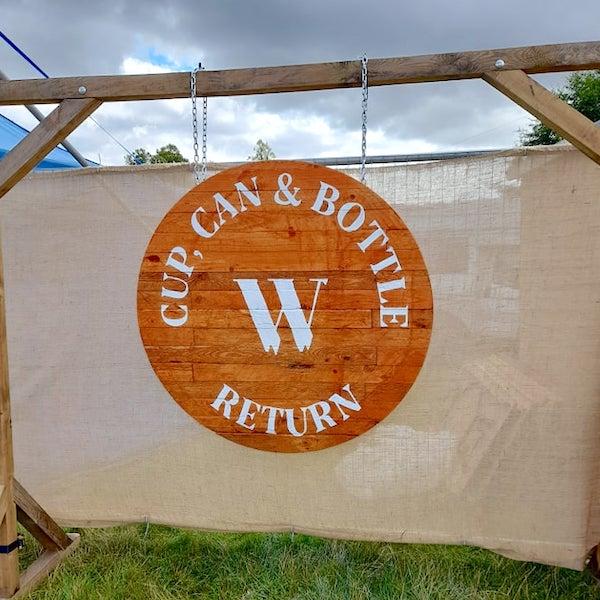 Credit - Emma Ferguson
Use what you already have
Before I purchased anything to travel, I shopped my own stash. At festivals there is a big sales push to buy outfits that you likely won't wear again. Before you head off to your festival, search through the dark recesses of your wardrobe and pick out any festival appropriate glad rags you might already own. Or head to your local charity shop in search of something new. Many charity shops are clued into the festival season and will have curated racks in preparation.
The same goes for cosmetics. As someone who recently graduated from uni and temporarily moved back home with three years' worth of stuff in tow, I can speak about how half-used products and poorly chosen sale-inspired make-up purchases can fall by the wayside. Maybe make this festival season your opportunity to use up what you have and let loose with some of your more out-there items.
I also raided the bathroom drawers and brought along half-finished shampoos and mini shower gels and toothpaste that might otherwise have been forgotten. Often, the best thing we can do for the environment is to use what we already have.
Borrow
I can't tell you how many times during the packing process someone said 'you can borrow that'. So often, it is the case that if you don't have something someone else will. So when packing why not ask around? I was offered: wellies, Crocs, coats, sleeping bags, bottles and so much more. There are also countless groups online for borrowing, sharing, and renting items so why not give it a go?
The biggest takeaway I had from my attempts to be sustainable at a festival was time management. Planning is the best way to anticipate and accommodate the needs you will have. If I had considered every step of the process before booking then the transport, camping gear and other items would all have been readily available, and my panic tent purchase might not have been necessary. Every attempt you can make to be low-waste at a festival is worth trying and I wish you – happy camping!
By Emma Ferguson
---