14

Dec

Our pick of the best home fragrance products
Home fragrance has the power to transport us and our emotions. We can come in from a day feeling weighed down by the realities of life and instantly feel our mood lifted and rejuvenated, if we have the right fragrance. Particularly in winter, natural scented candles make our homes cosy, nurturing and inspiring, turning a winter's night into something enjoyable.
Here we reveal our pick of the best home fragrance products. Whether you prefer natural scented candles, diffusers, wax melts or mists, we've got the home and house fragrance products you're looking for.
Light it up with our pick of wonderfully scented candles
Rose & Sandalwood Soy Candle by Moksa
We adore this vegan friendly Rose and Sandalwood Candle. It's infused with rose quartz and adds warmth from sandalwood and jasmine to create a sensuous space which is inherently stress-relieving.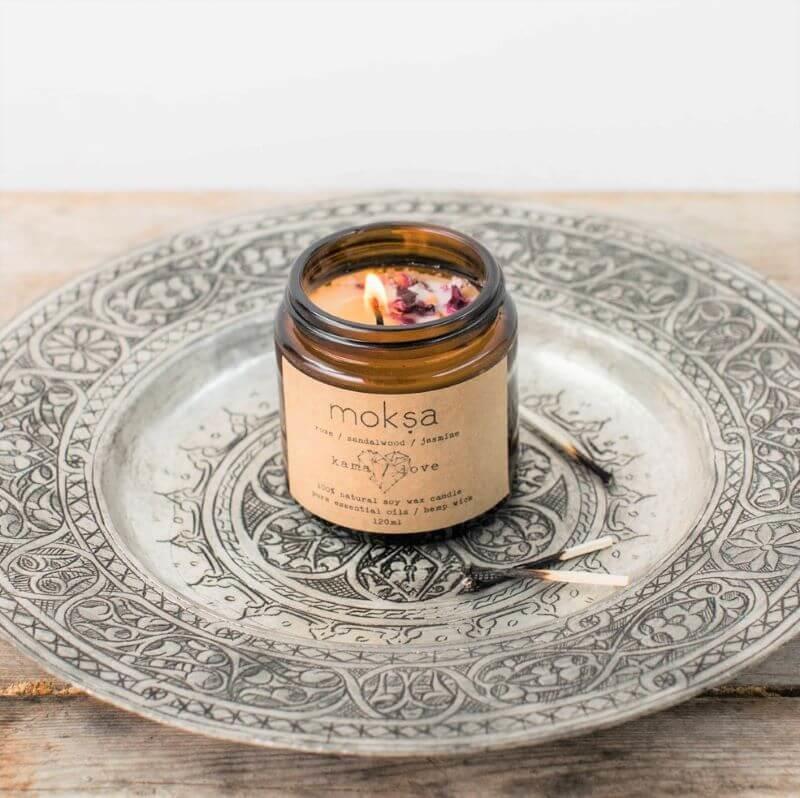 Made from sustainable soy wax with a sustainable hemp wick, there are no nasty toxins coming your way here. Made in Devon, what's not to love?
Seasonal Soy Wax Candle with Botanicals by Above the Flame Candle Co
These Seasonal Soy Wax Candles come in a range of heady scents including Pumpkin Spice, Festive Fig and Winter Lodge. Their names alone are enough to transport you to where you want to be this winter.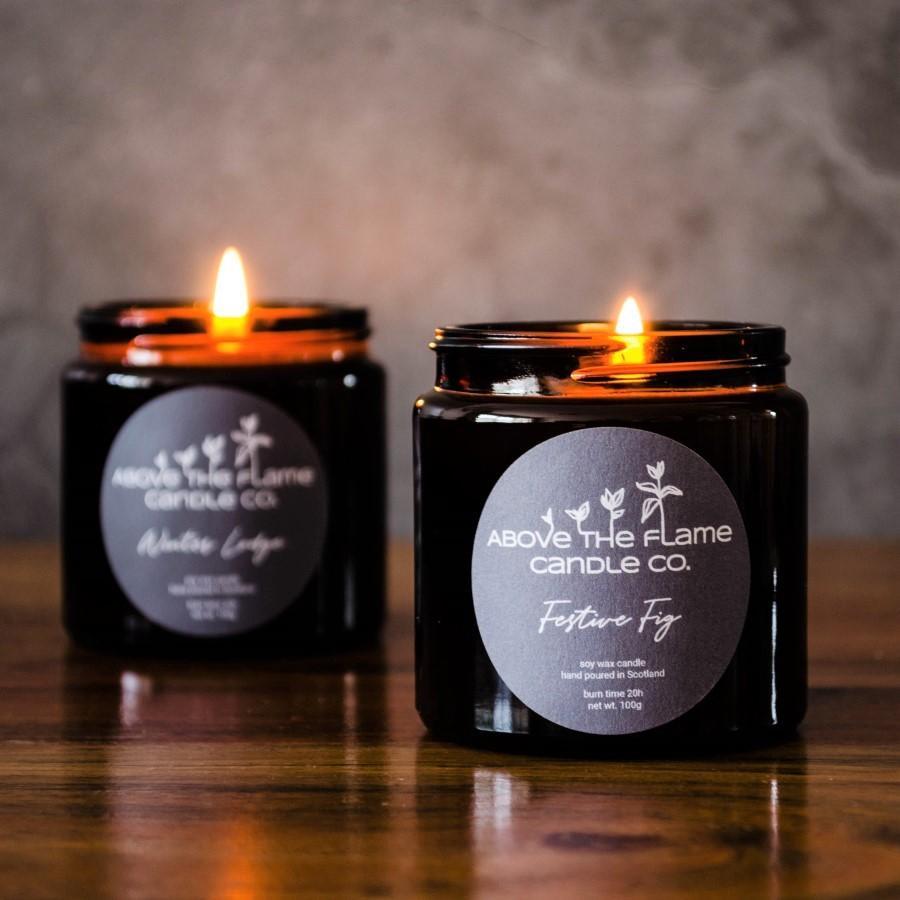 Made in Scotland, these are cruelty-free candles which will look divine in your home in their amber glass jar. In addition, the Above the Flame Candle Co plants a tree for every order.
Soy Wax Amber Candle by Russell & White
The Soy Wax Amber Candle is a perfect choice for those looking for floral scented home fragrance. 'Purple Fields' will lull you into peace with lavender and chamomile.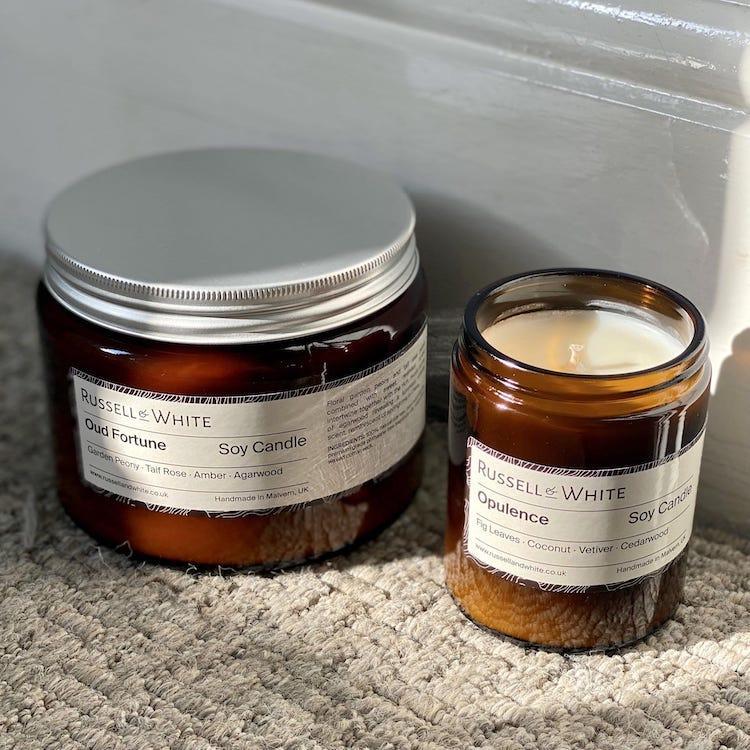 The 'Eastern Garden' scent will transport you into an Asian garden with its aromas of lemongrass, kaffir lime, ginger and patchouli. For a more wintry scent, try 'Mystice' with its orange rind, amber, frankincense and myrrh.
Coconut & Rapeseed Three Wick Candle by Handmade in Harpenden
If you want a huge range of natural scented candles to choose from then the Coconut & Rapeseed Wax Candle is an excellent choice. There are seven heavenly scents to choose from, including Bergamot and Patchouli and the wintry Spiced Cranberry.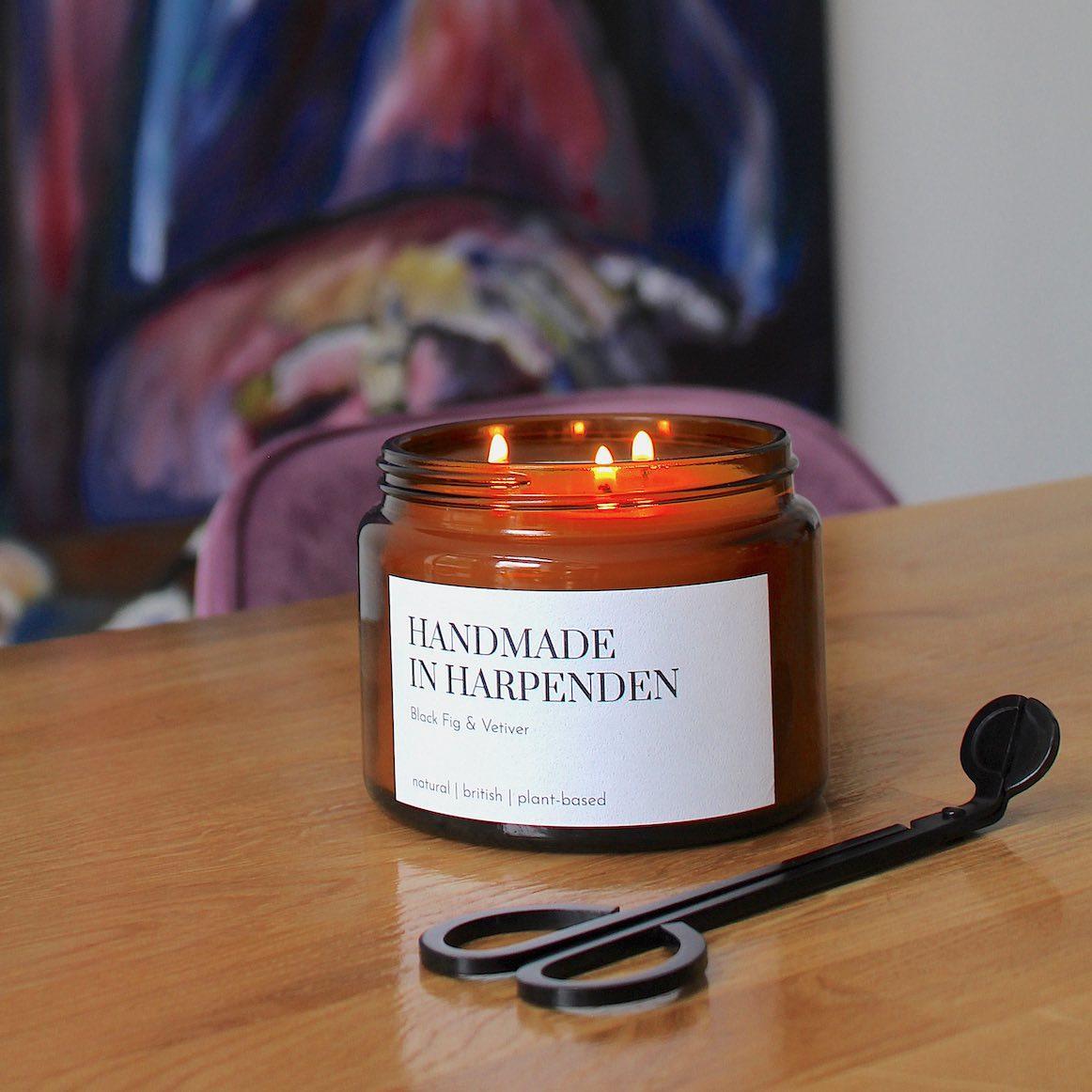 Each candle has an approximate 60 hour burn time which is just incredible. All candles are made using only responsibly sourced materials.
Hand Poured Soy Wax Candle by Morgan Jost
These Oxfordshire-made Hand Poured Soy Wax Candles are made using organic vegan soy wax along with natural paraben-free essential oils.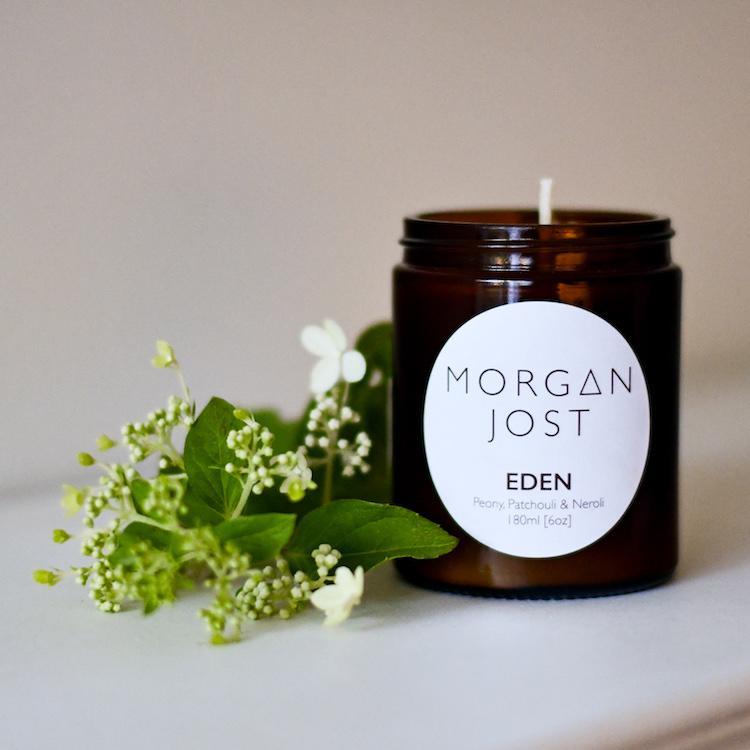 We particularly enjoy the unusual 'Botany' which combines the scents of tomato vine, fig and bergamot. 50% of the profits from this candle go to Mind, an important mental health charity.
Jumbo Coconut Shell Candle by Panda Packaging
We really love this limited edition Jumbo Coconut Shell Candle.


Not only does it look fabulous (as well as being zero-waste), the home fragrance achieved is like a blend of Arabian nights and the tropical breezes of Bali.
Let your chosen scent gently breeze through your home with a diffuser
Miyabi Reed Diffuser by Kaskia
The Miyabi Reed Diffuser is vegan-friendly and uses only natural ingredients with plastic-free packaging.


The Miyabi diffuser predominantly sends out floral aromas which are subtly sweet. But there are also earthy undertones to ensure it is a scent you'll enjoy all day long.
Aromatherapy Essential Oil Reed Diffuser by Ollie & Co
This Sweet Orange and Cinnamon Essential Reed Diffuser is a wonderful winter diffuser which will bring tranquillity to your home. This is an eco-friendly diffuser made in Clovelly.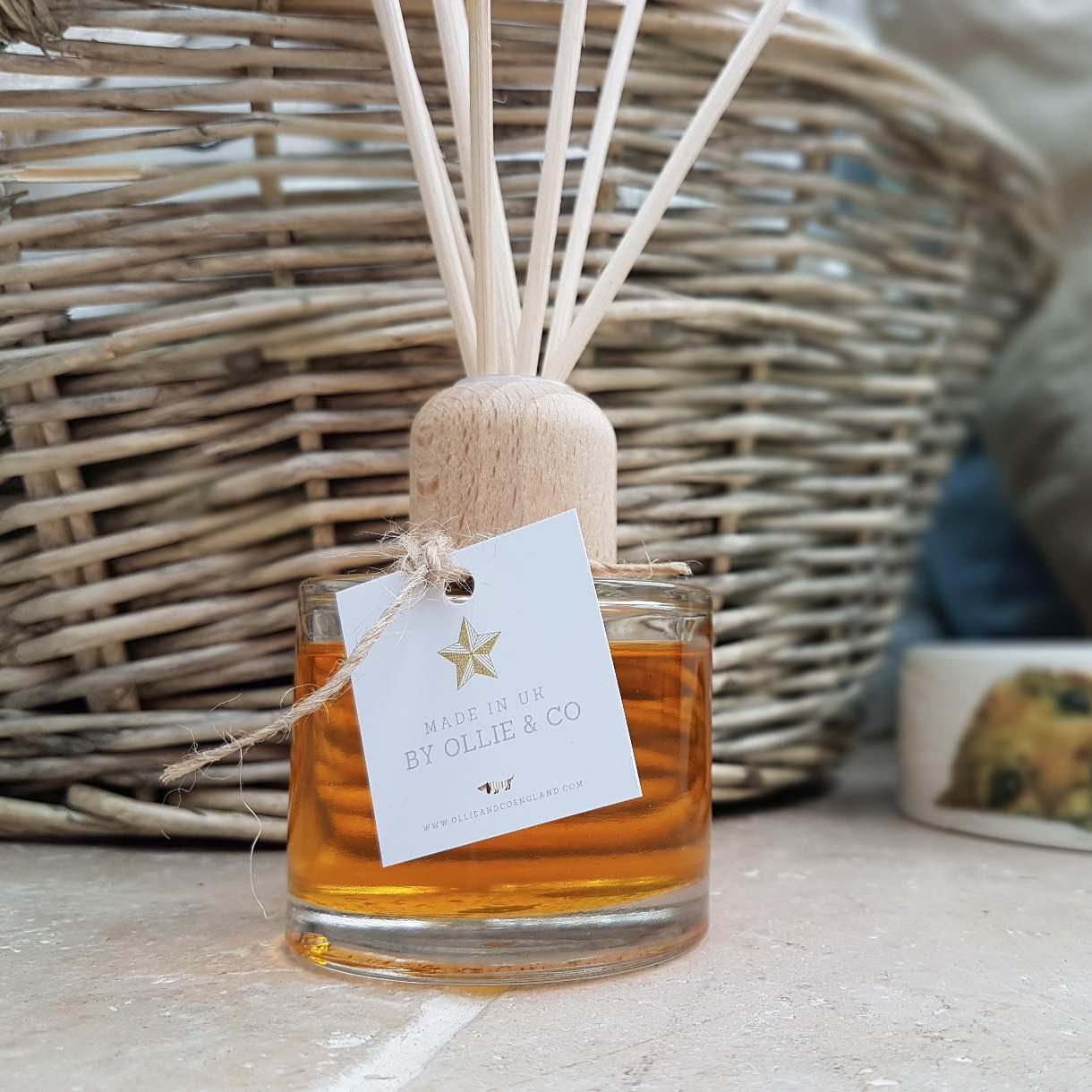 Sustainable Diffuser by WXY
WXY's minimal Sustainable Diffusers are one of our favourite house fragrance products. They look sleek and contemporary but also the scent they emanate is absolutely divine.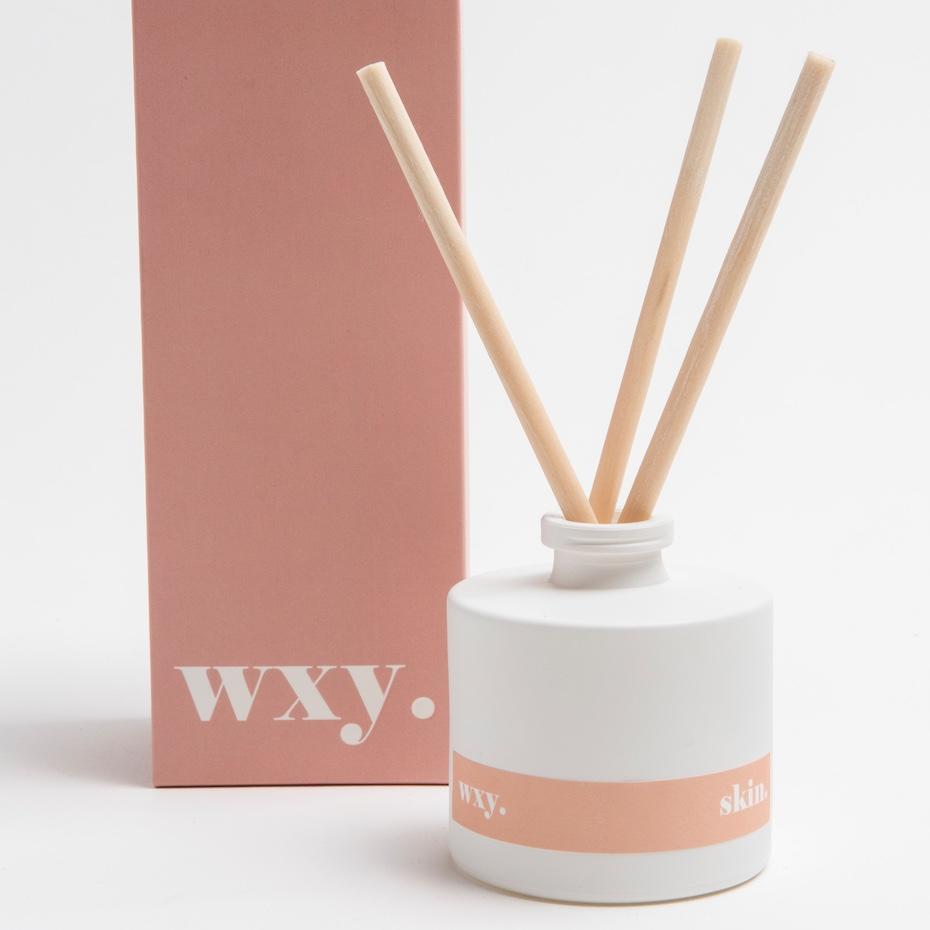 There are lots of choices: Aura, Bed, Nights, Om, Juiced, Haze, Lucent, Indigo and Eos. Each one is quite distinct but they still work well together if you have them in different areas of the home.
Botanical Reed Diffuser by Elm Rd.
In striking black, the Elm Rd Botanical Reed Diffuser is a fabulous way of adding paraben-free botanical fragrance to your living space.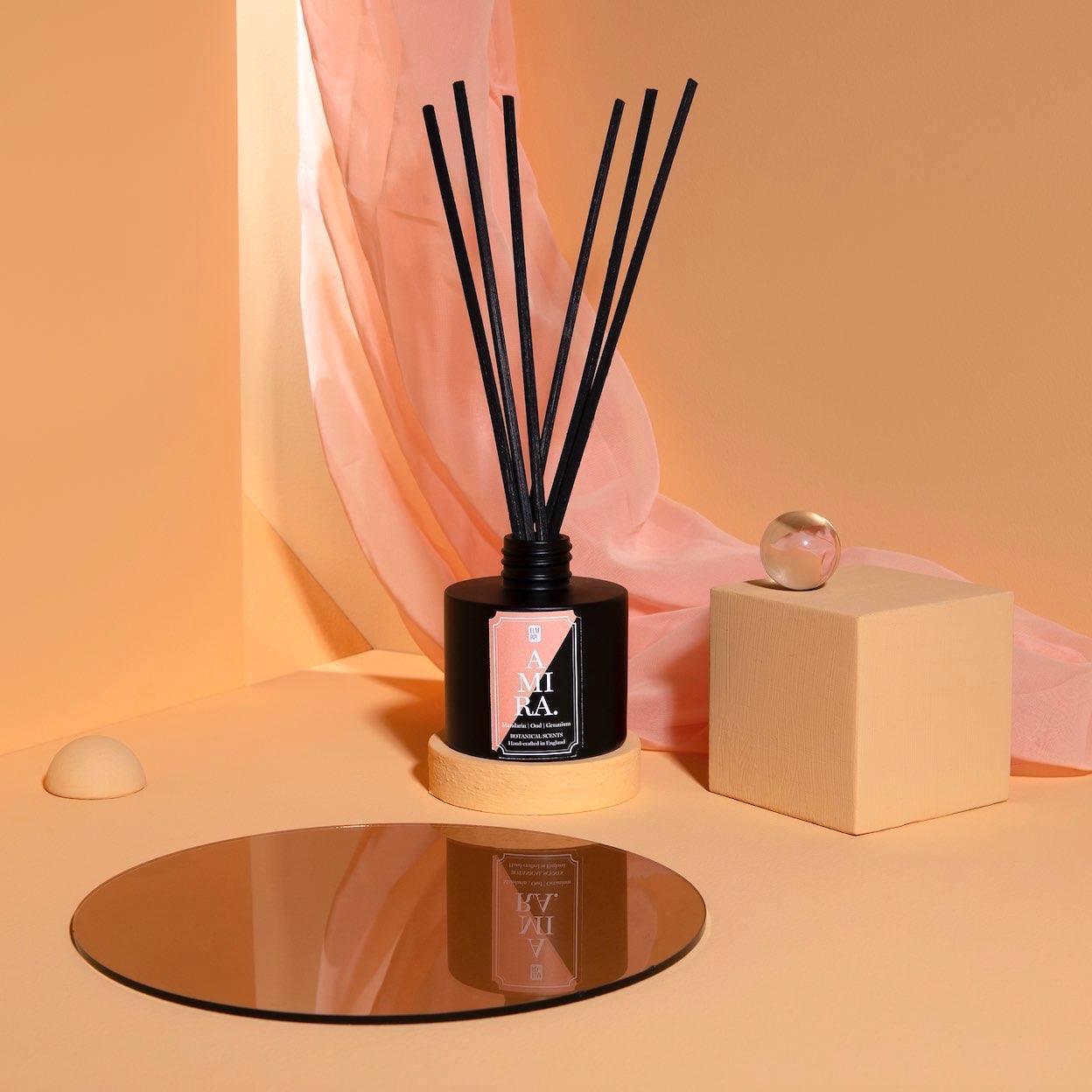 For a festively enticing aroma, try 'Amira' with its blend of mandarin, oud and geranium, or 'Chalet' which combines sandalwood, cedar and juniper.
Enjoy subtle aromas with the peaceful ritual of wax melts
Heart Shaped Aromatherapy Soy Wax Melts by Therapy & Scent
Pop these Cheshire-made hand-poured soy wax heart melts onto your burner and enjoy 3-4 hours of burn time per heart. Using therapeutic grade essential oils in combination with natural soy wax, you benefit from the wellness benefits of the various scents.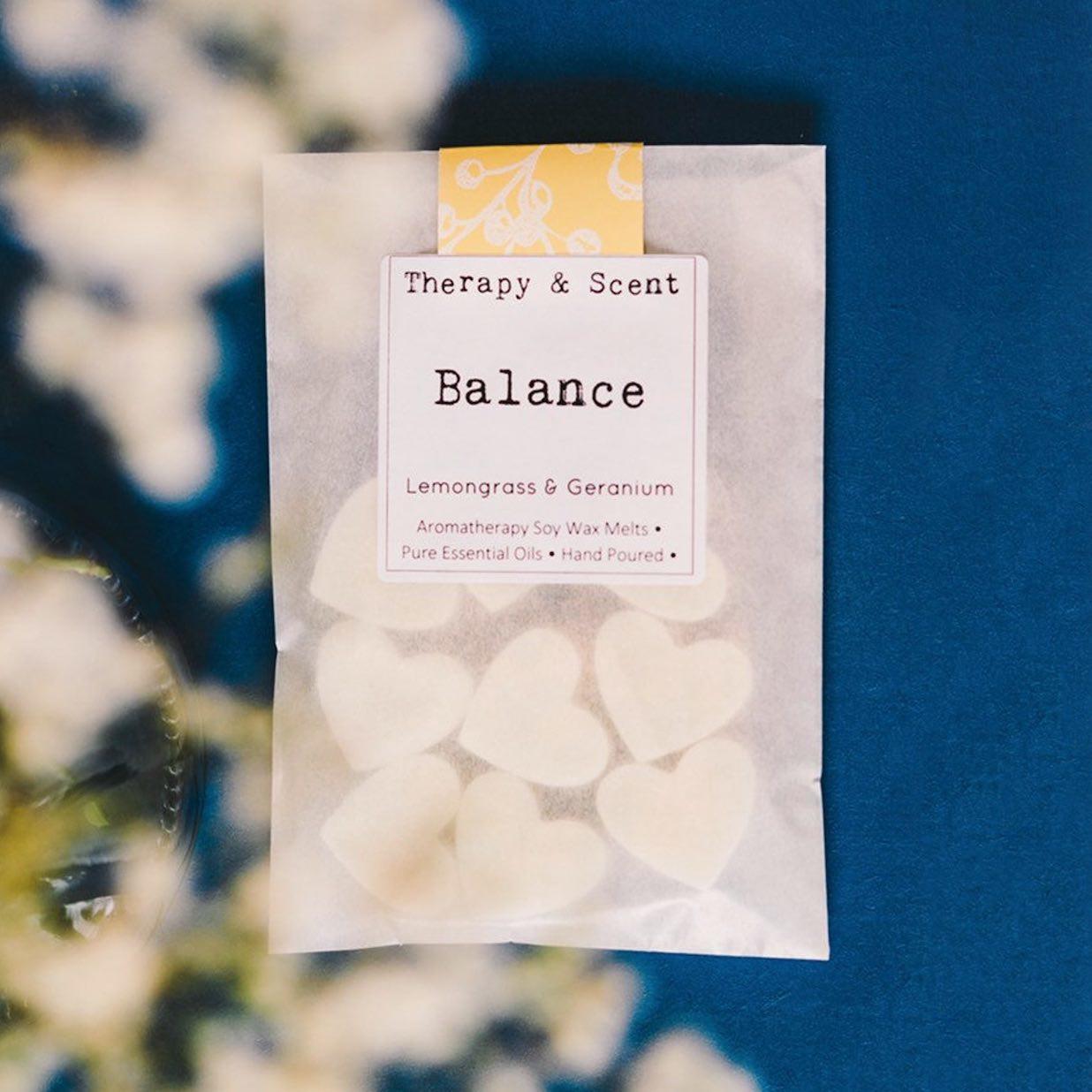 Whether you need calming, stress-alleviation, help with sleep, uplifting or something to battle the winter colds, these heart shaped wax melts are perfect.
Ethical Soy Wax Melt Gift Set by Amygdala Home
The Ethical Soy Wax Melt Gift Set can of course be given as a gift, but there's nothing to stop you getting it for yourself either. Using eco-friendly soy wax with dried roses, these handmade melts give off sublime fragrances.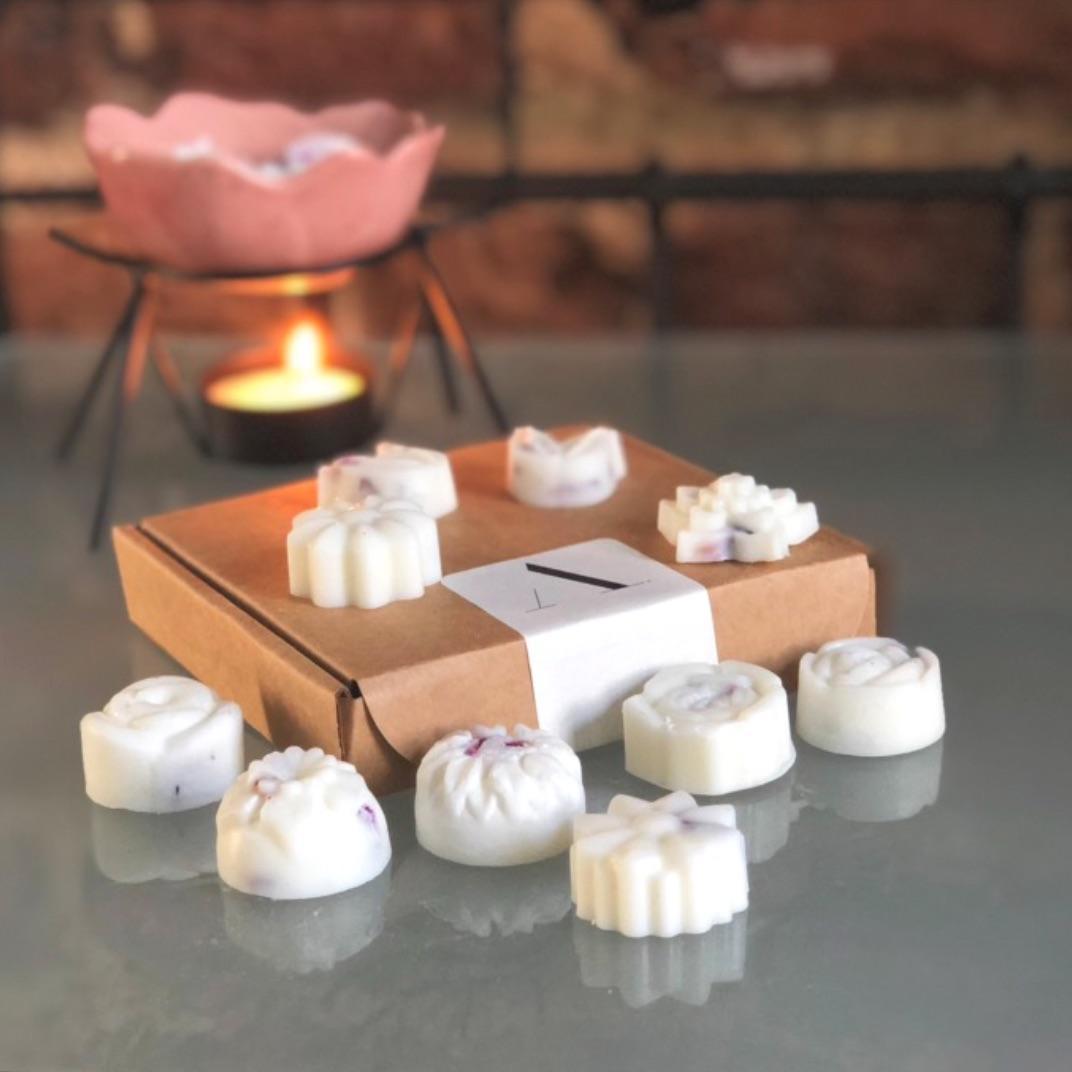 Spritz it when you need it with fragranced mist
Calming Mist by Bramble & Blossom
The Calming Mist by Bramble & Blossom is a gloriously botanical mist scented with bergamot, rose and flower water.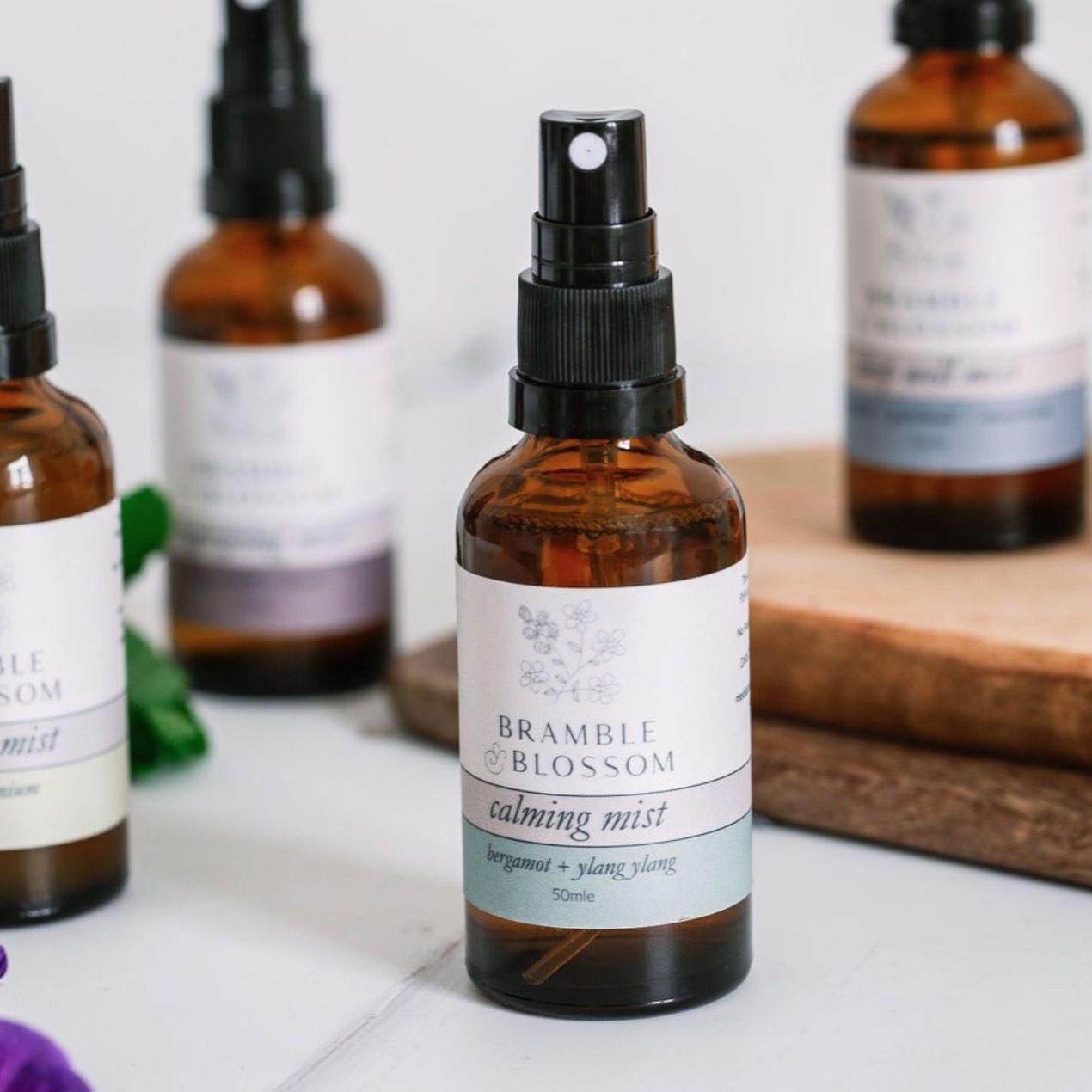 Expect a calming and grounding delicate scent which can be used as part of your meditation routine or simply when you need to take a moment due to the busy-ness of life.
Natural Essential Oil Room Mist by Elm Rd
A classic and refreshing scent, this Natural Essential Oil Room Mist is a popular home fragrance. Gently floral and completely natural, you can choose from a range of scents such as 'Serenity', 'Courage' and 'Happiness'.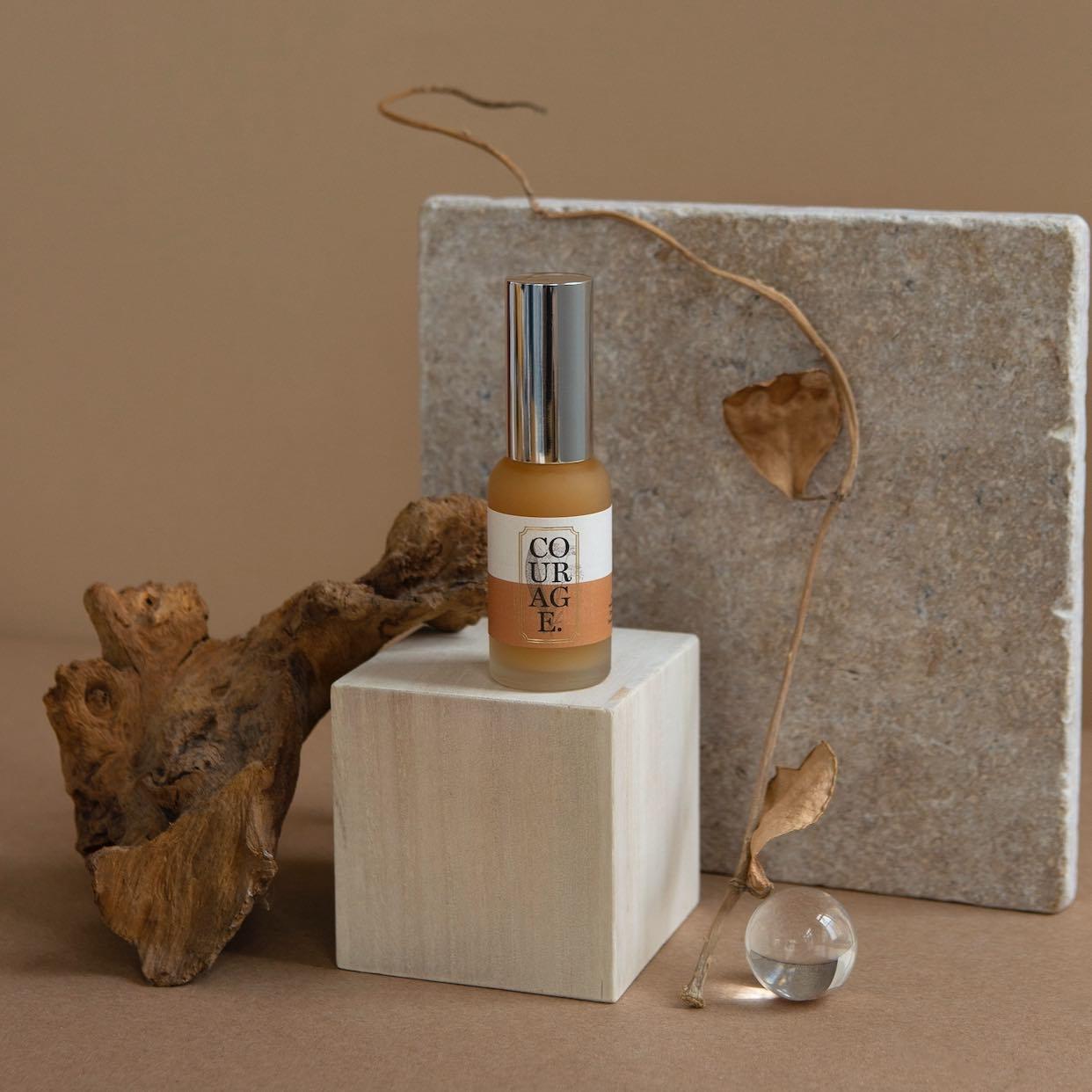 Also available in a handy travel size, you're not confined to only using this mist as a home fragrance.
Room & Linen Spray by Handmade Candle Co
In luxurious and eco-friendly glass bottles, these sprays are incredibly long lasting, suitable for use on cushions, bedding or in the air. These are vegan mists with wonderfully unusual aromas such as Sweet Neroli and Basil, as well as Cassis and Wild Fig.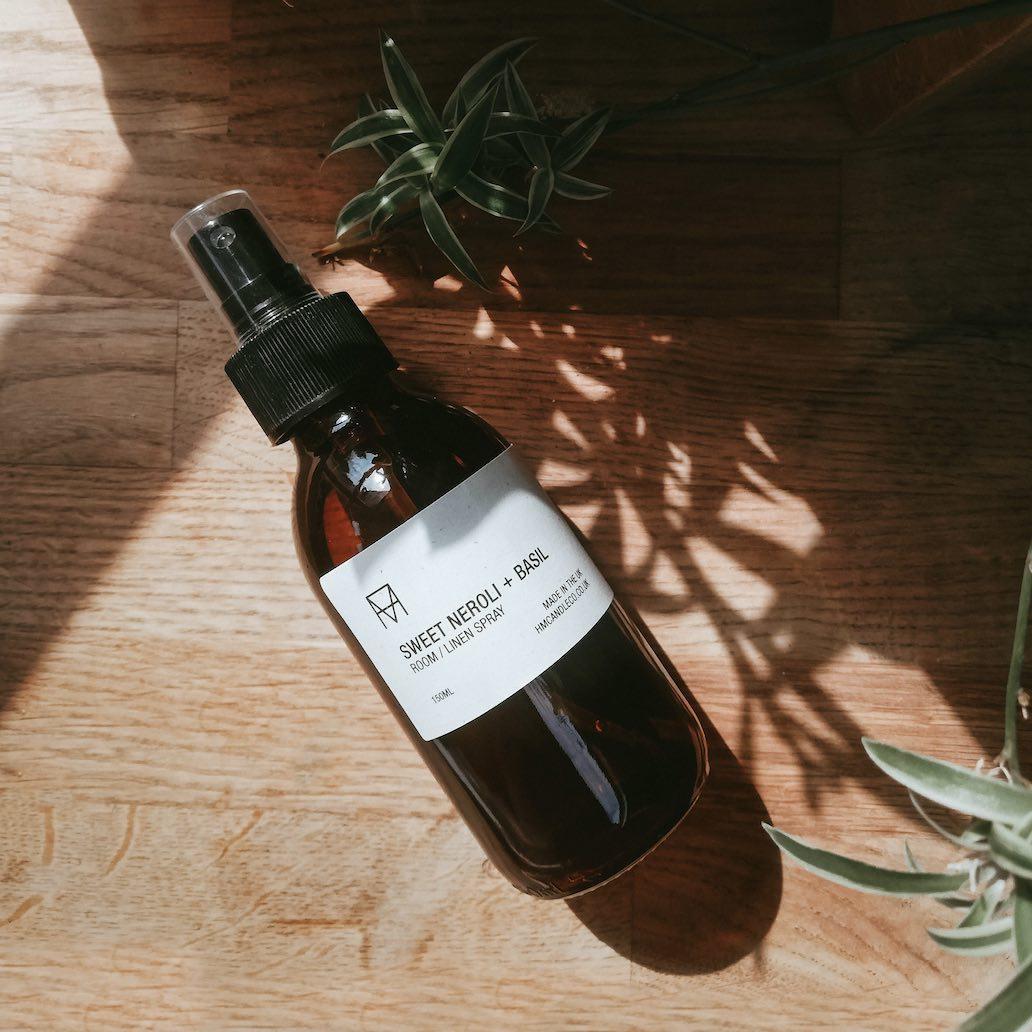 From naturally scented candles to delicate mists, we bring you a hand-picked range of ethical home fragrance.
---