17

Aug

The Best Vegan Pizzas In London
Vegan cuisine has come a long way since the beginning. Vibrant, flavour-focused and adventurous food has replaced the once limited menus. Vegan food has never tasted any better, and never more so when in the big city. From markets to fine dining, London has embraced plant-based eating and especially when it comes to pizza.
Pizza is made best when sharing, and it tastes even better when it's kinder to the planet and animals. The classic Italian staple has been revolutionised. Local, artisanal and flavoursome vegan pizzas can be found in every cool corner of the bustling cosmopolitan city.
From tangy sourdough, pillowy stuffed crust and crispy slices. From the New Yorker style to the authentic Neapolitan pizza. London is at the forefront of this match made in heaven.
In the busy streets of London, around the winding alleys of the historic city, you are never too far from vegan alternatives to the beloved Italian dish.
Here is our round-up of the best vegan pizzas in the city.
South London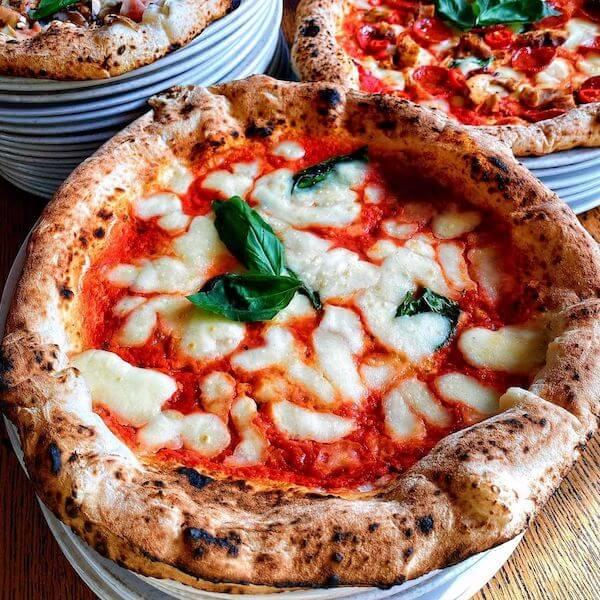 Credits - @crustbros
This award-winning pizzeria has delivered a new and exciting concept to London. Personalised Neapolitan pizzas in the heart of London Waterloo. With a delicious pillowy fired dough, this pizzeria has vegan pizza covered. With a build your own concept, you can choose vegan mozzarella alongside delicious vegetables for a heart-warming Italian meal. Add the vegan veg pledge salad or the vegan cheesy garlic bread for an extra side of vegan tastiness. Crust Bros have even teamed up with Earthly to plant one tree per pizza!
Location: 113 Waterloo Road, Lambeth, London, SE1 8UL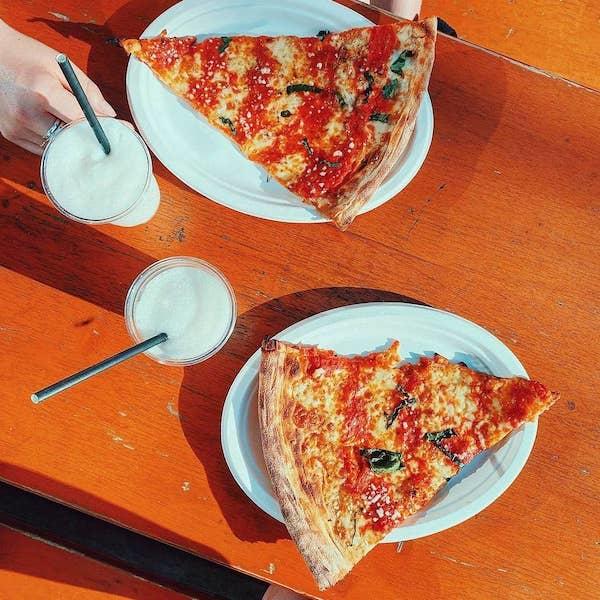 Credits - @voodoorays
Based in Peckham with venues in Dalston and Manchester, this originator of the New Yorker Style classic pizzeria offers delicious vegan alternatives. Try the 'Queen Vegan' where the veggies do all the talking. Think olives, artichokes, tomatoes and more - the Queen Vegan is the one to choose. For a more low-key option choose the vegan Margherita with vegan mozzarella. Using the classic Italian Caputo flour, these pizzas are not to be missed. These pizzas are not for the faint-hearted. Choose from the whopping 22" pies served whole or by the slice.
Location: Peckham, 285 Rye Lane, London, SE15 4UA
Credits - @vegandoughcouk
Their mission? To show you how delicious vegan pizza can be. Founded in London in 2019, Vegan Dough created tasty plant-based cuisine to show the world everyone can enjoy the Italian staple. Already set up on delivery in Brighton and Norwich, Vegan Dough is opening their physical store in Tower Bridge next spring, so keep your eyes peeled for some delicious vegan pizza.
Location: One Tower Bridge, 6 Duchess Walk, London SE1 2SD

Credits - @4hundredrabbbits
Hopping around London, 400 Rabbits has numerous places around the city and celebrates all things fermentation. Here you will find great beer and even better sourdough pizza. It's also a great spot to find some delicious vegan pizza. Choose the Dirty Vegan, loaded with vegan sausage, vegan mozzarella, jalapeno, shallots and sriracha for a spicy, smoky slice of heaven. Or if that's too much to handle, choose the Clean Vegan pizza topped with courgette, toasted pine nuts, piquillo peppers and chimichurri.
Location: Herne Hill, Dulwich Rd, London SE24 0PA
North London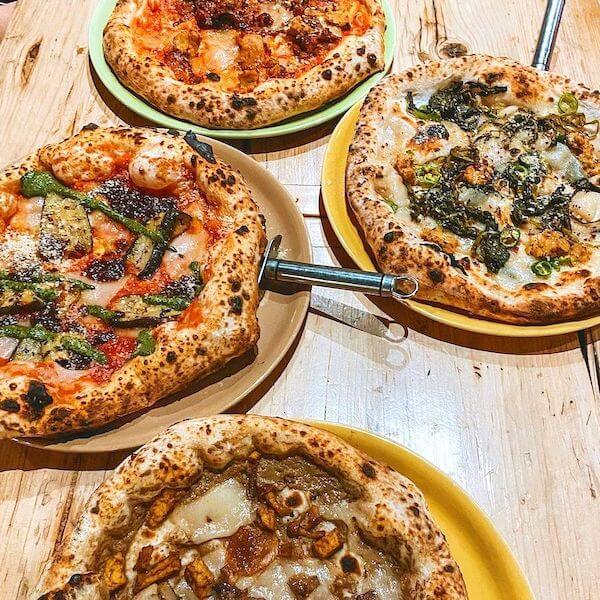 Credits - @purezza
The first vegan pizzeria in the UK, Purezza is the number one spot to go to when in Camden. Crafting their own creamy plant-based mozzarella, this award-winning pizza place is the ultimate vegan haven. Plant-based and organic, these sourdough pizzas are not to be missed. Choose from whole-grain, gluten-free or hemp bases and select from the abundant and flavoursome selection of vegan delights. From vegan 'Porketta' to truffles, you are never far from an indulgent and delicious pizza.
Location: 45-47 Parkway, Camden Town, London NW1 7PN
Credits - @yardsalepizza
Born from a passion for pizza, these three friends have opened award-winning shops around London. Expect lovingly handmade and locally sourced pizza. From north to south, Yard Sale Pizza is a growing pizza empire. Choose from their vegan menu and decide between the refined Magic Mushroom pizza with vegan mozzarella, roasted mushrooms, truffle oil and vegan parmesan. Or choose the smokey loaded Texas VBQ, loaded with plant-based THIS™ Isn't Chicken Nuggets, housemade bbq sauce, chillies and vegan mayo for a smokey hit.
Location: Finsbury Park, 54 Blackstock Road, London N4 2DW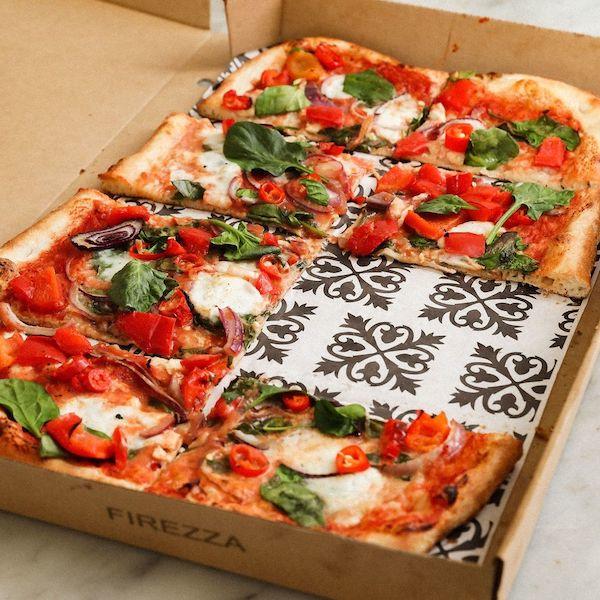 Credits- @firezzapizza
With restaurants dotted around London, Firezza offers authentic, stone-baked pizza. Served in the true Neapolitan way, by the metre, these classic pizzas are great for sharing. Firezza offer a great build-your-own menu where you can choose vegan mozzarella, vegan chicken and vegan chorizo for delicious plant-based toppings.
Location: Highbury and Islington, 276A Saint Paul's Road, London, N1 2LH
East London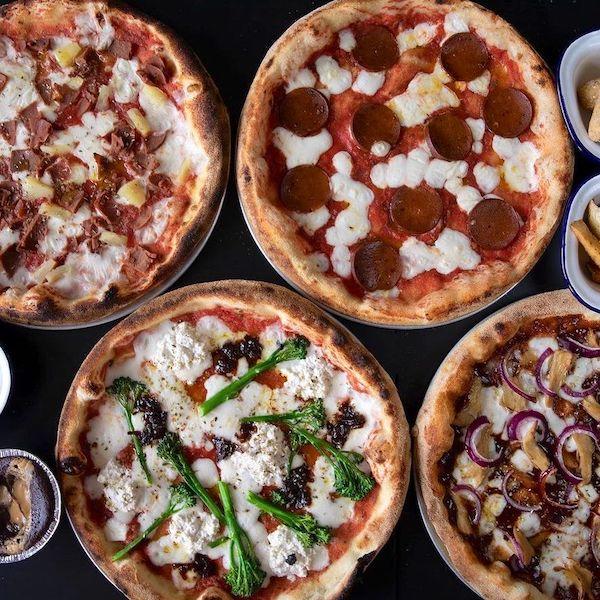 Credits - @youngveganspizzashop
Found in the bustling heart of Bethnal Green, Young Vegans pizza shop celebrates the classic Neapolitan style pizza. Using their own vegan mozzarella, mock meats and dough these pizzas are the go-to place for a quick bite to eat. Enjoy with local beers from Hackney Brewery.
Location: Bethnal Green, 393 Cambridge Heath Road, London E2 9RA
Credits - @thisisacepizza
Ace Pizza is the perfect place to show you that plant-based pizzas are anything but dull. Nestled in and amongst the railway arches at Five Points Brew Taproom and at The Pembury Tavern, Ace pizza's will be serving up light and crispy Neapolitan pizzas. Choose the 'NDON' T YA' Vegan pizza with vegan 'Nduja, Tenderstem broccoli, vegan mozzarella with a sesame crust. With their iconic neon-clad pizza shack, this is the go-to place for relaxed date nights and fun-filled evenings with friends.
Location: Hackney, The Five Points Taproom, 61 Mare St, London E8 4RG
Credits - @flatearthpizzas
These pizzas include bold and inventive flavours that don't harm the planet. Winner of the most sustainable food business in 2020 by Lux Life Hospitality awards, Flat Earth pizza is revolutionising the pizza scene. Organic, seasonal and locally sourced ingredients, these wild and delicious flavours add maximum tastiness. All pizzas are meat-free and can easily be made vegan by swapping dairy cheese for their vegan mozzarella. Pick the courgette, fennel and walnut vegan pizza with pea pesto for the ultimate vegan savoury treat. Find them on Deliveroo for an entirely vegan range.
Location: Dalston, Railway Tavern, 2 St Jude St, Mildmay Ward, London, N16 8JT
West London
Credits - @farina_pizzeria
An authentic, traditional Neapolitan pizzeria, you will find artisanal Italian delights at Farina. Using the traditional Neapolitan techniques, their brick oven was handmade by Italian artisans in Naples and serves the ultimate pizza in the heart of west London. Choose the loaded Orticella with vegan mozzarella, grilled artichokes, olives and homemade caper pesto for a pizza you can't miss. Most pizzas can be made vegan by choosing the vegan mozzarella.
Location: Notting Hill Gate, 19-21 Notting Hill Gate, W11 3JQ
Credits - Humble Pizza
Offering healthy, vegan alternatives to the Italian staple, Humble pizza is the place to go for a quick bite to eat. As seen in Vogue and ELLE, Humble Pizza, with its all pink decor, is the most instagrammable vegan pizza place. When more is more, head down to Humble pizza in Chelsea. Choose the Genova cauliflower-based pizza with pesto, red pepper, courgette, Macadamia and creamy tofu.
Location: 342 Kings Road, Chelsea, London SW3 5UR
By Esme Bourne
Writers Bio - Esme Bourne is the Editorial Assistant at Wearth London, specialising in sustainable fashion and beauty.
---