11

May

The power of eco soaps - how the trusty soap bar can help spark a plastic-free beauty routine
The emergence of the zero waste lifestyle has led to a rise in the popularity of eco-friendly soap bars which help to reduce waste compared to conventional hand soap, haircare and bodycare products in disposable plastic packaging. The versatility of plastic-free soaps has been one of the keys to its success with a range of eco soap bars emerging from the traditional hand soap to shampoo and facial soaps.
In this blog post we highlight some of our most popular environmentally-friendly soaps which are handmade by our UK natural beauty makers and brands. Like all our products on Wearth, all of these soaps are vegan-friendly and cruelty-free and are delivered in minimal zero waste packaging.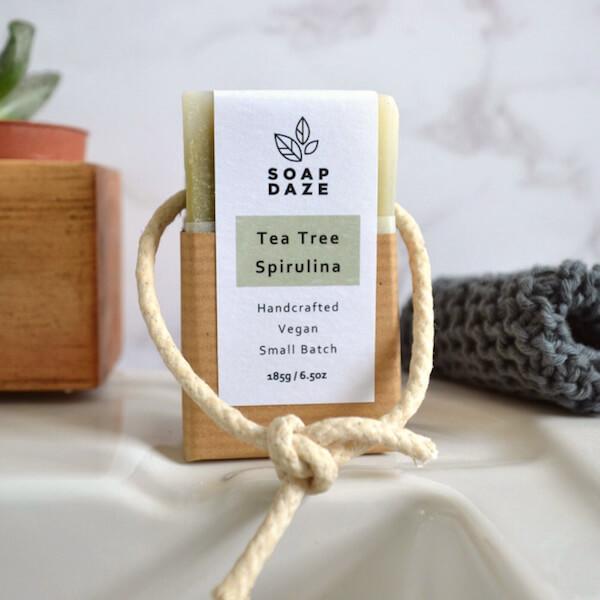 We start off our tour of plastic-free soaps with Soap Daze's soap on a rope. Made by hand in small batches in Devon, these large soap bars are crafted with natural ingredients which nourish the skin and body with handy soap to hang in the shower. There are a range of scents to choose from including coffee & raw cacao, black pepper and ginger and the Tea Tree & Spirulina scent featured here which has anti-microbial and skin enriching properties.
You can get use as either an eco-friendly hand soap or body soap and it comes with two packaging options, either with the branded paper sleeve or you can save a £1 and can buy them unwrapped.
This zero waste soap is made in Surrey with mineral rich French Clay and jojoba beads which provide a natural and micro-bead free exfoliation which making this a great natural exfoliating soap. It is unscented and suitable for all skin types including oil and acne prone skin.
If you are looking for a soap which rejuvenates the skin and is ideal for oily, combination or blemish-prone skin then this bar soap made with activated charcoal is a great option. The charcoal in this cruelty-free soap bar helps to lift toxins from the pores of the skin whilst the Cedarwood essential oil which is blended in the soap has anti-bacterial properties.
Solid shampoo bars are an easy way of replacing the disposable shampoo bottles in your bathroom with a plastic-free alternative. We have a range of shampoo bars on Wearth, one of the most popular is this natural bar made with nourishing coconut milk and shea butter. To use you simply stroke bar onto wet hair and lather the suds into the hair and wash as usual.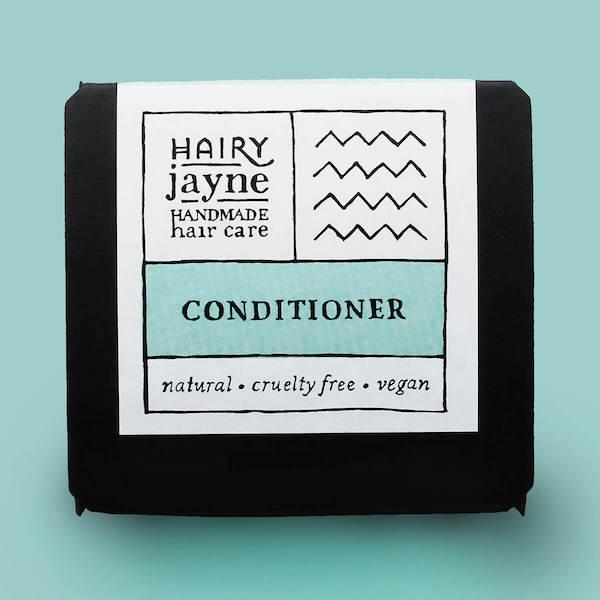 A new addition to our biodegradable soap collection is this solid conditioner bar by Hairy Jayne. Handcrafted in Brixton, London, these zero waste conditioner bars softens and nourishes dry hair with Wheat Protein, Mango Butter and other plant oils. Each bar is scented with essential oils and the paper packaging again makes this conditioner an effective low impact alternative.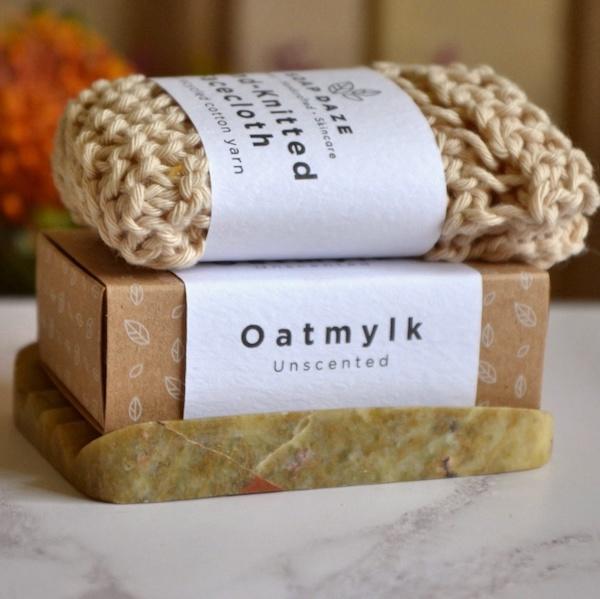 If you have sensitive skin and suffer from skin conditions such as eczema, acne or psoriasis, then this gentle dish soap bar made with oatmylk is a good option. Oats have been used for thousands of years to help soothe and heal sensitive skin and this bar also helps to moisturise the skin whilst removing dead skin cells.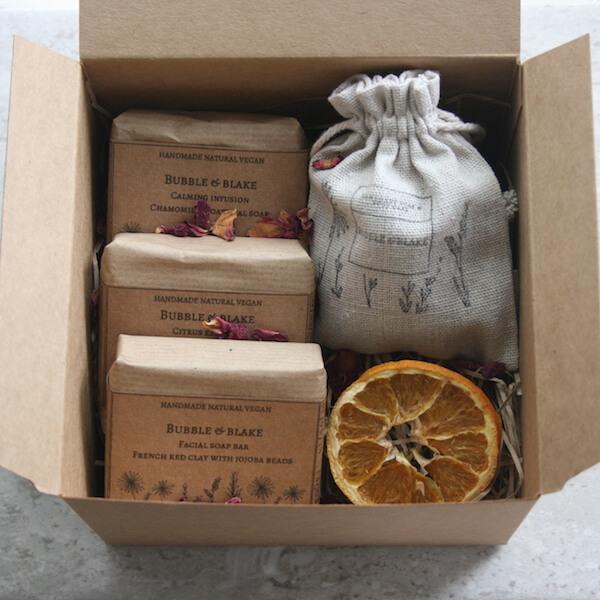 If you are looking for soaps to give as a gift to a friend or loved one, then this set of 3 environmentally-friendly soap bars by Bubble & Blake is perfect. You can mix and match from a range of soaps and the gift box includes a cotton sachet with lavender buds adding another sensory element to this beautiful gift box.
If you are looking for more eco soaps as well as other natural and vegan bath and bodycare products, check out our bodycare department here.
---