05

Feb

Top 10 Eco friendly reusable coffee cups for 2021
The Facts
With 2.5 billion coffee cups thrown away in the UK alone every year, it seems an obvious choice - if you haven't already - to switch to a reusable coffee cup.
Plus, there are so many varieties of coffee cups to choose from, you will never want to return to using boring old disposable paper ones again!
Before we start looking at some of the best sustainable reusable cups to invest in, I think it's important that we answer the question you are all asking right now:
"Are coffee shops accepting reusable cups at the moment and is it safer to be using disposable ones instead?"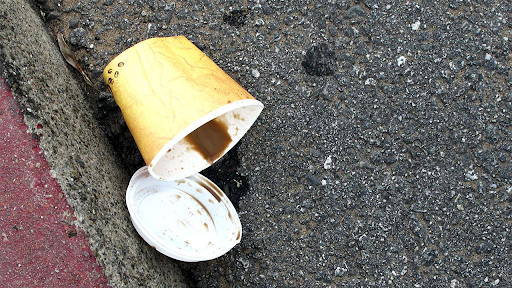 Photo: friendsoftheearth.uk
First of all, yes is the answer to the first question, most coffee shops are accepting reusable cups during COVID-19. This is since the behaviour change firm City to Sea launched a campaign #contactlesscoffee, a guide promoting the ways that coffee shops could allow people to use their reusable cups and containers. They partnered with Better Food, a health food shop in Bristol to create a short video showing how simple and safe it is for shops to continue to serve their customers' drinks in reusable coffee cups.
Secondly, it is also worth mentioning that over 115 health experts from many different countries have signed a statement together promising shops that reusables do not pose a risk to public health during the pandemic. So if you're still not sure, check it out!
Compostable Coffee Cups?
So now that we have cleared that one up, there is one other question you might be asking still:
"Well what about compostable coffee cups?"
A lot of shops are serving their hot drinks in compostable cups these days which is great of course, but don't get too excited.
The answer is that whilst compostable coffee cups are undeniably better than disposable or biodegradable ones, they are not guilt free I'm afraid.
Compostable cups require being properly processed at a composting facility (of which there are only 50 in the UK) which can shred them and break them down with other food waste materials.
And no, you cannot just drop your compostable coffee cup or packaging outside and leave it there to disintegrate magically. Compostable packaging must be dealt with at a specialist recycling facility.
If you are like me and you feel frustrated when you pass a public bin and it's full to the brim with single-use coffee cups, then you will definitely want to know about these 10 eco-friendly reusable alternatives which you can choose from.
The Best Reusable Cup for Working at Home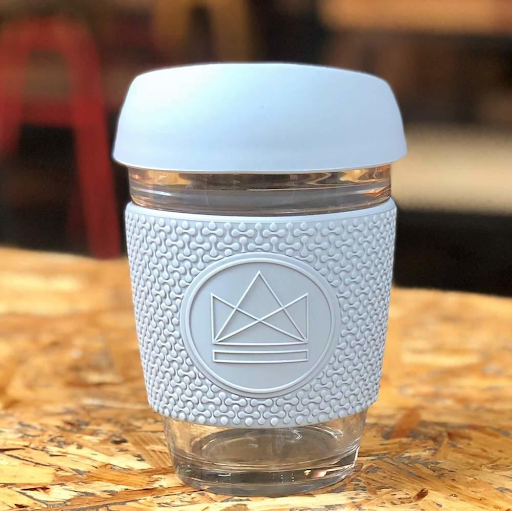 For a lot of people, remote working has become the norm these days, but why not switch it up and enjoy your favourite hot drink to accompany your busy schedule in this environmentally friendly durable glass coffee cup from Neon Kactus.
Glass seems a good choice when it comes to working from home as it's really enjoyable to drink from, can easily be cleaned, and gives you that coffee shop experience.
Best Collapsible Coffee Cup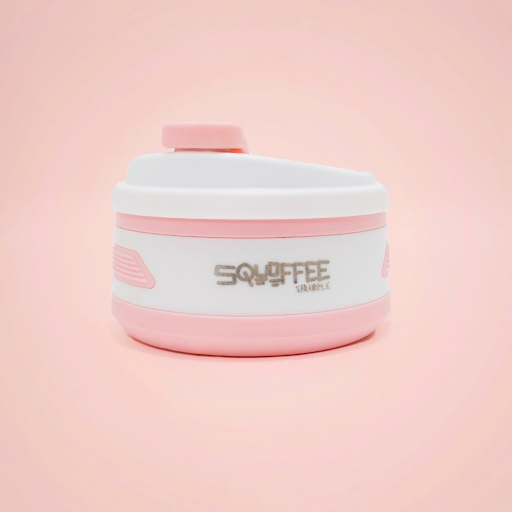 SHLURPLE STRAWS - SQUOFFEE COLLAPSIBLE COFFEE CUP
If you're looking for a compact and collapsible reusable coffee cup look no further. This SQUOFFEE cup from Schlurpe is made from silicone and recyclable PP. It is lightweight and comes in two colours - green or pink - and can easily fit into your handbag or coat pocket.
You can also rest easy knowing that all its packaging is plastic-free!
Best Fashion-Conscious Coffee Cup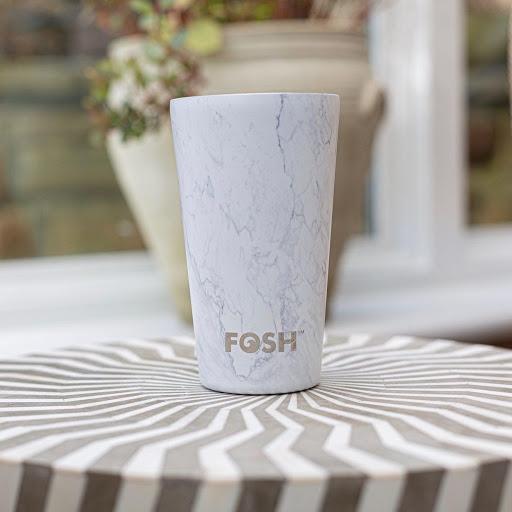 FOSH BOTTLE MARBLE TRAVEL MUG - 454ML
The environmentally-friendly stainless steel Social Marble travel mug by Fosh is vacuum insulated to keep your drink hot or cold.
It is also very attractive and the marble design makes it a bit of a statement coffee cup if you are looking for something more fashion-conscious. This unique and stylish cup holds 454ml and is made from non-toxic and BPA free materials.
Best Affordable Coffee Cup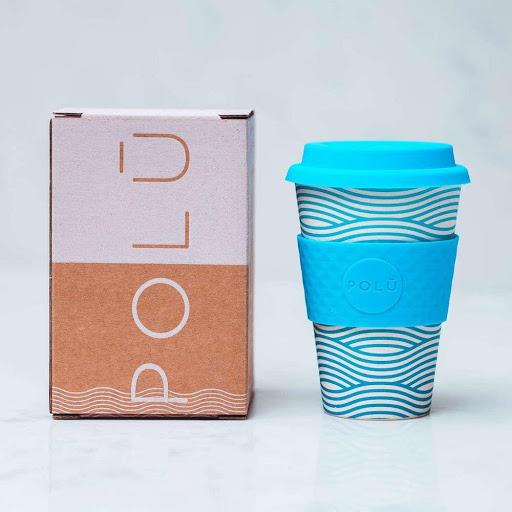 POLU BAMBOO FIBRE COFFEE CUP - HAWAIIAN WAVES
If you are looking for an eco-friendly coffee cup which doesn't break the bank, this reusable and affordable cup is made from sustainably-sourced and ethical bamboo fibre making it a perfect alternative to single-use coffee cups.
This ethical coffee mug is lightweight, compostable and has a BPA-free lid and sleeve making it dishwasher safe.
Polu also donate 50p from each purchase to AccesSurf.
Best Compact Coffee Cup

NEON KACTUS REUSABLE COFFEE CUP - ROCK STAR 8OZ
This perfect little environmentally-friendly compact coffee cup boasts a food-grade silicone sleeve to protect your hands from the heat and is made with Borosilicate Glass for extra durability. The 8oz size is neat and easily transportable.
Why not take this reusable cup down to your local coffee shop and enjoy a takeaway regular mocha or latte without contributing to any plastic waste?
Best for Social Impact

WAKECUP REUSABLE BAMBOO COFFEE CUP
The WakeCup Reusable Bamboo Coffee Cup is a good bet if you are looking to contribute to environmental protection charities. Not only will using this stylish and reusable cup mean you are helping to reduce the amount of disposable coffee cups which are thrown away annually, but 10% of the profits also go directly to The Marine Conservation Society and Plastic Oceans.
Best Insulated Coffee Cup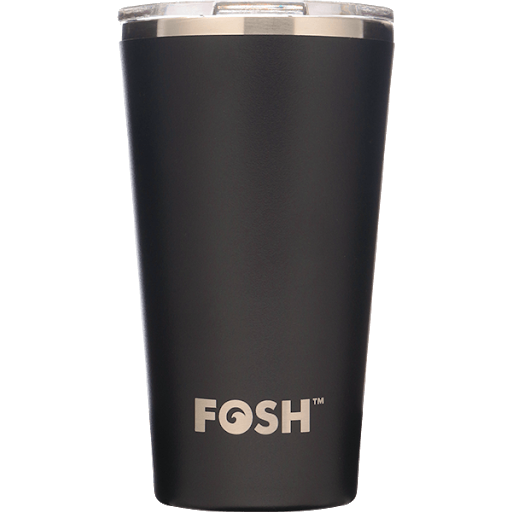 FOSH BOTTLE ORCA BLACK TRAVEL MUG - 454ML
This eco-friendly coffee mug is perfect for long or short journeys since it is vacuum insulated to keep your drink hot or cold for long periods of time.
Grade 304 Stainless Steel powder coated, this mug stays cool to touch on the outside.
Best for Zero-Waste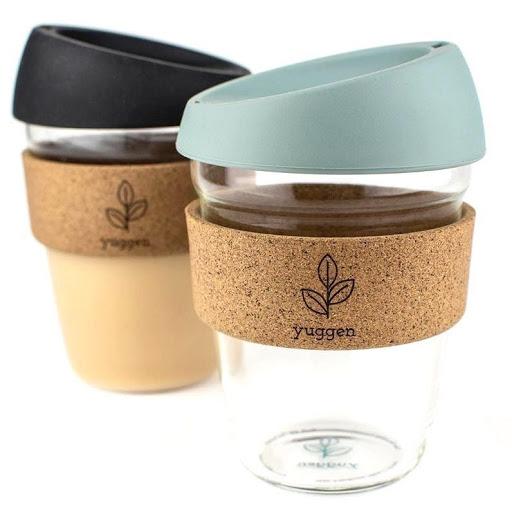 YUGGEN COFFEE CUP WITH CORK SLEEVE
This lovely reusable coffee cup from Yuggen comes in two colours, mint or black, and boasts a cork sleeve and a lid made from sand-derived food grade silicone (which is non-toxic) making this a 100% plastic-free design.
On top of this, Yuggen also plants a tree for every cup sold, making this a super environmentally-conscious cup!
Best Coffee Cups for Travel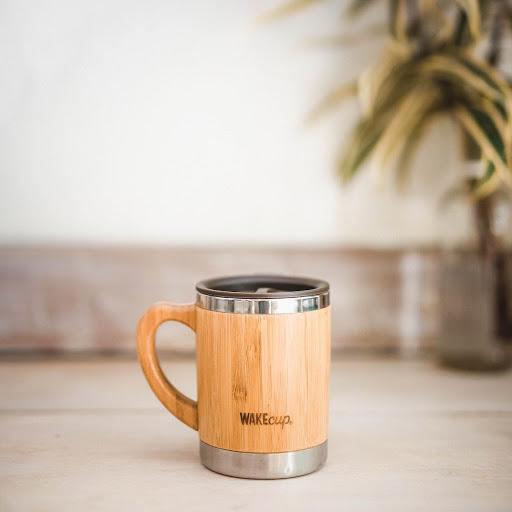 WAKECUP REUSABLE BAMBOO TRAVEL MUG
It's not likely you will be travelling a lot at the moment, but that doesn't mean you can't use this sustainable travel mug when doing your weekly shop or just out for a walk.
This comfortable cup (with a handle!) is made from sustainably farmed bamboo and has a stainless steel double walled inside keeping drinks hot or cold.
Best Versatile Cup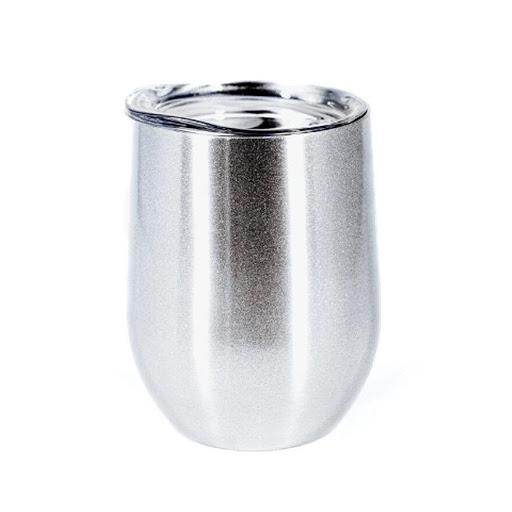 VIDA NATURAL INSULATED TUMBLER
Don't forget, reusable cups are not all about coffee and hot chocolates! As well as being great for hot drinks, this tumbler is also ideal for beer, gin and tonics and fruit juice and is a perfect addition for picnics, BBQs and trips to the seaside.
This elegant and affordable cup comes in six different colours and eco-friendly packaging.
Switch to Reusable
Switching over to a reusable coffee cup has never been easier with the array of choice that is on offer. Why would you ever go back to disposable cups when you can also get a percentage off your drink at most coffee shops when you bring your own cup? So if you are looking for a gift for a loved one or yourself, look no further, Wearth has plenty of eco-friendly and reusable cups to offer!
---