13

Dec

The Ultimate Eco-Friendly & Vegan Christmas Gifts List
Written by Ed Davies, Wearth Co-Founder.
Where has this year gone? With Christmas a little under 2 weeks here we highlight some of our most popular eco-friendly and ethical Christmas gifts made by our wonderful UK brands. Santa used to be depicted in a green suit before its believed Coca Cola's marketing campaigns over the 20th century changed his coat to red. Well this Santa & Christmas gets a lot greener with these sustainable Christmas presents ideas which Santa's little helpers would be proud of.
As with all our products on Wearth alongside being environmentally-friendly and made in an ethical way all of these are cruelty-free and vegan Christmas gifts. We also feature here a range of zero waste and plastic-free Christmas gifts in this list making this the complete conscious gift guide both for him and her for the festive season.
Christmas Soy Scented Candle (Rose Gold) – £8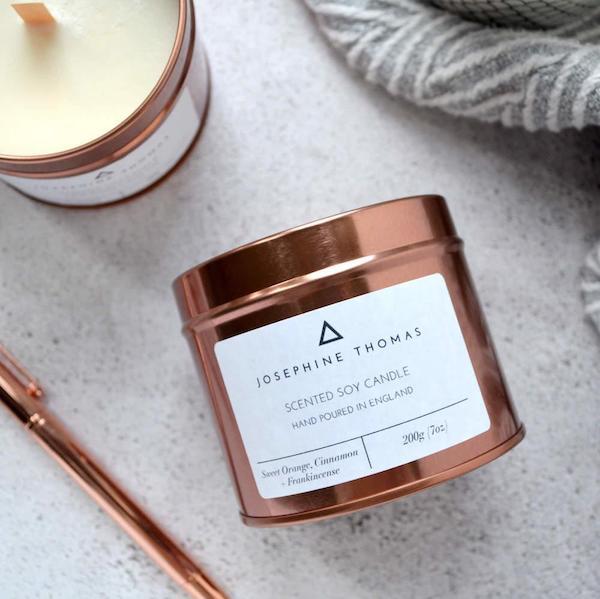 This beautifully designed soy wax candle is hand poured in the UK with pure essential oils and organic cotton wick. There is a wide range of natural scents to choose from and our two most popular scents at the moment are seasonal scents of Nutmeg + Ginger and Sweet, Orange, Cinnamon + Frankincense.
The candles are stored in this minimal rose gold metal tin and as all delivery packaging is zero waste this candle makes for a lovely plastic free Christmas gift!
Organic Sleep Gift Set – £33.50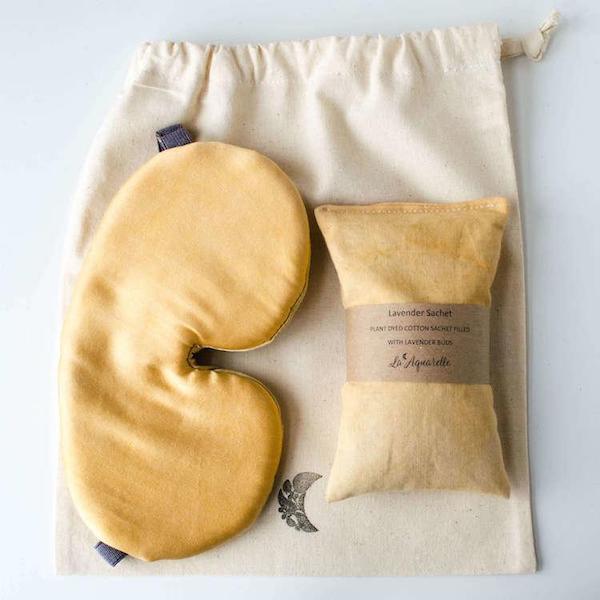 The festive season offers a rare opportunity to have that lie in you've been planning on having for the last 6 months and these sleep gift sets are the perfect accessory. The gift set includes a soft eye mask available in either organic cotton or super soft bamboo silk (extra £2), an organic lavender herbal sleep sachet to place under your pillow and a useful cotton storage bag.
The eye masks are handmade in the UK and come in a range of colours which are all naturally dyed with plant dyes. The set featured here is the Calendula colour which is dyed with coreopsis and calendula flowers using a traditional dying technique which creates this striking natural orange colour.
Facial Ritual Kit - £25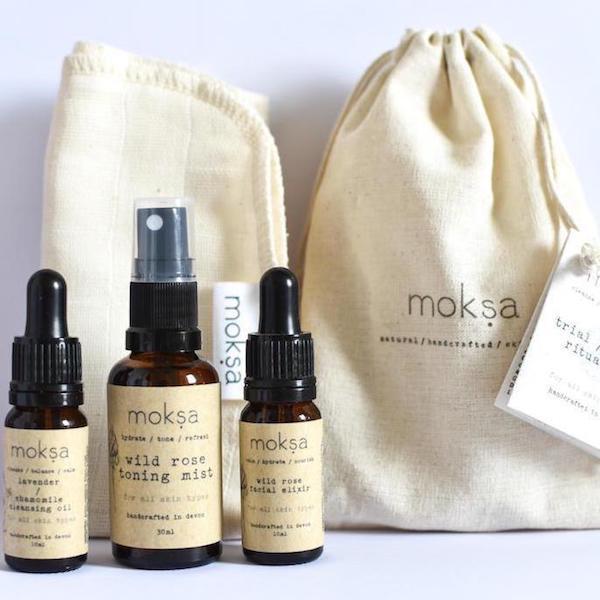 Natural beauty gift sets make for a lovely ethical Christmas gift and this set of travel-sized plant-based skincare products is a great kit for any beauty product lovers. The set includes a lavender & chamomile cleansing oil, wild rose toning mist, wild rose facial elixir and natural coloured two-faced organic cotton cleansing cloth.
The products are all handcrafted in Devon by artisan beauty brand Moksa using fine natural ingredients which work for your skin not against it. You can pair the kit with Moksa's French lavender bath salts for the ultimate home spa experience gift set.
Dainty Moonrise Necklace - £40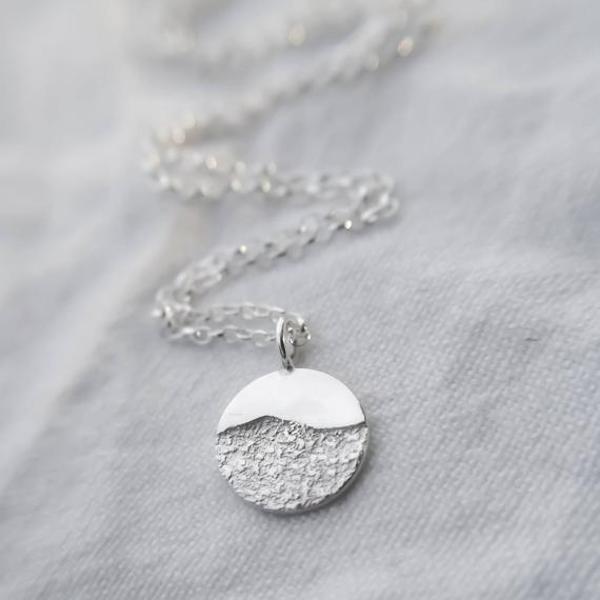 Some of our most loved eco-friendly Christmas presents for her on our store is our handmade jewellery and this minimal moonrise necklace is a recent popular addition to our jewellery collection. The necklace is made in the UK by independent jewellery brand, Little Imp, run by jewellery maker, Sarah. Sarah makes all of the jewellery herself using recycled silver wherever possible.
With this necklace the pendant is made from recycled eco silver and the chain is sterling silver. You can pair this necklace with the matching moonrise earrings for the complete look.
Zero Waste Essentials Kits - £40
Moving on to our zero waste Christmas gifts ideas, this set is the perfect gift for anyone looking to live more sustainably and reduce the amount of single use plastic that they use. The kit includes a 500ml insulated water botte which is insulated keeping drinks cool or hot for up to 12 hours, an organic cotton bag for everyday use like going to the shops or gym and a reusable glass coffee cup.
As a result this kit is perfect for anyone starting out in their journey to reduce the amount of plastic they consume or for someone who is looking to add to their eco warrior collection. All items are also sold individually.
Vegan 'Paper' Backpack - £33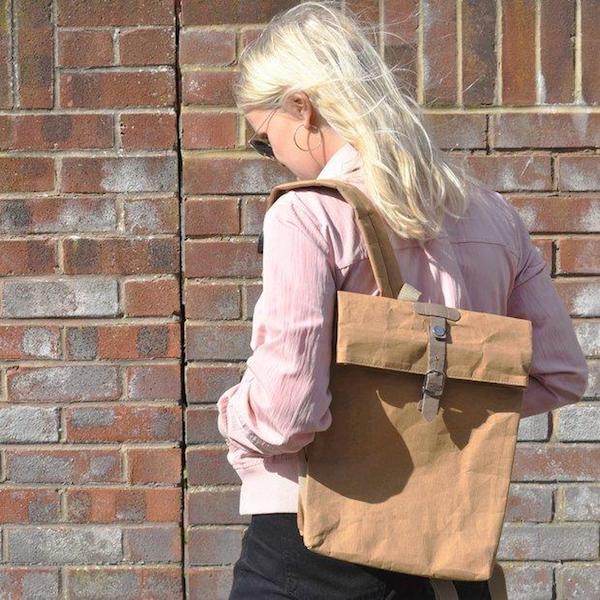 This has been one of our most popular vegan Christmas gifts over this gifting season. It has a stylish brown leather look finish to it whilst actually being made of strong poly paper which are bonded together to create a tough and waterproof material.
This ethically made backpack is great for the office or going to uni, it has two compartments including a laptop pouch with Velcro tab and a 'secret' pocket to hide valuables in.
Pink Himalayan Bath Salts – £14.95
Relax your muscles and turn your bath into pampering spa experience with these beautiful 100% natural Pink Himalayan bath salts with gentle Avocado Oil and zero waste packaging.
Himalayan bath salts have many natural benefits including encouraging better sleep and balancing the body's ph levels. Whilst the avocado oil helps to moisturise and nourish skin making these salts a soothing addition to any bath time ritual. As all the ingredients are natural and gentle, these bath salts are suitable for all skin types including sensitive skin.
Whale Charm Bracelet - £12.50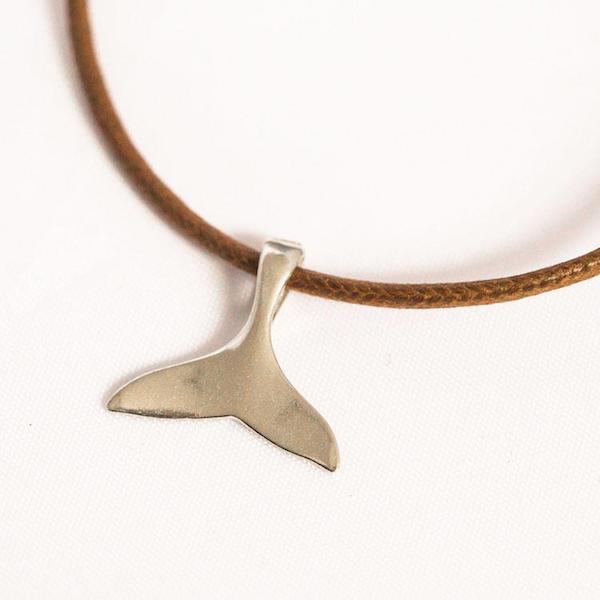 This pretty charm bracelet is made by hand by eco-conscious jewellery brand, Smoke & Ash. There are a range of charms to choose from with our personal favourite being this whale tail bracelet which also available as a necklace here.

The whale tail is hand cast using recycled silver making this a lovely recycled Christmas gift and the cord is made with organic cotton which can be adjusted for the right size meaning you don't need to worry about the size.
Organic Lip Butters Set - £12/£20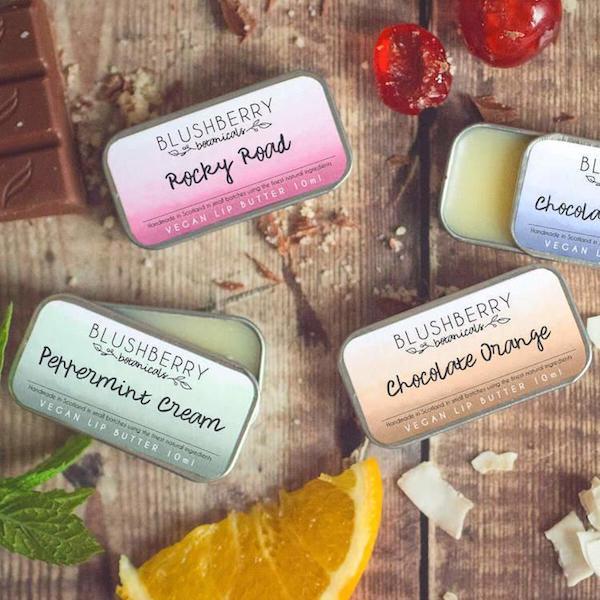 These organic lip butters are available in a wide range of unique and fun flavours including rocky road, mojito and prosecco. Each lip butter is made in small batches in Scotland using natural and vegan-friendly ingredients.
The lip butters have organic cocoa butter, shea butter and coconut help which help to nourish and protect lips. They also are packaged in metal slide tins making them another great plastic-free Christmas present idea.
Available in three pack - £12 and six pack - £20.
Large Stainless Steel Lunch Box Set - £25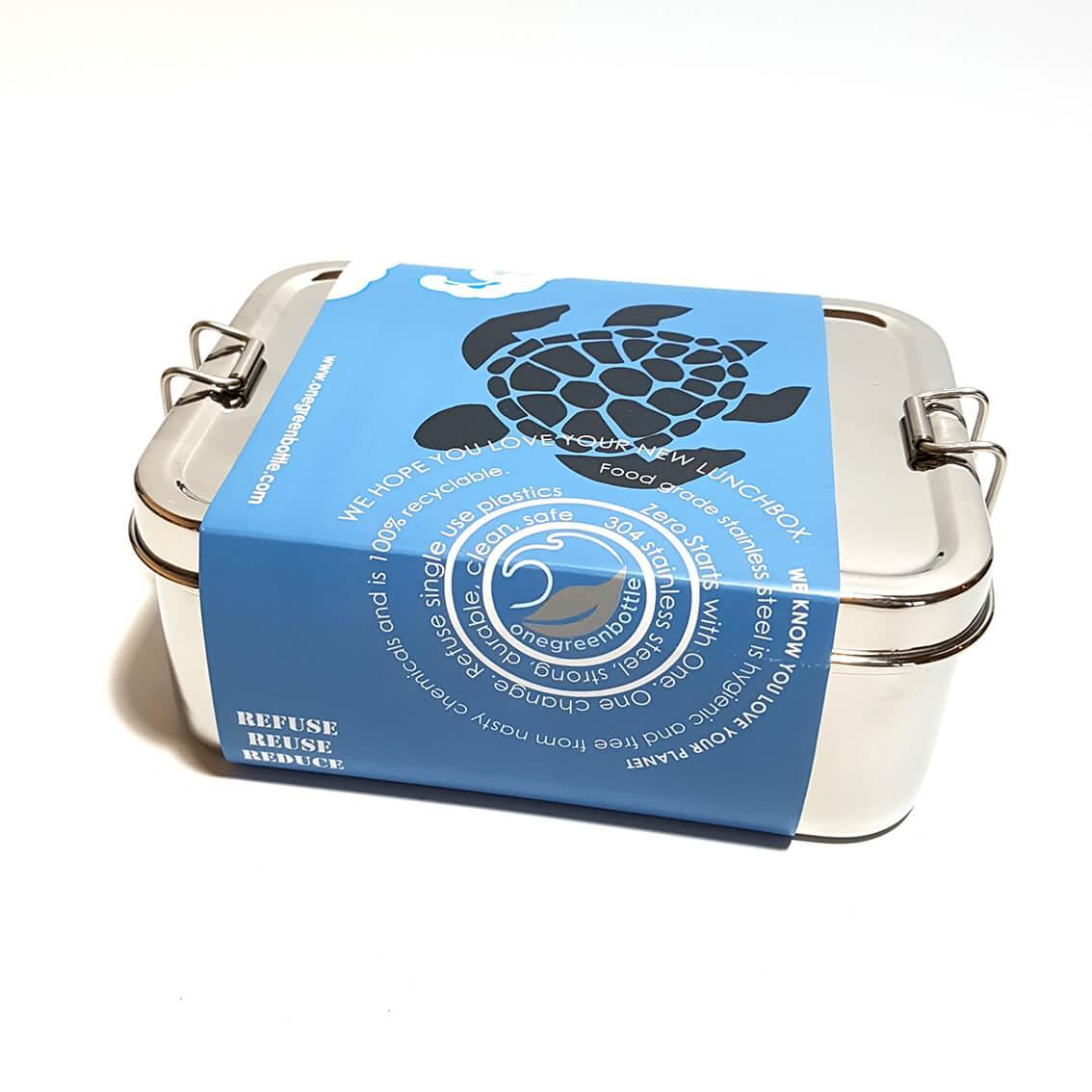 Another popular zero waste Christmas present idea that we have on our gifts department is this plastic-free steel lunch box with mini box included for snacks. This extra-large lunch box is large enough for sandwiches and snacks making it an effective eco-friendly accessory for those wanting to reduce the amount of food packaging waste they create.
Organic Skincare Set For Mature Skin - £39.50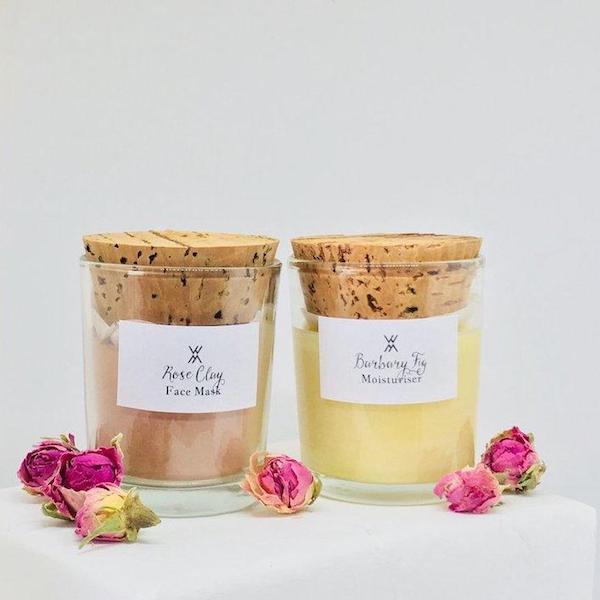 This skincare set is handmade in Ireland using locally sourced and wild ingredients. The set includes a deep cleanse face mask which provides a natural face lift for the skin as well as anti-ageing moisturiser which helps to prevent cell degeneration and improve the appearance of mature skin.
These beauty products are made by ethical skincare brand, White Witch who are committed to creating environmentally-friendly beauty products which are not great for skin but have a low impact on our planet. The packaging is completely plastic-free with a reusable glass jar and cork lid and includes dried roses making this a beautiful gift to send someone directly.
Cork Yoga Mat (Classic) - £65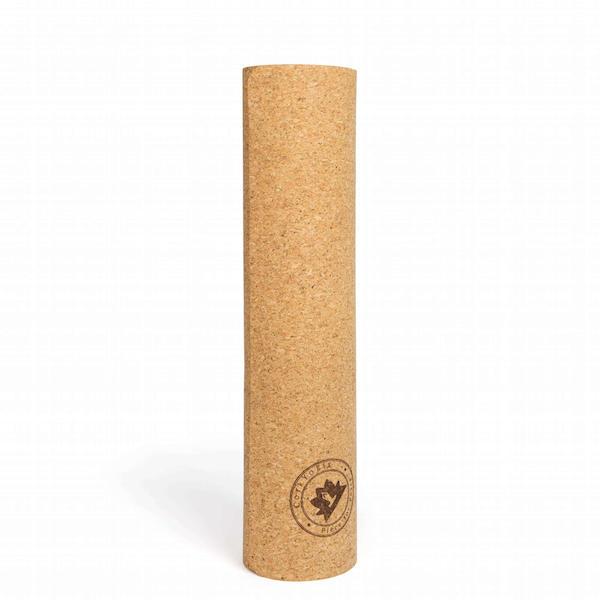 This eco-friendly yoga mat makes for a great gift for those who love yoga and the environment. It is perfect for all types of yoga including bikram, vinyasa and power yoga and due to the cork's natural properties it is very grippy as well as being anti-bacterial.
The yoga mats are made by Cork Yogis, a social enterprise which featured on Dragons Den and helps empower human trafficking victims in India with every purchase making this a wonderful ethical & charitable Christmas gift for yogis.
Organic Loose Tea Gift Set - £25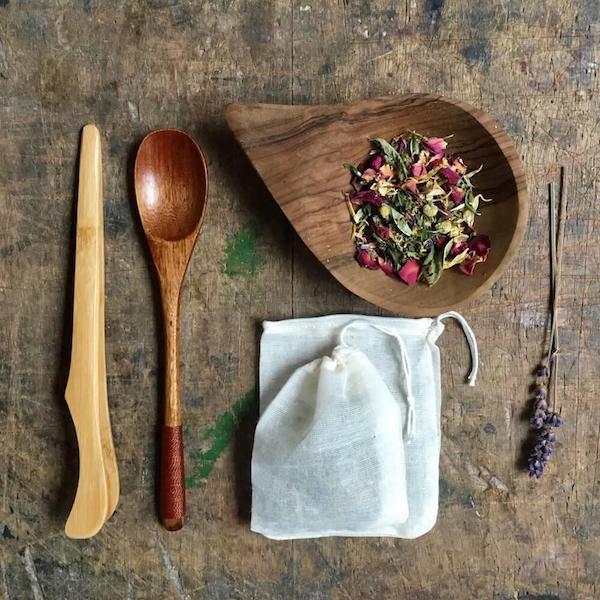 One of the remarkable and shocking things that became more common knowledge this year was that a lot of mainstream tea brands use plastic in their bags, yes plastic! This shows the worrying extent to which plastic has infiltrated our day to day consumption habits, luckily there is an easy and arguably even nicer is loose leaf tea.
This organic loose leaf herbal tea set is a great little starter kit for anyone wanting to explore the varied world of loose leaf tea. The gift set is by Singing Leaf which creates hand blended teas in the UK using locally sourced plants and herbs which are full of powerful antioxidants. This zero waste tea set includes two bags of loose leaf tea of your choosing, a bamboo tea infuser, tea tongs and spoon as well as two reusable cotton tea bags.
Reusable Fabric Gift Wrap – From £10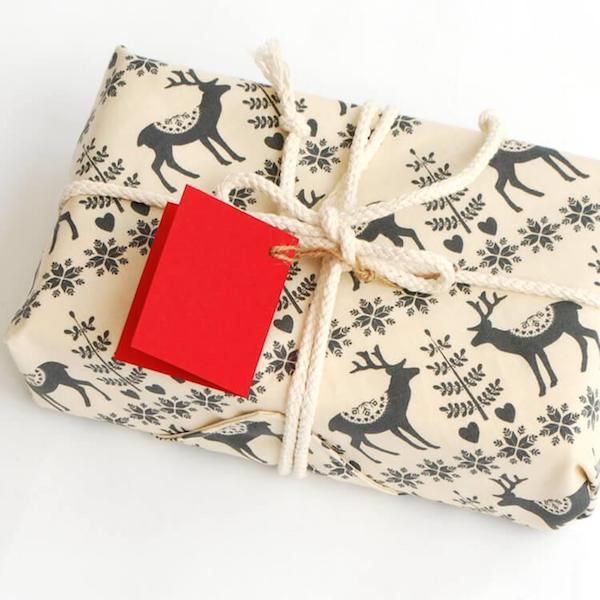 Our eco Christmas gift guide wouldn't be complete without some festive reusable gift wrap. With over 100 million rolls of wrapping paper going to be used over Christmas, a lot of which can't be recycled, reusable gift wraps are the future of sustainable gifting.
These reindeer gift wraps are made with cotton in the UK and come with a cotton braids to tie and secure the gift wrap. They are available in two festive colours, grey and red and two sizes.
Personalised E-Gift Voucher - £10-£250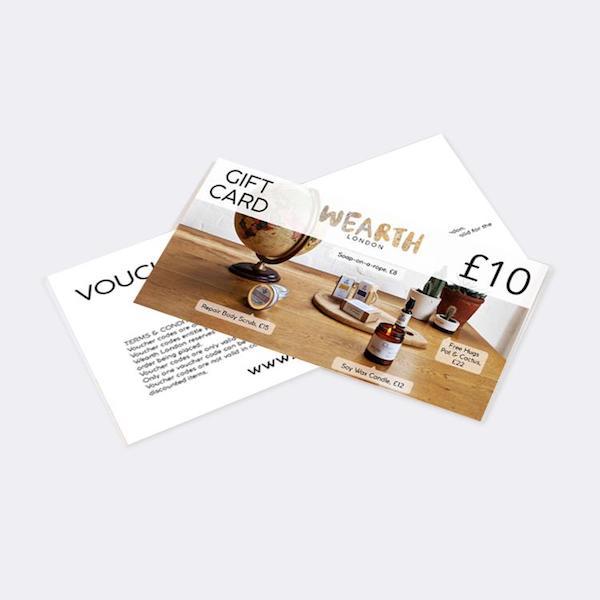 If you are like me and leave Christmas shopping a little late every year, then our personalised gift vouchers are a great way of giving someone the choice to find their own perfect conscious gift without having to rush to the local shops on Christmas eve. All gift vouchers are personalised with your own message of choice and sent via email within 24 hours.
Looking for more eco-friendly and vegan Christmas gift ideas? Check out our new Christmas department. Here we have a wide range of festive gifts and accessories perfect for having a more conscious and lower waste Christmas. Christmas marks a big opportunity to help change the way we gift and promote a more sustainable lifestyle for the rest of the year to come. That is why we're proud to be able to partner independent UK brands that care about our planet and help make Christmas green.
---