23

Mar

Vegan Chocolate & Raspberry Baked Crumpets Recipe
A take on the traditional bread and butter pudding, this simple to make plant-based creation, makes the ideal vegan weekend brunch dish, indulgent breakfast or sharing dessert.
Prep Time: 15 minutes
Cooking Time: 20 minutes
Equipment: Oven, blender, kettle, chopping board, knife, ovenproof dish, weighing scales.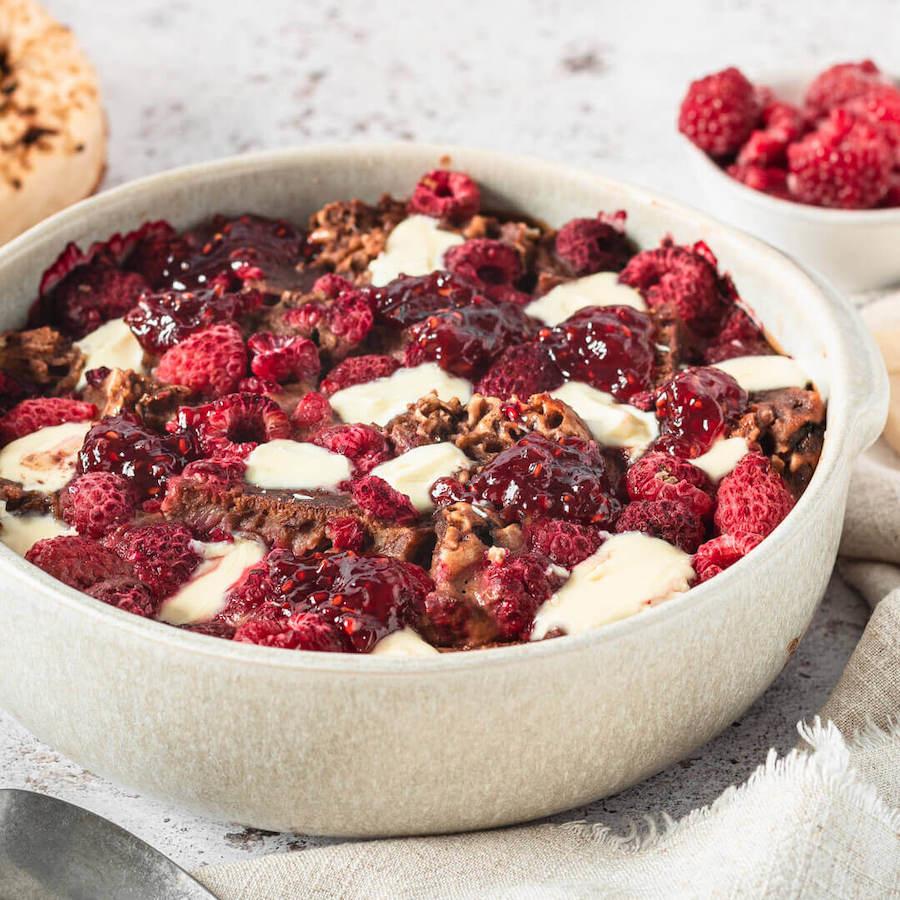 INGREDIENTS – SERVES 2
4 Crumpets
60g Cashew nuts
1 Ripe banana
1.5 tbsp Raw cacao
150ml Dairy free milk
100g Frozen raspberries
30g Vegan white chocolate, chopped into small chunks (optional)
3 tsp Raspberry jam (optional)
Method
Preheat an oven to 175oc.
Cut each of the crumpets in half, and then each half into 4. You should get 8 smaller pieces from each crumpet.
Place these crumpet pieces in an ovenproof dish and set aside.
To make the chocolate custard, first soak the cashew nuts in boiling water for 10 minutes so that they soften slightly.
Whilst the cashew nuts are softening, place the ripe banana, raw cacao and dairy free milk in a blender cup.
Drain the cashews and add these to the blender cup with the other ingredients. Blend on a high power until you get a smooth custard like mixture.
Pour this sauce over the crumpet pieces, ensuring that you cover them evenly.
Top with frozen raspberries and bake in the oven for 20 minutes, until starting to brown on top.
Remove from the oven and whilst still warm top with optional white chocolate chunks and little spoonfuls of raspberry jam.
---