11

Apr

Pegboards – The Stylish Wall Storage Option Fit For Any Home
We love Pegboards, they are a great way of decluttering the home, whilst adding an extra element of style to any space. Here we have put together a selection of our favourite contemporary wooden pegboards, all of which are designed in London and handcrafted in London, UK using sustainably sourced wood by our partner brand, Kreis Design. The nice thing about this range is that each pegboard has accessories designed for particular rooms in the house.
Before we have a look into the different kinds of pegboards you can buy for your home, it is worth explaining exactly what pegboards are and why they are quickly becoming an essential for minimalist interior lovers. Perforated pegboards, started to become popular in the mid-20th century, especially with many people using them to meticulously store their tools in the garage. It was the flexibility that these boards provided that made them become so popular with the pegs, shelves and hooks being able to placed where ever on the board to create your own customisable wall storage. Over the years, the use of pegboards has started to grow beyond the garage with there now being one fit for any room in the house, be it the bathroom or somewhere to hang your coats up and leave your keys in the hallway. Below we explore the different type of pegboards available now and the ways in which these offer helpful storage space whilst upholding your living space's style.
The Kitchen Pegboard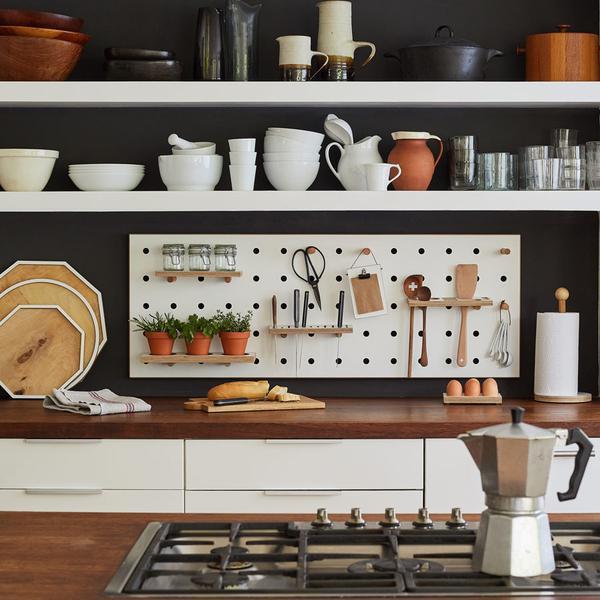 This Chef's Edition pegboard has been designed with culinary wizards in mind. If you love having a tidy organised kitchen, whilst still having all of your utensils within easy reach, then this is the perfect board for you. All of its accessories has been specially designed for the kitchen including a knife holder, utensils rack and condiment holder with 3 recesses. The board also comes with 6 straight pegs to hang objects like scissors off as well as a shelf, offering a good place to store spices or fresh herb plants. This pegboard is available in two finishes (white or natural) and two orientations (horizontal or vertical). Price - £195.
The Versatile Pegboard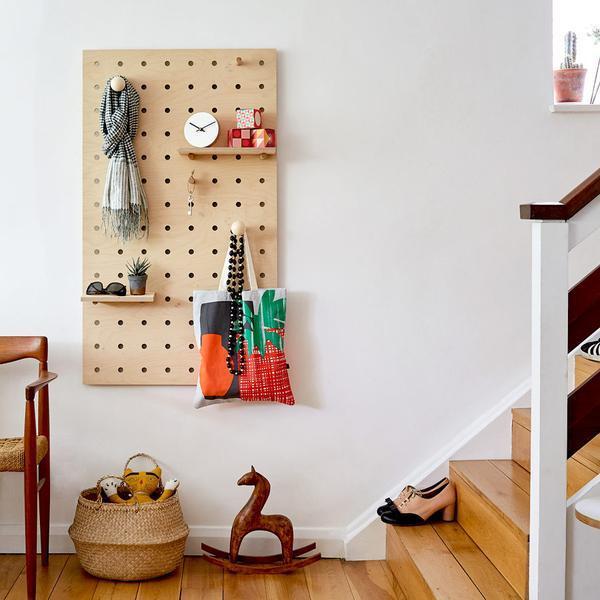 This large natural pegboard is suitable for a range of room types including living rooms, hallways and bedrooms. There a range of accessory options to choose from. Option A is 12 natural round pegs, which are designed to be used as coat hooks. Meanwhile Option B still has 6 round pegs, but also has shelves which are a handy place to store your keys and wallet to make sure they do not get lost. Option C has 6 straight pegs and 4 shelves making it best suited for living room and bedroom. White finish also available with different accessory options. Price from £180.
Find out more (Natural finish)
The Bathroom Pegboard
This is the peg-it-all little pegboard in blue, it is the perfect size for the bathroom and there a range of other colours to choose from including natural, white, green, grey and orange. The great thing about pegboards is that the accessories can be placed where you like on the board, meaning you can have your toothbrush at just the right level! Prices from £95.
The Hallway Pegboard
This horizontal 'Skinny' Pegboard is designed to be placed in the hallway and includes accessories for hanging up coats and keys. The board comes with 4 round end pegs, 2 straight pegs and 1 shelf. Price - £100.
The Office Pegboard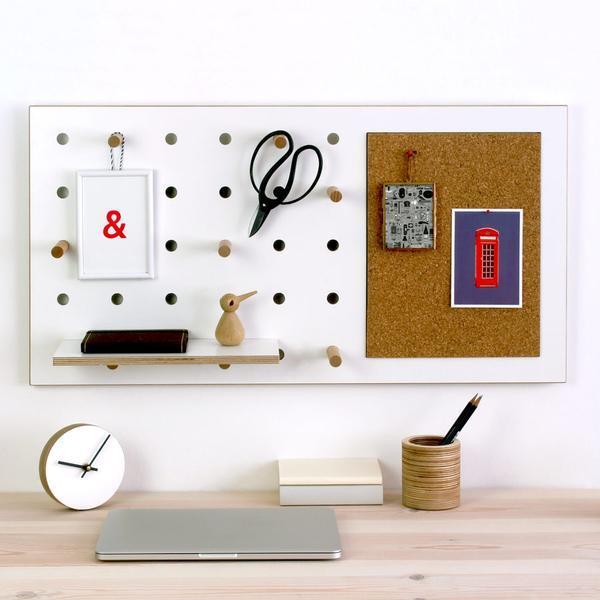 If you are looking to spice up your home office with a handy and functional pegboard this one is for you. It is a small pegboard (W 80cm x H 42cm) and comes with a handy pin board for memos and photos of the kids. Price - £120.
The 'Cool' Grey Pegboard
This large matte grey pegboard is a stylish addition to any contemporary space. Like the versatile pegboard, it is suitable for a range of spaces including hallways, living rooms and bedrooms. The paint used for the board is manufactured in Iceland and Sweden using 100% renewable energy, which is pretty cool! Price - £200.
You can explore our entire range of pegboards with a range of colours and sizes here. As all our pegboard are handmade to order, if you are looking for something special, please get in contact and we can make you a custom board.
For a limited time only we are offering 10% off our entire range of pegboards with code:
PEGBOARDLOVE
---